In today's post I am going to work you through the process of crafting the perfect logo for your startup. Everyone who has started a business knows that crafting the perfect logo can be daunting.
In order to cut costs, most startup founders pay peanuts to half-baked graphic designers to do the most ridiculous logos. Some go as far as incorporating everything about their business in their logo. Seriously,if I can easily tell the idea you are trying to communicate by first sight at your logo, then your logo isn't that clever. What makes a logo clever is the hidden meaning it holds. But be careful not to overdo this. All you need is to smartly streamline the thought or idea. See a few examples below:
FedEx

At first sight on FedEx, what comes to your mine? Just a lousy block of text that shouts FedEx? Don't be too fast to conclude. This logo has won over 40 awards. A little closer look in the negative space between the "E" and the "X" you will notice an arrow pointing from left to right, which precisely represents the logistics company's "direction, speed and precision".
Printivo
Take a closer look at Printivo. What hidden meaning do you think it holds? Well only printers can guess this right. The letter "I" has three stripes of colors. These colours are cyan, magenta, yellow and black. They represent the four offset colours used in the printing industry.
Amazon

Ever wondered what the arrow pointing from a – z on the amazon logo meant? Take a closer look, you will notice that it represents a smile. This only means that their customers will feel happy after using their services. Also looking deeper it also means that amazon has everything from A – Z
Tour de France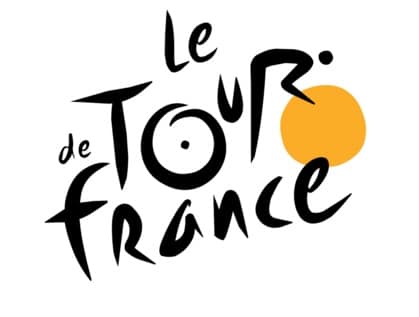 A closer look at the Tour de France logo you will notice that the "R" is a man riding a bicycle in this logo for the world's most famous bike race.
Well I have carefully studied several Nigerian startup logos, and searched for deeper meaning. But I immediately discovered the message being conveyed at first sight.
From Branded.ng's tuxedo icon, to Jumia's shopping chart icon and Jovago's briefcase, you can clearly tell what these brands are trying to communicate with their logos. Well, that's doesn't make them bad logo's. But they are not very clever. All the same they are great logos.
Phsycology of colours
Most startup founders choose whatever colours that look great on their logo without minding the deeper meaning colours hold. Designing a logo is not something you should give a slapdash approach. It's a carefully thought out process. It might interest you to know that 93% of all purchasing decisions are made solely on visual perceptions, 84.7% of consumers cite colours as their main reason for purchasing a particular product. While 80% believe that colours increases brand recognition.
Blue: Blue represents secure, calm, honest, strong, caring and trustworthy. This resonates among companies like Facebook, Visa, Techpoint.ng, Hotels.ng and Jovago.
Red: Red signifies energy, love, exciting, action, bold and passion. You will see it in brands like CocaCola and Red Bull.
Orange: Orange signifies happy, sociable, friendly and affordable.
Yellow: Yellow is common among companies like Shell and Bic. It signifies logical, playful, optimistic, forward thinking and confident.
Green: Green represents growth, organic, natural, caring, fresh and earth.
Purple: Purple signifies creativity, imaginative and nostalgic. It's common among companies like Cadbury and Yahoo.
Black: Black signifies sophistication. Luxury, seductive, formal, and authority. It's common among brands like Branded.ng, BBC and Sony.
Multi-Colour: Represents multi-channel, positive, playful, bold and boundless. And it's common among companies like Google, NBC and eBay.
Typefaces
It doesn't just stop at colours. Typefaces also play a significant role. What most experienced designers do is to come up with beautiful typefaces and tweak them a little bit, then ask the client to choose one. When the its time for the clients to pick, he or she gets overwhelmed with the list of beautifully constructed typeface. So they end up making decisions based solely on best typeface. While this has worked for many,it will be only wise for me to tell you the real meaning behind typeface.
FedEx

Taking a closer look at the FedEx logo. It has minimal spacing. This suggests that they have a tight punctual service.
HSBC
HSBC uses a classic uppercase serif font in other to portray trustworthiness and strength.
Illustrative and Iconic logos
A logo can either be illustrative, typographic or iconic
Illustrative logos are usually more complex and detailed than iconic and typographic logos. Most times they're meant to represent some aspect of the company being portrayed. For instance, when crafting an illustrative logo, focus your attention on the company's concept and create a mascot that suits it. This type of logo requires an experienced graphic designer, because you don't want to run the risk of looking amateurish. But once established, illustrative logos have a high recognition factor and are usually more effective for fun establishments like bars, restaurant, clubs and sports logos. Below are few examples of illustrative logos.

Iconic logos on the other hand come with symbols that portray aspects of the company. The treatment of the image and the subject matter is what describes and iconic logo. They are usually the most common type of logo. Most times they are usually what the graphics designer present at first. The idea is to take complex ideas and break them down into a few abstract shapes. This type of logo requires the services of a very experienced graphic designer, so you don't run the risk of it looking like a clipart. It is more likely to be recognized after limited initial exposure and can be easily reproduced without much modifications. This style of logo design is more predominant with tech startups. They are usually composed of flat vector art. They are easily converted to black and white linear version, which is simple to embroider, while requiring smaller stitch counts. Doing a flash animation with this type of logo is pretty much easy. Below are good examples
Typographic Logos
Typographic logos involve using letters to build logos. These days it's the key element to most logo designs. Coca-Cola's logo is a good example of a typographical logo in good use. For what it's worth typographic logos can convey a wide variety of feelings, ranging from elegance, romance and beauty. A few examples are listed below
No you have the overall idea on how to craft a logo. Let's get our hands dirty and create one.
Getting to business
For this example, I will be using WellnessPatron. If you have been following my posts, I created the brand WellnessPatron to serve as a practical guide to startup branding.
Since the brand is on the natural health niche I chose the colours green and brown. My aim is to make the logo iconic. The icon used will represent a symbol in the wellness niche.
This is just a vector of three leaves intersecting to form a "W". I created this with Adobe Illustrator. If you are a windows user, Corel Draw can accomplish the same result. The leaf is widely used in the wellness niche to represent nature and life.
I carefully replace the "W" in the WellnessPatron with the leave icon I created initially. If you notice, I chose a wider font so the text wouldn't occupy much length. I used my discretion as a designer to come up with the typo that best suits the logo, after many trials. I used the font Birch Std.
The colour palates used are: Green: #2c6310 Brown: #3e2000. If you ever need help designing a logo for your startup, email me at marvin@branded.ng
Photo Credit: cchana via Compfight cc