A commonly held notion within the local tech space is that Nigerian techies do not like to share ideas; a practice that stifles the growth of this "ecosystem" we are trying to build. In fairness to upcoming entrepreneurs, the mere thought of having an idea you pitched somewhere, or revealed to someone in confidence being plagiarized, is enough reason to hoard ideas by all means necessary.
You probably must have heard about a certain platform that allows anyone rent, lease or hire anything as long as the object in consideration is legal. The problem I'm having right now is whether I should call it Eazyhire or Easyhire.
How the confusion started
Josh Okpata – founder of Eazyhire.com.ng -- walked into our office last week with a rather distraught countenance. He had come to share with us how someone had allegedly plagiarized his idea, employing a similar colour scheme, motto and even Facebook, Twitter taglines. The only difference between his and this alleged impostor's solution was a replacement of the "z" in Eazyhire.com.ng with an "s" -- Easyhire.com.ng. Josh let us know that he intends to take legal action
My initial thought was that the supposed impostor actually got the better domain. Say you heard about the solution at a pitch event (where Josh claims the idea must have been stolen), you're probably more likely to spell "easy" with an "s" that with a "z". And you probably wouldn't notice the difference since they offer similar solutions. The question at this point was, "who is copying from who"?
Digging deep
I decided to dust my investigative garment to find out who is who and what is what. After all, a one-sided case wouldn't sound like a fair hearing by any stretch of imagination. Below is a screenshot of both homepages.
Eazyhire.com.ng homepage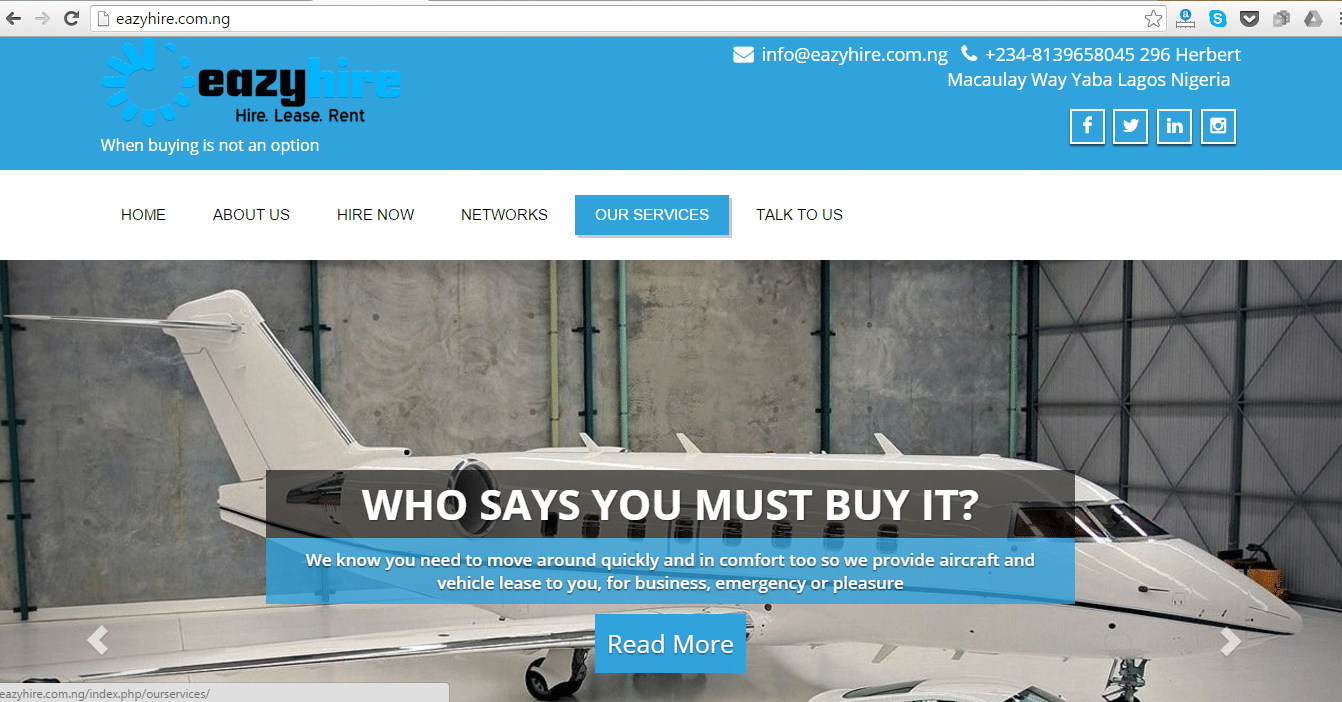 Easyhire.com.ng homepage
 Here I was still confused as I repeatedly toggled between both pages, trying to figure out their stark resemblance as vividly painted by Josh. Only after great effort did I eventually discover what a 5 year-old would have easily figured out. The Easyhire.com.ng domain is only a platform for renting, leasing or hiring anything cars. The domain that actually does everything Josh's Eazyhire.com.ng does is "Easyhire.ng" (not .com.ng). There it was boldly embedded in the top left corner of the homepage. Below is a screenshot of the site.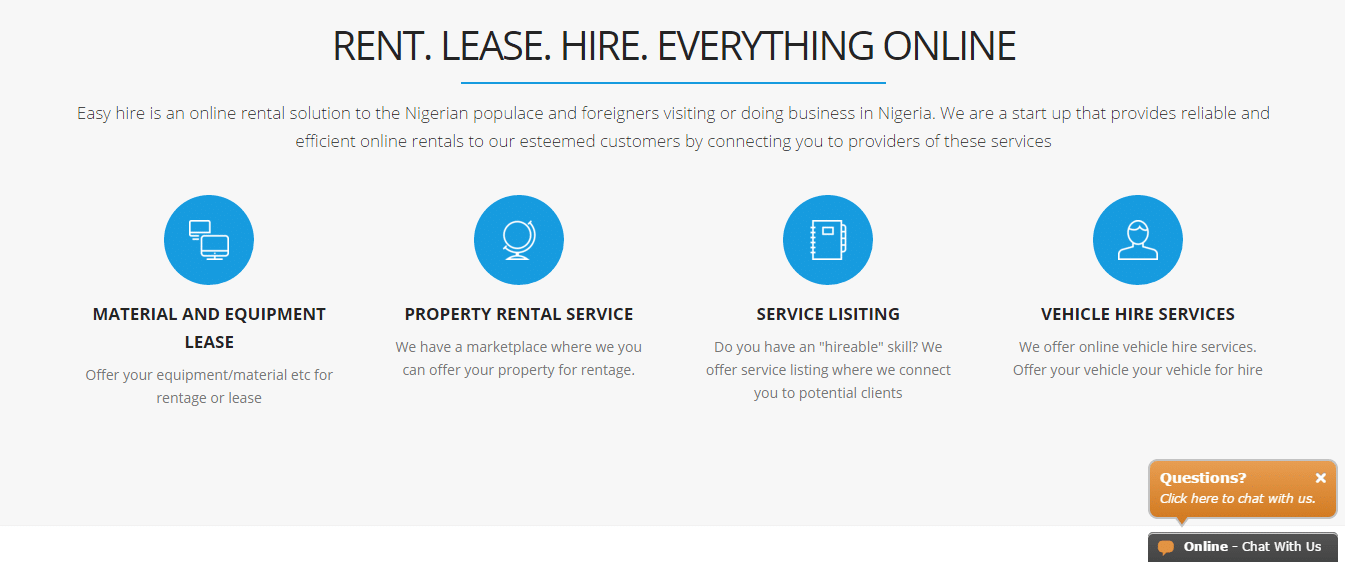 Is the alleged impostor running two versions of "Easyhire"? And if not, why isn't he redirecting to a single domain, since both are renting platforms?
At this point, I still couldn't discern who might be copying who. I remembered seeing some "call us back" numbers while I was playing around the "contact us" section of his (Easyhire.com.ng) homepage. So I innocently went ahead to dial the number. Nothing prepared me for the hostility I was dished the very moment I stopped beating around the bush. Our friend on the other end of the line refused to even tell me his name. "My name is not important," he said with an effortless grace each time I asked. And he refused to field any further questions. He however was resolute while passing the following remarks; "If there's one Eaz(s)yhire, then it is us. We're registered and duly certified. Easyhire is an organisation by some group of people, it's been on for a while, and if anyone feels his rights have been infringed upon or that is business has been stolen should do the right thing by the law".
This sounded fair enough to me. However, I wondered, "why wait and soak up pressure or expect the other party to bring the battle down to you?"
There are always 3 sides to a story; the side of both parties involved and the truth. Basing my conclusions off the emotions of both involved parties would be totally unfair. So I decided to press further. I fired up whois.net (an online tool that tracks details of domain registration) and ran both domains through its very effective search engine. The results I got were quite interesting
Domain registration details for Eazyhire.com.ng
Domain registration details for Easyhire.com.ng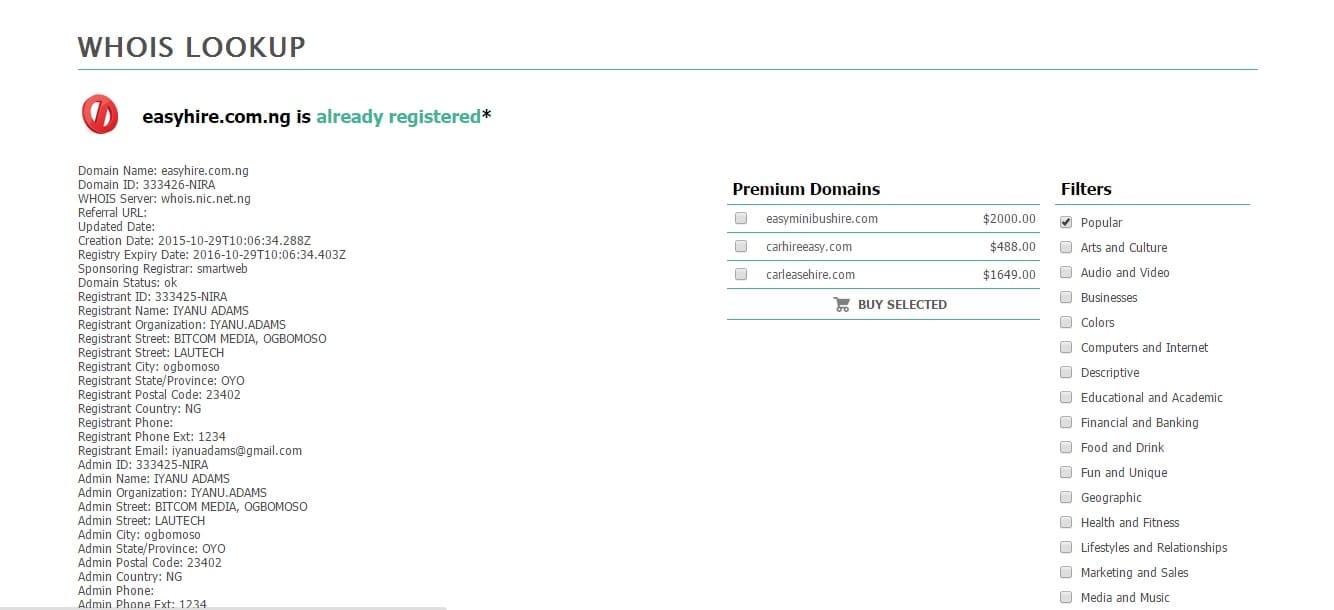 Domain registration details for Easyhire.ng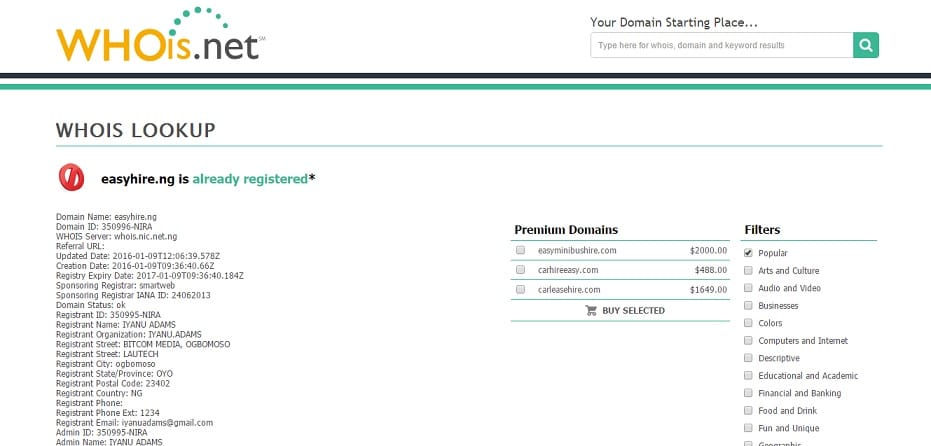 As you can see, the domains for Easyhire.com.ng and Easyhire.ng were actually purchased in 2015 and 2016 respectively by one Iyanu Adams in Lautech, Ogbomosho, as against Josh's registration over a year earlier in 2014. Interesting I must say, but that doesn't put me in a conclusive position. You can do the logic yourselves.
Let us hear your thoughts on this in the comments section below
Featured Image credit: HandInHandParenting