Have you ever purchased building materials from a next door vendor and somehow felt cheated? Or have you ever felt awkward when you have to chart a separate bargain for delivery? Maybe you were forced to let go of the entire purchase when no agreement was reached for delivery? It's probably worse when you're dealing with large quantity purchase of such items, especially where as a buyer, you are visiting the market for the first time. It could certainly get annoying. However, one startup is offering a disruptive approach to nipping those entire worrisome dilemmas in the bud.
Introducing Cribpark
Founded by Oludare Pius, Cribpark.com.ng is Nigeria's first state-of-the-art online marketplace that connects buyers and sellers of housing products, like building materials, at discounted prices with 24-hour free delivery at the most.
The platform provided by Cribpark not only allows homeowners and potential builders purchase variety of valuable building materials, but also gives them access to price listing by different vendors from different geographical locations, and as such eliminating the excesses of over ambitious agents/vendors. The business is an offshoot of previously adopted similar models. After market testing and risk analysis, it was pivoted in June 2015 to being a marketplace for housing products (Building materials) which is seen as having a linear approach and scalable potential, especially in an already saturated market like Nigeria where building materials are acquired almost on daily basis for various building needs.
Market and value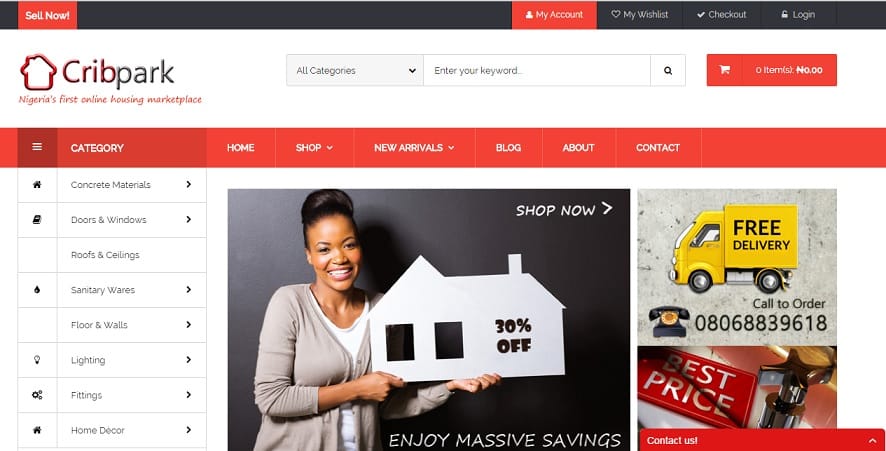 Having had a firsthand study of the market, Cribpark observed that the housing market in Nigeria is being driven by an increasing demand from the middle class – usually tech savvy and mostly online through their mobile devices -- most of whom either do not have the luxury to visit the traditional building market or are visiting the market for the first time. The suppliers -- dominated by old and/or semi-literate people -- on the other hand see the process of leveraging on technology to meet demand with supply as being cumbersome. However, Cribpark's unique approach to tackling this challenge is by providing 24-hour delivery, acting as a hyper-local market that enables price comparison of products of various geographical locations from one single source (cost saving conveniences) and ensuring quality of products. This it calls the triple constraints.
Working Algorithm
The process begins with a vendor acquisition, which is essential in capturing their interest and creating the much needed mutually beneficial relationship between all parties. Cribpark then goes ahead to create a vendor relationship support team to work with these vendors. The support team goes ahead to meet the vendor, create a profile for them and upload it in a way the buyers who are internet savvy can understand. As a result, internet savvy buyers are able to communicate online with internet illiterate vendors through its provided support layer that bridges the digital divide.
"Initially what we planned was that they would sign up themselves, but we realise that most building material dealers are not IT really savvy, so we support them in helping creating a profile that communicate with the kind of customers that we have," Oludare explained. And because it's a market place, many vendors can sell the same item, thereby creating an internal competition among vendors and hence price moderation. The mutual relationship ensures discounted prices for buyers and ready market online for the vendors.
Funding
Cribpark Systems Ltd is incorporated in Nigeria (March 2014) and like most startups, started off bootstrapping and relying on hands-on skills to lower the cost of running the business at the initial stage. The Rwandan subsidiary -- Cribpark Rwanda -- was created after Cribpark was selected among the 4 African startups into Millicom's Tech Incubator. Millicom provided seed investment of $15,000 for the 6 months incubation period in Rwanda (November, 2014 – April, 2015). Another interesting fact about the startup is how it self-raised $5000 after the initial investment got exhausted and is still maintaining its lean budget.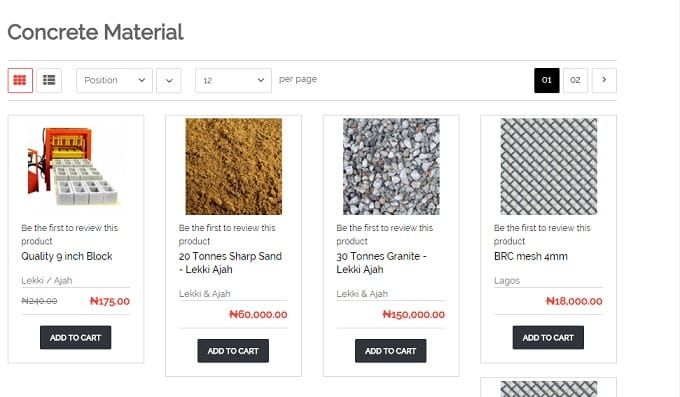 While the business is still looking to continue bootstrapping and increase sales till they are ready for the next investment, it is interesting to note that the company achieved a gross merchandise volume of $70,000 dollars from a marketing budget of just $350 in its first seven months. Cement, sand and granite have accounted for over 70% of sales.
Challenges
In this part of the world, we wouldn't stop talking about the issue of trust, and it's been no different for Cribpark. On the part of the vendor, Oludare explains, " it's hard convincing vendors especially because they inquire about the immediate benefits ."
The company solved this by going through the major distributors rather than using the companies. The customers on the other hand want to see variety on the platform, especially in terms of user interaction. The company had to adopt pay on delivery in order to create trust in the customer. Cribpark further had to introduce a buyer protection policy that provides escrow services for customers; payment is only to be remitted to vendor upon 100% validation of the product as satisfactory condition in the eye of the customer.
Prospects
Cribpark is heavily focused on areas like Ikorodu, Aja, Festac, Ibafo and Mowe, as these are areas with strong demand for building materials. But it is looking at capturing the entirety of Lagos within the next 6 months, and then Abuja and Port Harcourt combined in the another 6 months. "These markets represents between 55-60% of the construction industry in Nigeria," Oludare says,
Following up on that would be securing interest in places like Rwanda; where it had its incubation, and leveraging on its partnership with Millicom to scale there, before extending to other eastern African countries. The company also intends to add to its vendor list, by conducting another round of vendor acquisitions.
Photo Credit: Night-thing via Compfight cc
Read guest post by Oludare Pius: Lessons from the Diary of a Nigerian eCommerce startupper