Every day, more people and more devices around the world are coming online, and it's becoming easier to share data-intensive experiences like video and virtual reality. Scaling traditional telecom infrastructure to meet this global data challenge is not moving as fast as people need it to. At the 2016 Mobile World Congress conference in Barcelona, Facebook announced the formation of the Telecom Infra Project (TIP).
In combating the global data challenges, Telecom Infra Project (TIP) is an engineering-focused initiative that is bringing operators, infrastructure providers, system integrators, and other technology companies together to collaborate on the development of new technologies and reimagine traditional approaches to building and deploying telecom network infrastructure.
To kick-start this work, TIP members such as Facebook, Intel, and Nokia have pledged to contribute an initial suite of reference designs, while other members such as operators Deutsche Telekom and SK Telecom will help define and deploy the technology as it fits their needs.
TIP members will work together to contribute designs in three areas — access, backhaul, and core and management — applying the Open Compute Project models of openness and disaggregation as methods of spurring innovation. In what is a traditionally closed system, component pieces will be unbundled, affording operators more flexibility in building networks. This will result in significant gains in cost and operational efficiency for both rural and urban deployments. As the effort progresses, TIP members will work together to accelerate development of technologies like 5G that will pave the way for better connectivity and richer services.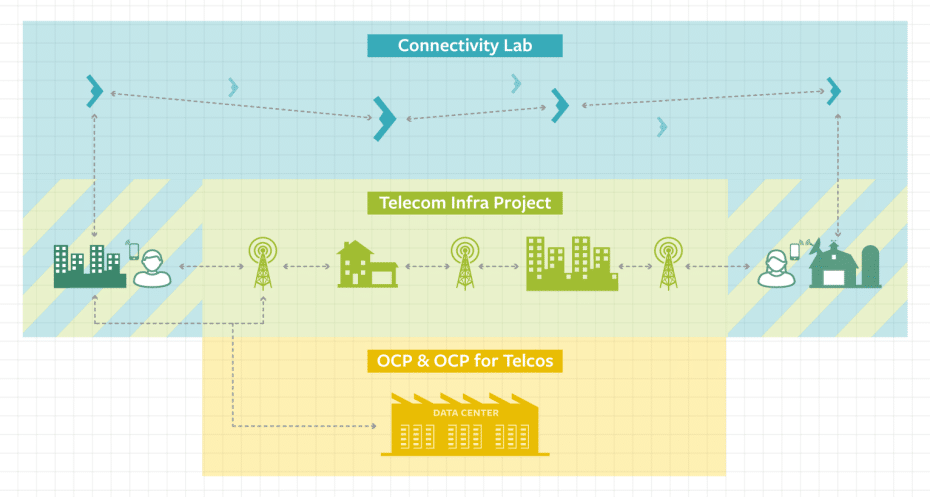 Working to enable operators and the broader telecom industry to be more flexible, innovative, and efficient is important for expanding connectivity. Following the investment in Internet.org, TIP is a new investment that ties into other connectivity efforts made by Facebook.
We expect TIP efforts to result in the dramatic reduction of overhead associated with providing mobile coverage by simplifying network build-outs. It will be possible for operators, enterprises, and other vertical players to build faster and simpler mobile broadband spot coverage in rural, suburban, enterprise, and urban environments compared to using traditional mobile network implementation models - Henri Tervonen, Nokia's Head of Architecture and Technology
The growth of the internet and the rise of data-intensive services like video and virtual reality will require collaborative efforts on the development of new technologies, rethink how existing technologies are deployed, and focus on simplicity, flexibility, and efficiency. Visit TIP's official website, to learn more about the initiative.