The future of Mobile Money and Remittance in West Africa and Africa at large was put under the spotlight at the 6th Remittance and Mobile Money Expo that took place at the Oriental Hotels yesterday. This year's even was themed "Enabling low cost transactions". It was moderated by Stephen Lawson, an NTA anchor.
Nigeria is Africa's largest remittance destination with an inflow of over $21 billion in the year 2015. Yet, statistically speaking Mobile Money is still not very popular in these part of the world. And for it to be adopted, measures have to be put in place and the case for lower transaction costs examined
Many industry players were present from around the world, most hoping to establish their business presence in Africa, Nigeria particularly.
The first section of the event was discussing disruptions in the remittance industry and highlighting the new opportunities that are in Africa. Speakers from this section were the new and not so new entrants into the African remittance business space.
"Getting a license to operate in Nigeria is not a straightforward affair in that it is stringent to sift the chaff"-@unclemikeyk #RMM2016

— Techpoint Africa (@Techpointdotng) February 2, 2016
Michael Kent the CEO of Azimo talked about the environment for new entrants into Nigeria. According to him, talking from experience, the policies for approving new players are actually air tight and that does keep away unserious elements from operating in Nigeria.
Other speakers in this section were Eric Babrbier CEO of TransferTo, Sudhesh Giriyan COO of Xpress Money, Ahmed Cassim of HelloPaisa which has had a successful run in South Africa and Komal Rathi the Chief Operating Officer of Transfast worldwide.
The underlying theme of their message was the viability of Africa as a fertile ground for disruptions in the worldwide remittance industry.
After a coffee break, the second session resumed with the speakers discussing the lessons and opportunities in transiting to digital remittances. Speakers in this section were Nigerian with a representative from the Nigeria Inter-Bank Settling System(NIBSS) who stressed on the challenges and obstacles to enabling low value transactions in the Nigerian remittances environment.
Christabel Onyejekwe, Director Biz Dev, NIBSS speaks on enabling low value transactions.-@remitafrica2016 #RMM2016 pic.twitter.com/sqD9SAQJJ0

— Techpoint Africa (@Techpointdotng) February 2, 2016
Mrs. Christabel Onyejekwe of the NIBSS' Business Development Unit addressed the issue of the operational costs of running traditional remittance methods.
"39.1% of Nigerians have no education at all and hence are financially excluded from innovations" - @remitafrica2016 #RMM2016

— Techpoint Africa (@Techpointdotng) February 2, 2016
The NIBSS representative also put facts and figures affecting the relationship and exclusion of Nigerians from financial innovations.
Welcoming Jerry Ejikeme CEO Sochitel Group as he speaks on the African remittance market. #RMM2016 #TechpointEvents pic.twitter.com/wvEPJrohRZ

— Techpoint Africa (@Techpointdotng) February 2, 2016
Jerry Ejikeme, the CEO of Sochitel a global remittance and value transfer company based in the UK focused on opportunities around the overseas airtime top up and remittance industries took the stage to talk about the African remittance market from an international viewpoint.
"Statistics say there are 181,000 Nigerians in the UK, but it is factually about 3 million." #RMM2016 #TechpointEvents

— Techpoint Africa (@Techpointdotng) February 2, 2016
He cited incorrect statistics and misconceptions as the bane of the African remittance facilitation from an international perspective.
@Graham_Tonkin Head of Biz Dev @monetasnet on Leveraging CryptoFinance at @remitafrica2016 #RMM2016 #TechpointEvents pic.twitter.com/ahwdoBGV67

— Techpoint Africa (@Techpointdotng) February 2, 2016
Graham Tonkin's presentation on leveraging cryptofinance and exploring cryptocurrencies was by far one of the most insightful presentations of the expo as it was laden with hard facts, figures and as I would like to say, the bitter truth about mobile money in Africa.
"CryptoFinance allows transacting to anyone anywhere across borders. " - @Graham_Tonkin , #RMM2016 #TechpointEvents

— Techpoint Africa (@Techpointdotng) February 2, 2016
He stressed on the interoperability of cryptofinance,
"75% of Kenyans use Mpesa and 99% volume of transactions is still happening in physical cash" #RMM2016 #TechpointEvents

— Techpoint Africa (@Techpointdotng) February 2, 2016
Statistics showing the limitations of Mobile Money as opposed to popular beliefs.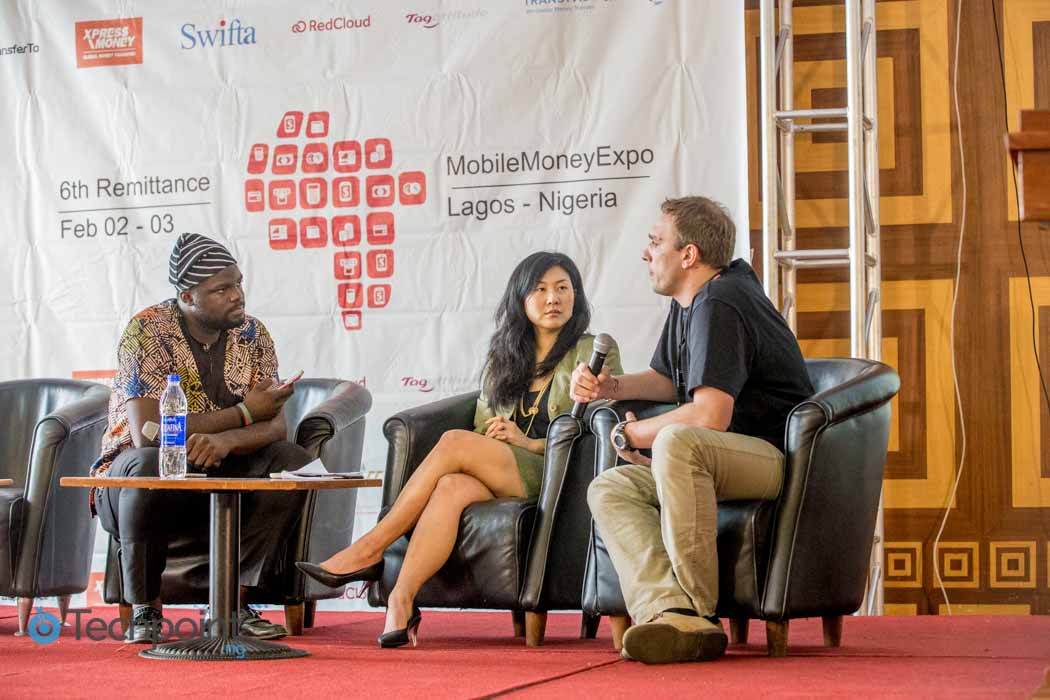 The event was rounded off with a final session of a joint presentation between Antonio Separovic, CEO of Oradian and Joyce Kim, Executive Director of Stellar and moderated by Iyinoluwa Aboyeji of Andela.
"As of today, 200 microfinance banks can transact with the @StellarOrg and @OradianHQ system."- @joyce pic.twitter.com/tP3P0BKxwy

— Techpoint Africa (@Techpointdotng) February 2, 2016
They were focused on bringing financial services to over 100 million unbanked Nigerians, and also how the system between Oradian and Stellar is pioneering low cost transfer to rural areas and changing banking as we know it.
With the issues being trashed out, the Mobile Money Expo 2016 seems to be really addressing its theme of enabling low cost of transacting remittances and saving Africa a whole lot of money. Putting Bill Gates in perspective,
"We must continue lowering the transaction costs of remittances, so that this growing pool of money has as big an impact as possible on the poorest. Reducing these costs to an average of 5 percent (compared to the current average, which is roughly twice that) would save $15 billion."
2016 is for #Fintech in Nigeria. #MyTechPrediction #RMM2016

— Adewale Yusuf (@AdewaleYusuf_) February 2, 2016
At this rate, we can comfortably say 2016 is the year of big things for FinTech in Nigeria.