In a recent report from the Amnesty International Group, there are indications that your smartphone might just be a product of thousands of children dying under harsh labour conditions in the Democratic Republic of Congo (DRC).
The report titled, "This is what we die for: Human rights abuses in the Democratic Republic of the Congo power the global trade in cobalt was published on the group's website today.
Lithium cobalt oxide is a chemical compound used in the manufacture of lithium-ion batteries and this compound is gotten from cobalt. Every smartphone has a lithium-ion battery, including the one in your hands now.
Mining for cobalt ore usually includes children who are there because of the economic realities, and working in this business comes with health hazards including permanent lung damage. These health hazards are made worse by the lack of proper precautions like face masks to prevent inhalation and safe working conditions. According to the report, most of the children indicated that they earned between 1,000-2,000 Congolese Francs per day - approximately $1-$2.
Children who collect, sort, wash, crush and transport Congolese cobalt are paid per sack of minerals by the traders. There is no way for them to know the value of the cobalt they have collected to determine what their labour is really worth.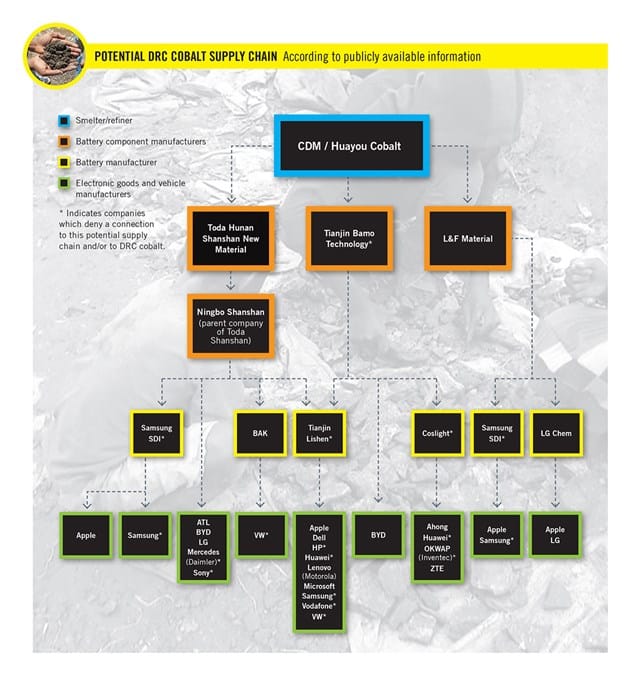 Congolese cobalt is processed in China and via some complex supply chain, find its way to mobile phone manufacturers who in turn use it without verify the source. The multinationals involved were contacted and they all gave different reasons or the other, all pointing to negligence of the source of raw materials they used in manufacturing.
Apple had this to say in reply to Amnesty International's query.
We are currently evaluating dozens of different materials, including cobalt, in order to identify labor and environmental risks as well as opportunities for Apple to bring about effective, scalable and sustainable change. As we gain a better understanding of the challenges associated with cobalt we believe our work in the African Great Lakes region and Indonesia will serve as important guides for creating lasting solutions.
From the image above, Microsoft, Samsung, Apple, DELL, Huawei and a host of others are not left out of this mess.
Amnesty International and Afrewatch, a non profit organisation promoting equal access to natural resources including land, water and minerals are calling on multinational companies who use lithium-ion batteries in their products to investigate whether the cobalt they use is extracted under hazardous conditions or with child labour, and be more transparent about their suppliers.
Image Credit; Amnesty International, XinhuaNet.