According to a quarterly report by the Communications Authority of Kenya (CA), mobile penetration stood at 88.1% at the end of the quarter with 3.87 million subscribers up from the previous 36.1 million in the last quarter.
Pre-paid subscriptions continue to dominate the mobile telephony sector, registering 36.8 million subscribers, accounting for 97.3 per cent of the total subscriptions. Post-paid subscriptions saw a marginal increase to 989,889 up from 963,684 in the previous quarter.

Increase was also recorded in the Internet/data market, with a registered 21.6 million subscriptions up from 19.9 million in the last quarter. Users grew to 31.9 million from 29.6 million in the previous quarter. Kenyans accessing Internet services reached 74.2 per 100 inhabitants up from 69.0 per 100 inhabitants recorded in the previous quarter.

The number of broadband subscriptions increased by 19.3 per cent to reach 6.3 million up from 5.3 million subscriptions recorded during the previous quarter marking a penetration level of 14.7 per cent.
In the class of voice calls, local mobile traffic increased by 18.2 per cent to 10.8 billion minutes up from 9.2 billion minutes posted during the previous quarter.

Subscriber averaged 95.8 minutes per month during the quarter up from 84.9 minutes the previous quarter. Offers and promotions by service providers had a huge impact on this segment.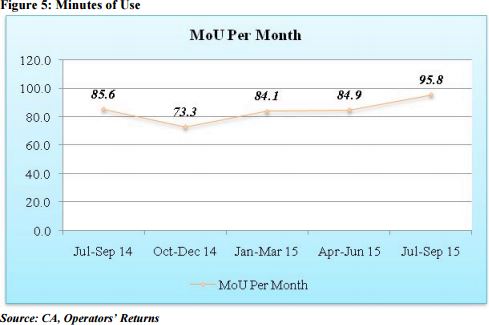 Mobile money transfer service subscriptions increased to 28.7 million up from 27.7 million the previous quarter, with the number of mobile money agents recorded at 135,724 up from 129,357 in the previous quarter.
However, there was a downward slide in the postal and courier sub-sector as number of letters sent locally declined significantly by 17.2 per cent to register 12.9 million down from 15.6 million letters sent during the previous quarter. International incoming letters increased by 10.8 per cent to post 2.4 million letters up from 2.2 million letters received during the previous quarter. Similarly, international outgoing letters increased to 1.37 million up from 1.35 million letters sent during the previous quarter.

Image Credit; CA