Possibly one of the most popular online activities among Nigerians are  social media and blogging.
Thanks to the vast array of free platforms that are available, everybody has an online presence it seems. But while most of us may be socially active as a hobby, some of us have managed to make a killing out of it. Cue Aunty Linda (Ikeji). But what if you had an opportunity to make money for what you love doing like Aunty Linda? Enter Follio.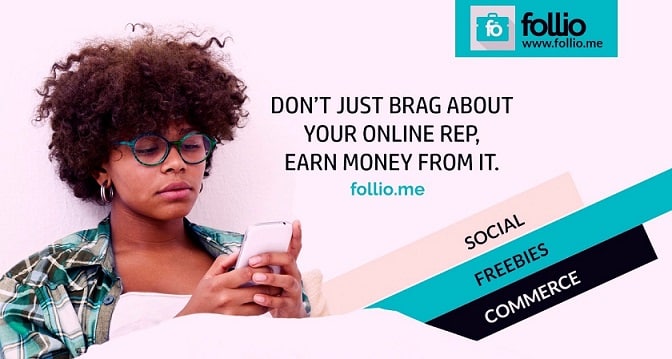 Follio is a global initiative that rewards users for their social and commercial activities on the platform by sharing a percentage (as much as 50%) of its ad revenue with all users. You get paid for sharing articles, news, opinions, gossip, jokes, product reviews, events and much more. Also, Follio allows users to maximize their social connections by bringing together all their social media contacts on one platform.
How it works
Setting up a Follio account is a breeze. First you have to point your web browser to Follio.me and fill in a sign up from. You will be required to key in a few personal details, including your name, state/country of residence and a little about you.
After that you are asked to select up to 5 areas of interest. This will help Follio connect you with like minds on the platform. Just like Twitter, you can follow other users whom you find interesting. There's also a newsfeed (or timeline if you prefer), where you can see all the stuff shared by people you follow.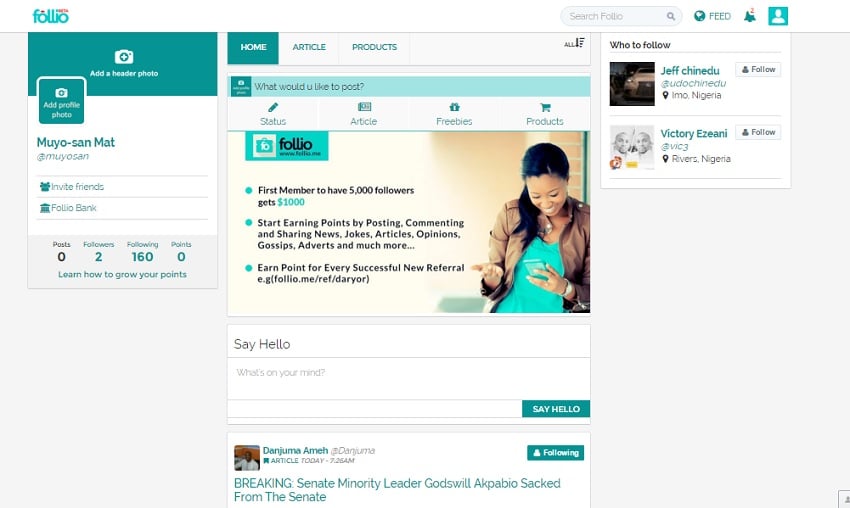 The interface is just as familiar as any other popular social network you already use, complete with status updates, liking and sharing buttons. However, there's more to Follio than being just another social network
Freebies
This feature allow users to reach out to their followers, the poor or less privileged in our society, by donating gift items that may not be useful to them. This also gives the students opportunity to donate or receive gifts from friends.
Articles
This feature allow users share articles such as news, research work, product reviews etc. with their followers to read and comment.
Products/Deals/Services/Events/Jobs/Rentals
On this platform, users who are into business can post their product/deals/services/events/jobs/rentals for their followers to see and patronize them.
Opinion
This feature enables users to express their opinion about a product or Service they have used. They can either complain or compliment any product, service or brand.
Real-time Online Chat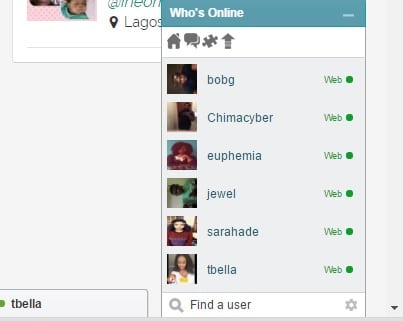 On Follio, you can chat with other online members across the world. Audio calls and Video Conferencing are also enabled on the platform
Developed by a team of Nigerians, with a global audience in mind, Follio.me has already garnered thousands of users within 2 weeks of its pre-launch. Majority of those sign-ups are from Nigeria but also span across the US, UK, Canada, Slovenia, India, Ghana, UAE, Cameroon, Tanzania and Germany.
Fully launching today, Follio is on a mission to change the Social Media landscape. As a way of rewarding the earliest adopters, Follio.me promises to give out $1000 cash to the first user to get up to 5000 followers. Sounds interesting? You can sign up now.