Nigerian Afropop sensation, Yemi Alade announced the release of her app via her Instagram page. The announcement came in the form of a screen shot image of the app on the Google Play store.
So I downloaded the Yemi Alade app from the Google Play store and took a quick look at it. The first screen that greets is a beautiful picture of the songstress.
And then the screen immediately transferred into a homepage of sorts, with the different pull down menus. Links to her social media pages, a video menu that opened links to her Vimeo and Youtube pages.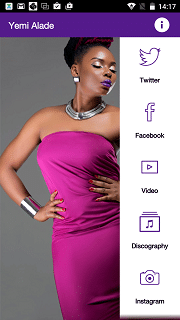 With the videos available to be played on the page, even her recent single 'Do As I Do' is featured on there.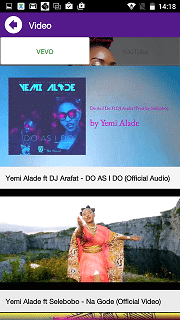 Then there is the shop menu to buy her music. In that area, there is just the "King of Queens" album available for purchase. I wonder why this is so as the MAMA awards winner has many singles that are meant for sale too. After purchase, the checkout takes you to a Paypal page.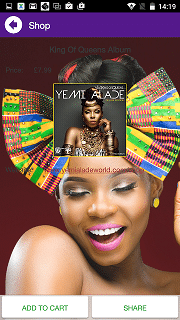 The hook on this app is it's contact page and how to book her, complete with an email address, phone number and personal website.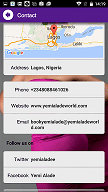 Opinion
The app is very simple, maybe too simple, but it is not a big deal in itself. It is an attempt by the star to connect with her fans and it's features really make it work as a connectivity tool. With the social media buttons on there, loads of fans not following her previously would be linked up automatically to the star's account.