A few weeks ago, I was invited to speak at an Innovation conference for students at the Faculty of Social Sciences, University of Lagos.
Here's an excerpt from my conversation with these fascinating young minds…
The Story of Agrippa, my village herbalist & Steve Jobs
Agrippa, full name Marcus Vipsanius Agrippa was a Roman Statesman, General and Friend of Caesar Augustus. Agrippa 'is' also the name of my village wiseman/herbalist/local Steve Jobs.
Agrippa (from Aba) is/was a diviner extraordinaire and could literally all but predict the future. I daresay that indeed many times he did.
Agrippa (from Aba) is still well and alive and from local estimates, about 393 years old -- making him easily the oldest living human being. He was our local Google, eventually becoming our regional Steve Jobs.
Agrippa (from Aba) was a celebrated wiseman advising Ezes (Kings) from surrounding Kingdoms, renowned in his ability to creatively and possibly accurately read omens, predict the outcomes of wars and famines, as well as commune with the spirits of our forefathers long dead and gone.
Agrippa's most renowned service was his ability in divinity. Agrippa was known to call out individuals in his calabash filled with liquid that would physically showcase said individual- sort of like a mirror.
Agrippa (from Aba) was also able to project that image unto a screen (even though that screen was surrounded by red cloth and cowries, which I suspect was simply to mystify the whole process and served no actual purpose)
Today, Agrippa at 393 earth years wasn't let down easy. He still lives in a mud hut, built by one of our first Ezes in my Village, Mgbedeala in Isiala Ngwa South local Government Area, with a bicycle he bought about 97 Years ago as his most prized possession.
Steve Jobs reminds me a lot about Agrippa, especially when he introduced the very first iPad -- a device that would be one of many 'innovations' from Apple that went on to sell in excess of 250 million helping make Apple a 500 Billion USD company along the way.
Agrippa from my Village in Aba and Steve in another life would possibly, probably have been kindred spirits. The difference between both of them was that one person was able to Commercialize his Proposition.
The Story of the Witches in UNIBEN & Skype
I got my first degree from the School of Pharmacy at the University of Benin just like my Father. Benin was a vibrant city that shaped my outlook on life. It really was a breath of fresh air from the cosmopolitan cities I have known all my life. It was old, with vestiges of its yester-years scattered all around. The girls were 'friendly' and everything was sold at a discount once you could provide a valid student ID.
I learnt many things whilst at University, including the permanent, persistent, and continuous presence of Women (and sometimes Men) with special powers, popularly called Witches. My friends told me many stories of the rich cultural heritage of the Benin Kingdom, interspersed with tales of people with superpowers -- not unlike Superman.
One of these stories included an annual gathering of these individuals with super powers aka Witches; that took place in the City of Benin. I would later understand that these gatherings were one of the first in the history of mankind to allow participants from all over the Country without an actual physical presence; sort of like the dial in Skype powered conference calls that have now become a permanent, persistent, and continuous part of our corporate lives.
Many years into the future, this service in its various forms converged into a service called Skype; a service used by 1 out of every 4 People in the World (1.78 Billion Users). In May 2011, Microsoft announced the purchase of Skype from 2 Estonian Entrepreneurs for 8.5 Billion USD.
The Witches in Benin are possibly still there today and probably relevant to some segments of a people with a rich cultural heritage. However, they in no way have the permanent, continuous, persistence that Skype has in our lives today. They are surely not worth 8.5 Billion USD. The Witches of Benin failed to understand the concept of The Network Effect and thoroughly failed to commercialize their proposition.
The Story of Mustafa my Taxi Driver at Yaba & Uber.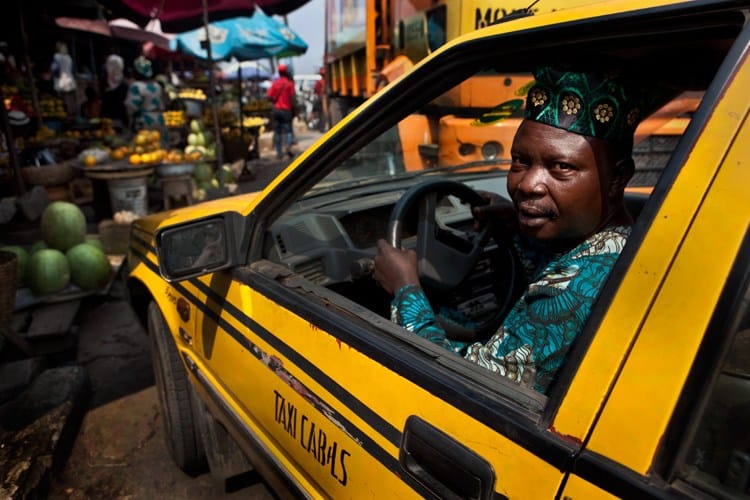 Over the course of my work life, I have traveled and lived across the Country. Many years ago, I moved houses to the suburb of Yaba; a now bustling tech hub in the sprawling city of Lagos -- Nigeria's commercial centre. I had just spent a few years in the work force and didn't think Cars, especially when owned, were important (this means I couldn't quite afford a Car).
So my commute to work involved getting up at 6AM and getting a Taxi from the local taxi rank and heading into downtown Victoria Island.
I did have a panoply of taxi drivers, but eventually I settled for a friendly Muslim Imam, called Mustafa. Mustafa was always available to take me anywhere. I just needed to tell him 30 minutes before I needed to go. We became so close that my Mother would call him sometimes to reach me if she couldn't get through to me. A few Weeks ago, on a beautiful Sunday evening, Mustafa called me on the telephone. This is the conversation we had:
Mustafa: Hello Sir, It's Me Mustafa.
Me: Mustafa, How are you?
Mustafa: Ah Oga, business no good ooh. All my customers done run, even you sef. Oga abeg, wetin be Uba?
Me: Do you mean "Uber"?
Mustafa: Ehen, Yes. Oga abeg wetin be Uber?
I had a smile on my face; a face filled with sadness. I couldn't help but feel sorry for this kind hearted Man in his splendid ignorance, whose only fault was being born during an ongoing revolution, driven by the Internet.
Uber is now a service that claims to deliver 1 Million Rides daily across 290 Cities in 50 Countries with an estimated Market value of over 50 Billion USD. At the current valuation, Uber is bigger than SONY, NOKIA, YAHOO, FEDEX, NISSAN & 90% of the US S&P 500.
Mustafa and most traditional taxi services across the World have been thoroughly disrupted by the Internet and the emerging sharing economy. Mustafa probably needs a new profession; one that embraces the Internet.
I consider Brand Building an Art in storytelling. These 3 stories, possibly made up, probably true, were used to highlight 3 important precepts in Innovation:
Commercializing Your Proposition.
Understanding the Concept of Network Effects.
Harnessing the Power of the Internet.
This post originally appeared on Mayor Esiaba's Pulse
Photo Credit: Moi of Ra / Wikipedia  cc