Entrepreneurship, in recent times, has seen increased competition. The pressure on entrepreneurs to stand out from the competition is increasing as well, and this is giving rise to startups choosing niche markets to serve.
One of the first questions you might want to ask yourself from the outset is – 'what's my brand's unique selling point?' Your answer to this determines everything about your startup – hiring process, customer acquisition and retention, marketing strategy as well as promotions.
Every brand has a unique selling point, which in most cases is centred on 'people' – customers/clients. This post is not meant to diminish the idea behind your unique selling point but to look into other ways to stand out as a startup in the crowd.
Share your vision and mission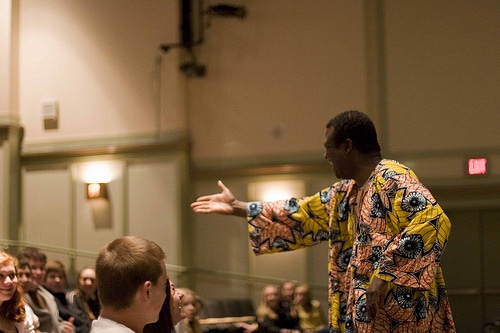 Unique characteristics that your competitors will lack are surely your vision and mission, as well as your ability to showcase them in every available opportunity.
There are different media through which you can get across to different set of demographics. Make use of your audiences' media to reach out to them, share your vision and mission with them in their own language and world.
It's not all about you and shouldn't even be. Involve your team in the vision and mission sharing process. Can they talk about the company's vision and mission? Do they even know it?
Co-create with the market
That Social Media is presently one of the biggest things doesn't denote a startup taking that lane.
Have your product designed in alignment with your potential users' need – see from your users point of view. Have prior insights into what your potential users already have and lack, this surely position you to think from the users' side of the table, and to knowing what they actually need and not focusing on what they want instead.
There are avenues from which you can get opinion from your potential users, and to know what's currently working for them as well as what's lacking. And the Lean model still remains one of the valid methodologies in achieving this.
Co-creating with the market surely stimulates a greater connection while also producing a better-aligned that sells with no much effort, and the users will be willing to refer your produce without the persuasion to do so.
Adopt your users' media for communication
The approach with which a brand would reach out to its users about a decade ago is surely different from that of today. It's the age of social media and customer service alongside sentiments are leading the race.
But of course same can't be said if the solution is targeted at my uncle back in my hometown. So it's about communicating with your users in their own different and unique ways. Just as Johnny Storm said in the 2005 movie, Fantastic Four when referring to the uniform designed by Dr. Victor von Doom - "It keeps the hot stuff hot and keeps the cool stuff cool."
Go the extra mile of creating exclusive content, just for your users/clients. Talk about  how you are delivering on your vision as a company or even the behind the scenes of your product.
Don't give room for a break in communication between your brand and your users/client. On your corporate agenda, have great communication at the top.
Photo Credit: bichxa / France in New England via Compfight cc