Just in case you've been living under a rock, Adele is back! The 'Matron Saint of the Broken-hearted' rewarmed her way into our hearts over the weekend with her new single, 'Hello'. The single was released ahead of the November 20th launch of her upcoming third studio album dubbed '25'. No surprises, the single became an instant hit, smashing Vevo's 24-hour record by amassing over 25 million views in its first 24 hours.
Without an iota of doubt, the soulful songstress is apparently still on top of her game and winning. But she's not winning alone. One African telecommunications company was smart enough to foresee the success early on. Hello had barely begun setting social media ablaze when MTN Nigeria's official Twitter handle sent out a tweet offering the single as a callertune:
Text 33 to 4100 to set 'Hello' by Adele as ur Calllertune at N5/month. Exclusive to MTN. #Adele #MTNTunezAndBeatz pic.twitter.com/ENoKKKIDns

— MTN Nigeria (@MTNNG) October 23, 2015
As it turns out, this development had been announced hours before the release. According to ITWeb Africa, the deal is actually exclusive to MTN globally. This means that no other telco in the world has rights to use the song as a callertune. This is the first time ever that Adele has permitted the use of her music via this format. The Hello callertune is currently available to all MTN subscribers in Nigeria, South Africa and Uganda.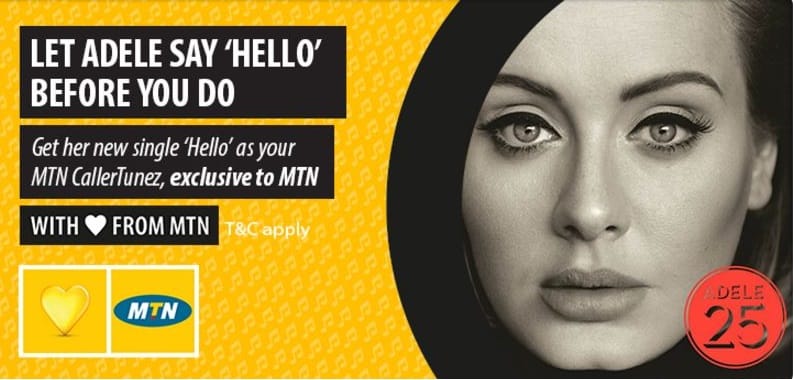 While we don't have the exact figures, we know that the callertunes business in Africa -- Nigeria in particular -- is at least a billion-naira industry, with artistes like D'banj raking in as much as $200,000 of the revenue cut in the space of 18 months. In Nigeria alone, more than two-thirds of MTN's 63 million subscribers use callertunes for as little as N20 a week to N50 a month. At N5 monthly, MTN is offering the Hello callertune for much lower. This ridiculously cheap pricing is likely an incentive to get more people to download. It's a move that is probably unnecessary - Hello already has over 55 million views on YouTube alone, as of this publication. If that's any indication, the single is bound to see a massive amount of airplay on our airwaves over the coming weeks and months. More airplay translates to more mindshare and no single body in Africa will probably benefit from this more than MTN.
Sealing the deal must have required weeks, if not months, of groundwork. MTN took the risk and it paid off.
Listen to/Watch Hello by Adele.