Switching WhatsApp across devices just got easier as Facebook's WhatsApp has teamed up with Google's Drive to offer you a cloud based solution for saving your precious moments. If any part of that last sentence seems incredulous, you can't be faulted. Facebook and Google are supposed to be bitter rivals so why would they be teaming up? That's another discussion for another day.
What you need to know for now is that you can now automatically backup your WhatsApp chat history, voice messages, photos and even videos to Google Drive. Before now, WhatsApp only created local backups that it stored in your device's internal storage. You had to copy out these files manually if you were switching WhatsApp between devices. This is definitely not something the non-tech savvy like to venture into. Even if you were quite comfortable with moving files manually, in the event that your device was stolen, you wouldn't have access to your chat history.
With this new feature, all you have to worry about is syncing your Google account with WhatsApp. You can then set it to backup your messages and media - on a daily, weekly or monthly basis - to the cloud, never to be lost again.
How it's done
This feature is currently available on WhatsApp for Android. First, you need to download the latest version of WhatsApp for Android - Version 2.12.203 - which is currently not available on the PlayStore. However, you can download a legit version directly from the WhatsApp website.
Once installed, the first screen you'll be visited with is a prompt to choose the frequency of your backups. Choose either daily, weekly or monthly.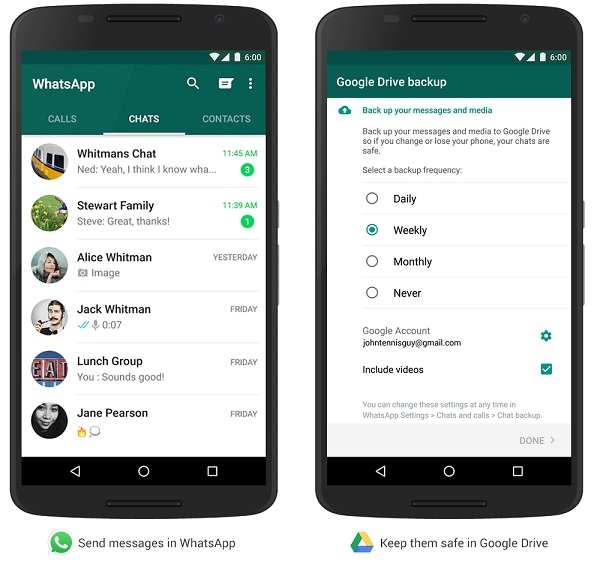 Next select the Google account you want to backup to and, depending on your data allowance, choose whether you can to include videos in the scheduled backups or not.
Now depending on the frequency you selected, your automatic backup may begin immediately or not. However, you can choose to force a manual backup any time by going to Settings->Chats and calls-> Chat backup and then clicking on "Backup".
Here you can also choose whether or not you want backups to take place over Wi-Fi only or also on mobile data. Once you're done, the first backup should begin immediately.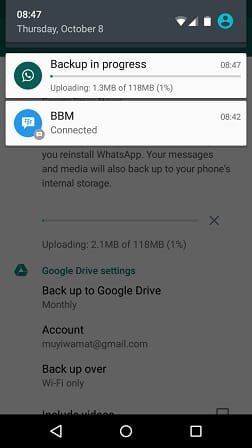 That's pretty much how to go about it. If you have any issues or questions, please let us know in the comments section below.