Founded by Simon Squibb in 2010, NEST is Hong Kong's only private, full service startup ecosystem. They are also the first Hong Kong based Venture Capital firm to expand to Africa as of 15th July 2015. The Africa office, based at Nairobi Garage,  is headed by Aaron Fu who previously worked as regional digital strategy lead for Standard Chartered Bank. Nairobi joins London, San Francisco and most recently Paris in the list of cities where Nest has expanded to.
Describing himself as an idealist and futurist in his twitter bio, Aaron  has co-founded a couple of companies, invested in a few and sits on the boards of a couple more so startups that have always been near and dear to his heart. It is within the bank where he saw the potential for startups to change larger organizations  and this led to his involvement with them most especially through the fantastic platform that is NEST.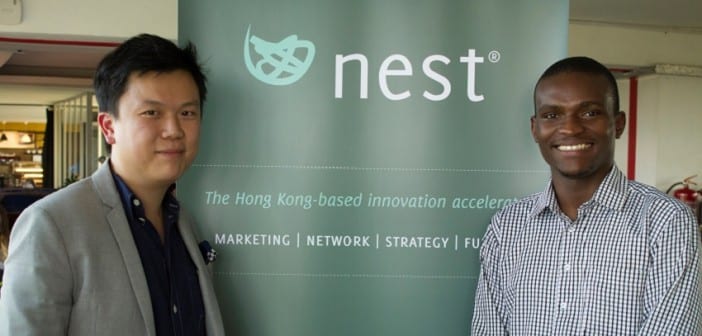 Entrepreneurs on the continent can leverage on NEST the best when they have an idea that is ready to go global. NEST can very much act as a bridge so that startups no longer  need to be limited to their markets and have a soft landing elsewhere.They will have the ability to access NEST's mentor network 
In a recent chat with Techpoint, Fu gave his insight on some issues and challenges African startups face
Startups and raising capital
Startups raise capital for a whole variety of reasons. It really depends on what the startup is working on. There are some startups that can start building a product/service with no funding at all because it is all about the effort of the 2-3 co-founders. If you have got a diverse team, you can build something with almost no investment at all. However, traditionally we always see friends and family come around first and that is usually at the stage where you have a product, an idea of the technology that is going to be behind the product and you are looking to really test. I think some funding is required when one wants to conduct wider market tests, basis of prototypes, but I certainly do think and advice founders to see what they can do with no funding at all.

How investors choose whom to invest in
Sometimes it's as simple as 'I have always been looking for something like this to invest in and you have suddenly come along'. But I also see a lot of investors going into fields they feel very strongly about and  have a lot of experience in . I see a lot of individuals who have made their money in retail and are now investing in e-commerce startups because they would end up being a great advisor to these startups . When it comes to VCs that's also a very clear mandate be it geography, stage or vertical that they have to focus on and are looking for startups that meet that criteria.
Finding the right investor
Finding the right investor is incredibly important because you need to understand why they are investing, why the have chosen you and it is important to define strategic fit. For us at NEST, we have seen a lot of companies that are doing extremely well but we have not invested as we have not been able to deliver the unfair competitive advantage;strategic value. When it comes to finding an investor, ask yourself, what can this investor give me? Is it networks? Their own past experience ? Can he introduce me to other investors going forward? Is he looking at exiting this investment next year?Is he patient? Does he actually want to wait another 5-10 years? What is his goal? Why is he doing this? Choosing the right investor is only second to choosing the right co-founder. They sit on your board, they represent your business and very often selecting the wrong initial investors you put off subsequent investors as well.It is very very important to choose the right investors from the start.
How to follow up with investors
One piece of advice is to be extremely persistent. Investors see hundreds of ideas every month so obviously your pitch needs to be spectacular to be able to grab their attention but then again you should constantly follow up. It could be a situation where your startup is not ready for their investment right now but 3 months down the road when you gain a few more customers, validate some of your revenue models that is when they would be interested. Don't ever take silence as they are not interested, always keep them updated, generally it terms of follow up, be consistent!
NEST's expansion plans
You should expect African innovations to be put on more global stages via NEST platform. We just opened up in Paris and London (right before Nairobi)  . 
NEST has been  speaking to a number of partners in the  major innovation hubs. Lagos is one of their options as it is fantastic market to be in with around  20 million people living there obviously representing a huge consumer base,great story of a return from diaspora with skills ready to start the next generation of businesses in Nigeria. Capetown as well-  ranked as one of the most beautiful cities in the world - is easier to convince some of the best developers to move there. As of now,having being based in Nairobi Nest has been able to send one South African start up to Hong Kong. It being a digital world,  physical presence is not needed to be able to support some of these startups.