If you are looking to start selling online as an SME and you don't want to go through the whole wahala of buying a domain and having your own e-commerce platform, drive traffic through ads just to make some sales and get people to know about you, then you have a much simpler option. Trust me, you don't want to go through all that stress, it is a lot harder than it sounds and you have other ways to do that through platforms that offer the same thing, just better and a lot more easier, taking all or most of the stress away.
If you have been in Nigeria for a few years now, when eCommerce was introduced on a big scale, then when someone mentions Jumia, Konga or Kaymu, then you would have an idea or what is being talked about.
These platforms are the biggest guys in eCommerce in Nigeria presently and they are your best bet for an extra source of income. You can sell conveniently on any of them, with little or no stress whatsoever and get paid, so far you have the right goods that are high in demand.
But nothing goes for nothing, these guys offer you a platform to list your products online that is known by millions in Nigeria, do ads and drive traffic to the site, where your products are on and get you the much needed sales. For all these, they charge a little fee called commissions, which we believe is only reasonable and fair. So, on every sale you make on any of the platforms a percentage is taken from it.
The commission rates differs based on the platform and are based on categories, which are listed below:
Marketplace Commission Rates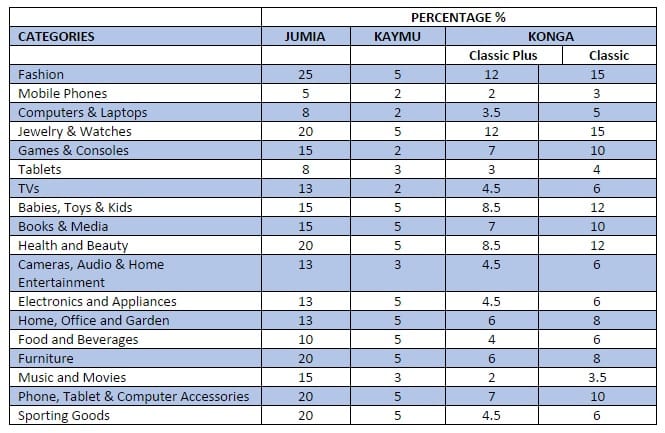 To register and list your products on all three platforms is free, for now and doesn't seem any of them would start charging anytime soon. Also, to list on any of the platforms would require some verification and guidance. The verification process depends on the platform as each have their own processes, but this is required only to make sure you are who you say you are, authentic and not fraudulent.
You would take note that Konga has two different categories for commissions which are Classic and Classic Plus. To become a Classic-Plus Sellers on Konga then you need to have a huge stock of products for a category and make N1million on an average in sales on a monthly basis and have a 90% good rating, while for Classic sellers, you would be required to have 80% good rating, with a variety of products in small quantities.
Kaymu has the lowest percentages for commissions. Kaymu's Commissions would pose a threat to their competitors, as they have the best rates and would easily attract more potential sellers than the other two. Kaymu also is just a marketplace and doesn't sell any of the products its products. Unlike, Jumia and Konga which both started as online retailers and later dipped their hands into online marketplace.
Jumia commissions might seem really high but most people would agree that they offer the best services and have the largest popularity of the three and their customers tend to lean more towards high end customers and they have a traffic of about 10 million a month, which is the highest of all three. All platforms have their processes of running their marketplaces and would give you reasons as to why their commission rates are so, if you want to know more.
All in all, If you are looking to start selling online or you already sell on one and want to sell on others also, then we suggest you do your research well and know more about the platforms, you can also call any of their customer care lines and they will be glad to assist you with more details.
Nobody has ever said it hurts to have one or two extra sources of income, so stop slacking and try it out, you just might find it more lucrative than you thought.