Hacking Team, an Italian based company that sells intrusion and surveillance software allowing governments to hack into computers recently got hacked after a data breach by unknown hackers dumped over 400GB of internal documents on torrent sites.
The validity of the documents have been refuted by the company but researchers claim the documents are valid, if true this company has engaged in many unethical practices, assisting multiple governments alienate their enemies including oppressive regimes.
The company had been accused of supporting oppressive regimes in Sudan and other parts of the world by privacy and human rights organizations in the past, but they denied such practices. The hack revealed a list of countries they have been dealing with.
Egypt, Ethiopia, Morocco, Nigeria, Sudan, Saudi Arabia, UAE
Chile, Colombia, Ecuador, Honduras, Mexico, Panama, United States
Azerbaijan, Kazakhstan, Malaysia, Mongolia, Singapore, South Korea, Thailand
Uzbekistan, Vietnam, Australia, Cyprus, Czech Republic, Germany, Hungary
Italy, Luxemburg, Poland, Russia, Spain, Switzerland, Bahrain, Oman
Bayelsa state government was also implicated in the hack, their contract with the Hacking team shows it has expired. We can't ascertain what surveillance task the firm carried out for Bayelsa state government but from the time frame of the contract, it's clear that Governor Seriake Dickson was governor of the state at the time, and the project was carried out during the state's arrest of Tonye Okio for allegedly criticizing the Bayelsa State governor and former president Goodluck Jonathan.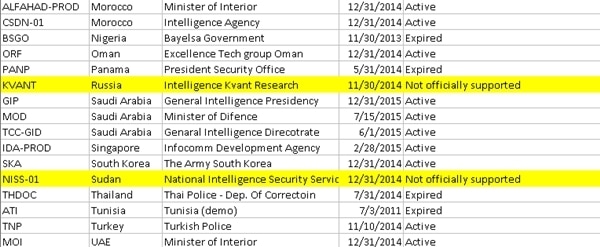 After the breach, the hackers hijacked the Hacking Team's account on Twitter and used it to announce that the company had just been a victim of a devastating hack. Christian Pozzi, a staff of the Hacking team responded to the hack. "We are awake. The people responsible for this will be arrested. We are working with the police at the moment," Pozzi wrote.
"Don't believe everything you see. Most of what the attackers are claiming is simply not true…The attackers are spreading a lot of lies about our company that is simply not true. The torrent contains a virus…"
He maintains the company has done nothing illegal and the files uploaded on torrent contain malware. His Twitter account has since been taken down along with Hacking Team's twitter account but his comments on Twitter has been archived here.
The video below is a an advertorial for Hacking Team's primary surveillance tool called Da Vinci.