The LG G4 is the latest flagship from the South Korea based OEM. It promises a greater visual experience, improved battery life and lots of cool extra features that make it a worthy successor to the LG G4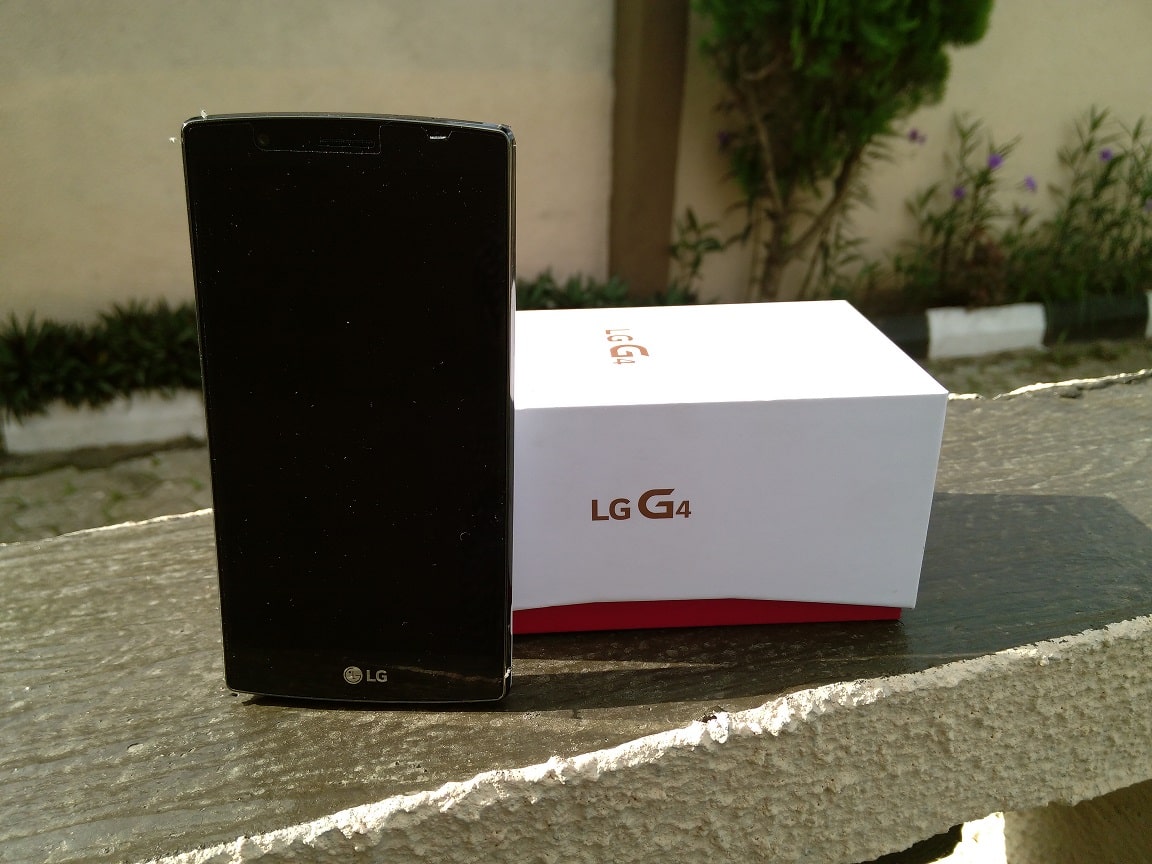 Spec Highlights
Secs wise, the LG G4 is an absolute screamer
The latest Android Lollipop 5.1, layered with LG Optimus UX 4.0 User Interface
Dual Micro-SIM capable
3G and 4G LTE capable
At 9.8 mm and 155 g respectively, the LG G4 is slightly thicker and heavier than the LG G3.
5.5 inch Quantum HD Display, with Corning Gorilla Glass 3 protection.
1.8GHz Hexa (6) core Cortex-A53 processor
32 GB internal memory (external expandable up to 128 GB), 3 GB RAM
16 MP primary shooter (with LED flash) and 8MP front camera, both capable of shooting 4K videos.
3000 mAh battery with fast charging (60% in 30 minutes)
You can view the full list of specs here.
What's in the box?
The LG G4 comes in very unassuming boxing for a flagship device. The first thing you see when you take off the cover is the phone itself. Right below that is a compartment that contains the manual and other accessories neatly arranged.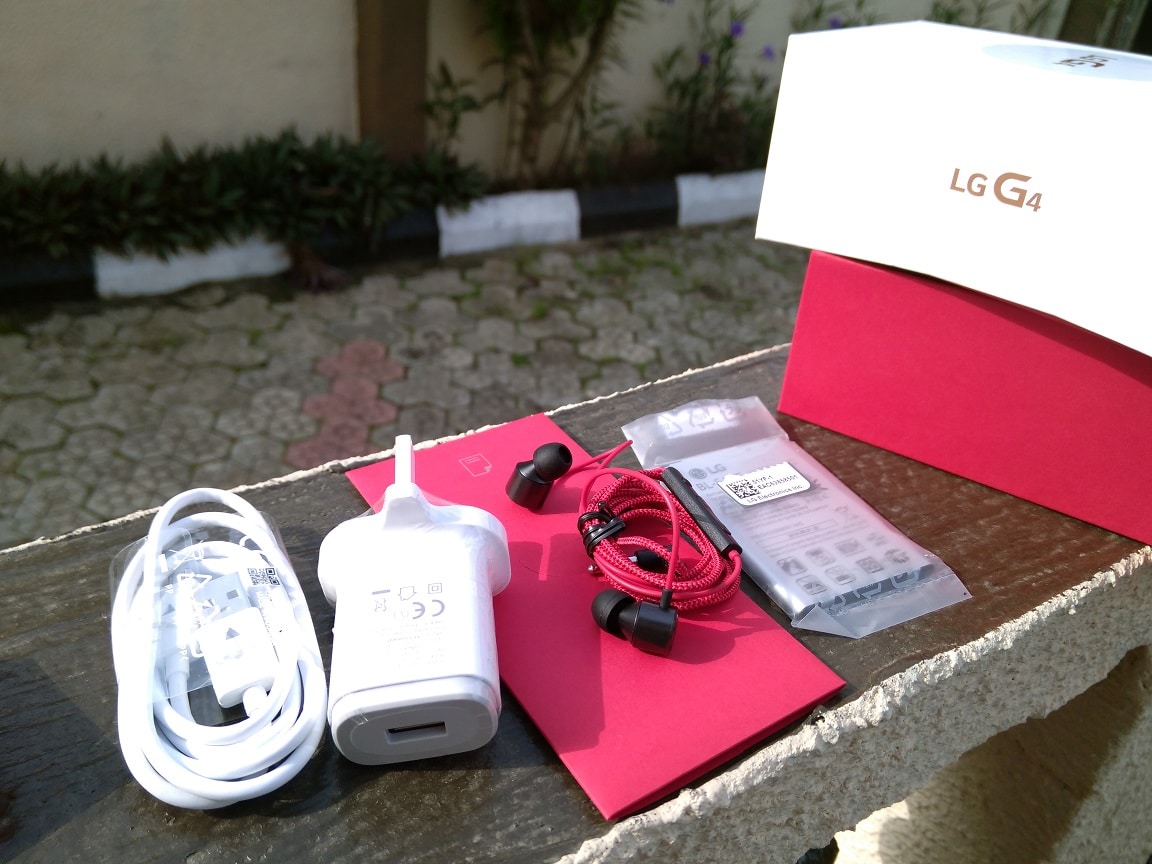 That's pretty much all you'll find in the LG G4 box.
First Impressions
Perhaps this is a good time to mention that you don't necessarily have to contend with the boring looking back cover the LG G4 ships with. LG has made available hand-crafted leather back covers with which you can "pimp" the LG G4.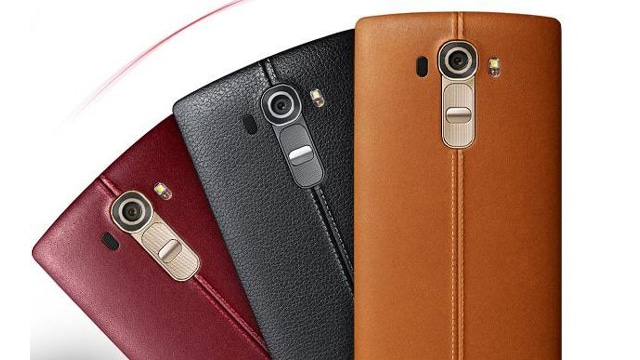 Despite its huge size, I find that the LG G4 is very handy. This has everything to do with the fact that it features a curved body design for easier grip.
All the buttons you need to operate the device are placed at the back.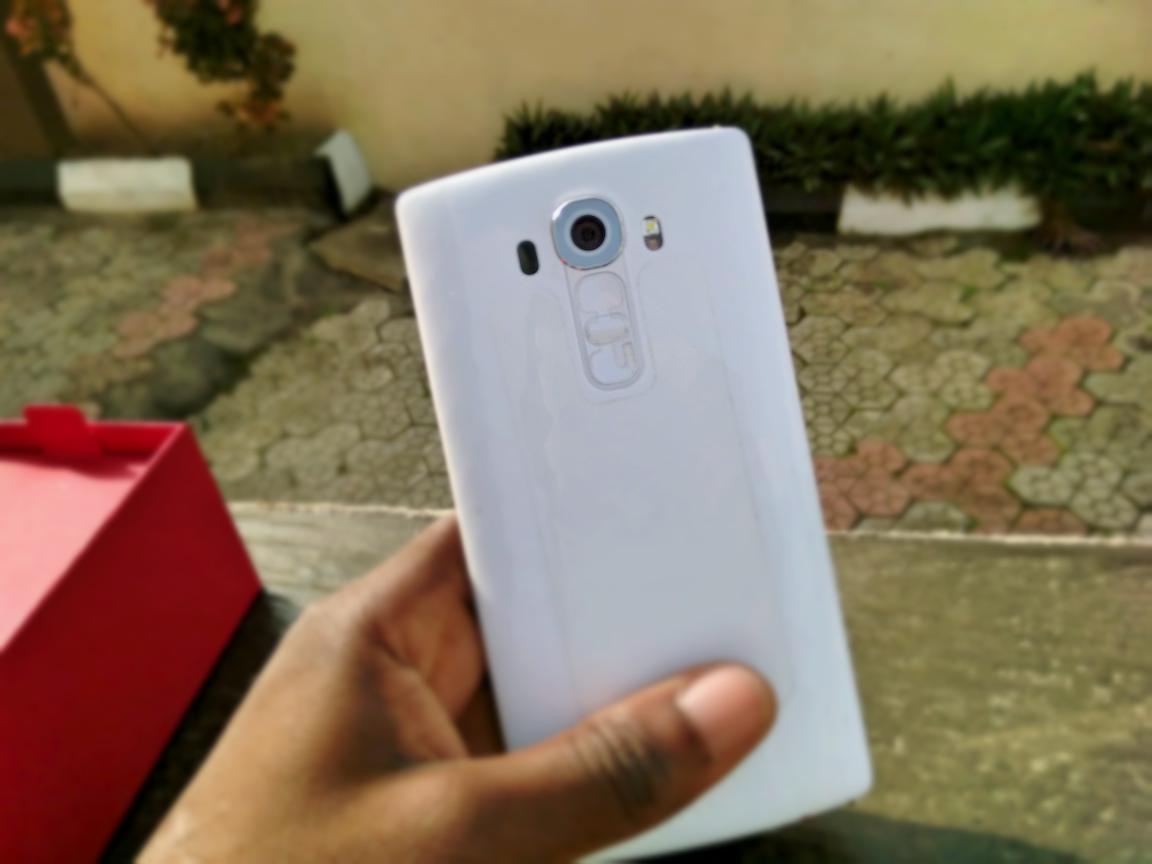 The button at the centre is the home/lock button, while the buttons above and below is are volume up and down respectively. Considering that the convention to place buttons by the side, or on top of the device, reaching for buttons at the back will take some getting used to. I feel like I can grow to love this once I get the hang of it
The display is awesome. I tried it out with a 4K video I have in my archives and I must say I am really impressed. I wouldn't want to jump into conclusion though, so you'll have to wait till my full review to know what I think of the "Quantum HD" display.
I love the fact the the LG G4 uses a removable battery. Not many flagship devices come with removable batteries these days.
There is just this extra level of confidence or comfort you have knowing you can always pop in another battery yourself, should something go wrong with the current one. It's also a plus that LG is choosing to ship Dual SIM variations of the device to Nigeria. It's an indicator that they understand the market.
Finally, I am in love with the UI. I think it's safe to say that LG phones have some of the best UI for any device in the market. I will say more about this in my full review.
Pricing and Availability
The LG G4 is now available in Nigeria, via an exclusive deal with Konga. The standard retail price is N126,00o. But if you want any of those fancy leather cover variants, those will set you back an extra 4k at N130,000
More details about the LG G4, especially the camera, UI and UX, will come in our full review. Watch this space