Youtube Newswire wants to make it easier for media outlets to find on-the-ground verified videos about current events.
Youtube was launched in 2005 by members of the Paypal Mafia, before it was acquired by Google. Today, about 300 hours of video is uploaded every minute on Youtube, and it has proven to be one of the most resourceful sources for raw video footage, and eye-witness reports. This has changed the way numerous news outlets report on big events and even changed the operations of many, if not all news outlet.
Now, Youtube wants to help the media find eye-witness videos and make sure they are trustworthy by sorting out the spoofs before it's accidentally reported. To do this, they will be launching a trio of initiatives designed to expand its role in this wave of new media journalism.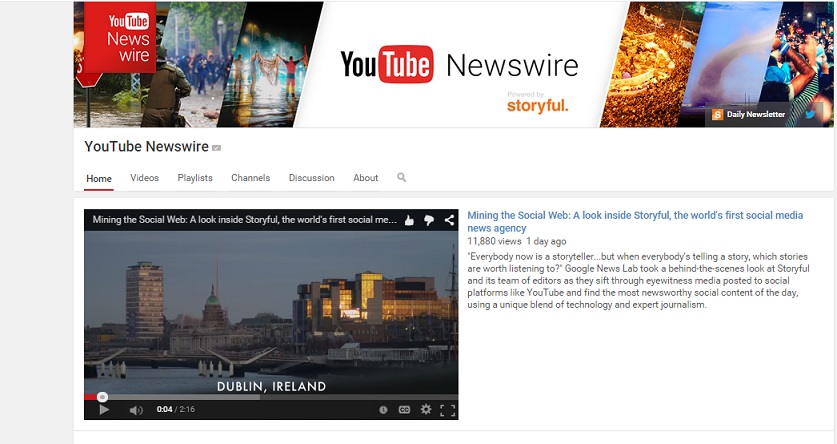 "The role of the eyewitness has never had a more vital place in the news gathering process," said Oliva Ma, head of strategy and operations, Google News Lab, in a blog post on Thursday. "It's almost impossible to turn on the news during a breaking event without seeing raw video uploaded by a YouTube user somewhere across the globe."
In light of this, Youtube launched Newswire in partnership with Storyful, a NewsCorp company that verifies social media content. The companies have worked together on numerous occasions since 2011, and Storyful has verified over 100,000 videos published on Youtube, including this viral twerk video.
With Newswire the companies will be providing media agents with easily accessible and verified eye-witness videos and raw footage of happening events, making the content safe for reporters who need to expand their coverage of a story with social media content. YouTube Newswire will feature both global and regional feeds, and will be available online, on Twitter, and as an email newsletter. Its feed will include videos focused on news, weather and politics.
Storyful has worked with major internet companies in this sort of capacity in time past, most notable of which is Facebok when Facebook launched FB Newswire last year.
In addition to Newswire, the other initiatives are:
First Draft Coalition- A group of social media journalists will team up to create educational resources on how to verify eyewitness media, and how to consider the ethics of using it in news reporting. The Coalition will develop and program a new site for verification and ethics training, tools, research, and, most importantly, case studies around the biggest news stories of the moment. The site will launch after summer.
Witness Media Labs- This initiative is designed as a new approach to tackling pressing human rights issues through the analysis of citizen video. It produces a series of in-depth projects that focus on human rights struggles. The first project will explore the role the bystander video plays in U.S. police brutality cases. Their new site is live now, and also offers a Twitter feed.