Outsourceit is a listing platform, a directory that brings together businesses of all sizes and experienced management consultants for a mutual benefit for both parties.
From an unpalatable experience of getting qualified consultant to handle projects, the duo of Ayodeji Adelegan and Olatunji Ogunkomaya began the quest to create a marketplace to connect businesses and consultants to engage and get jobs done without much hassle.
The platform is designed as an expertise discovery platform for consultants to exhibit their skills and professionalism while businesses on the other hand list projects for the consultants to bid for: giving consultants an opportunity to showcase their skills while also allowing companies many options to choose from when it comes to selecting experienced consultants.
Definitely, there are other platforms in Nigeria that have a list of management consultants but Outsourceit is pioneering a directory solely for the industry. And under three months into the market, the platform already boasts of more than 100 consultants on board, having facilitated the execution of a couple of consultancy projects.
With Outsourceit, getting the right hand to handle your management consultancy projects just got easier.
Bridging the gap
"We want to help businesses find and engage with qualified and experienced consultants, and still operate within their budget, while also ensuring trust and security for all parties involved."
Outsourceit is focused on providing businesses, irrespective of their sizes, with access to highly qualified consultants in areas like accounting, business development, digital media, finance, human resources, marketing, operations, sales and strategy.
The platform is giving both businesses and consultants the convenience advantage of engaging with each other from anywhere and get project executed as soon as possible. All a company need to do is list a consultancy project and receive bids from experienced consultants, and make a choice.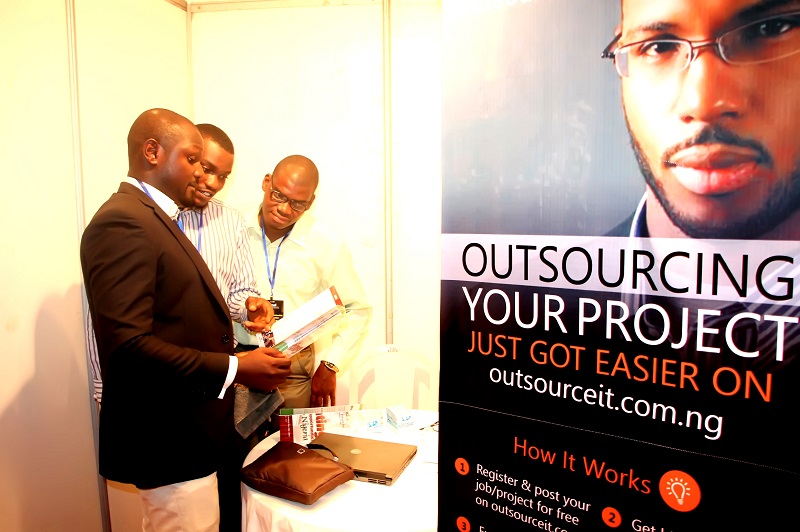 And for new businesses that need management consulting service, but don't know much about the pricing, the platform is looking into putting in place a feature that would give business an estimation with respect to any project to be listed
Efficiency Management
"We built an easy-to-use platform with automated features, with Outsourceit playing the role of ensuring efficiency in project execution with respect to timing, payment and the satisfaction of all parties involved."
In ensuring that the interest of both parties are protected, when listing a project the company or client doing the listing will break down the project into minor milestones with deadlines and at the completion of each milestone, the client updates the project dashboard and the consultants in turn get paid a certain percentage of his consultancy fee.
However, the company making the listing must have credited her escrow account with at least the exact budgeted project cost. It is from the escrow account that Outsourceit would remit the consultant handling the project.
And the consultant gets remitted only after the client is satisfied with that particular stage of the project.
To further aid efficiency of the platform, there is a live chat feature to ease interaction between consultants and clients.
Outourceit periodically reminds consultants of an upcoming deadline with respect to a project he/she is working on, the client on the other also gets reminded of upcoming milestone deadlines.
Funding
The major source of funding for the startup has being from angel investment, and bootstrapping. And with a couple of revenue modesl, the company looks forward to breaking even soon.
The startup is committed to invest in R&D towards improving the efficiency of the platform.
The Advantage
It's all about ensuring that businesses adopt effective cost saving strategy to get project executed.
In comparison with global players in the sector, Outsourceit sees being a local player as an added advantage for Nigerians as users need not worry about the difference in time zone in order to connect with consultants or clients, as the case may be.
Another competitor for the platform, are the conventional outsourcing company, and to this, availing multiple choice of consultants to business on listed projects makes the platform a go-for.
For the consultants, they have to register using a LinkedIn account and are listed upon verification, thereby building trust and security for the platform.
In making the platform much of a user-generated content, Outsourceit has a rating system for clients to rate consultants based on - efficiency, time management, communication and sticking to agreement among others. Clients can also proffer recommendations for tested consultants.
There's also the part of relationship management on the part of Outsourceit to ensure value for both parties in any project execution.
Prospect
For the young player coming in to pioneer an industry, the platform towards the next six month wants to be hosting 10 new project listing on a daily basis with over 1,000 consultants on board.
In the nearest future, the platform wishes to become the market leader and a brand to reckon with in the nation when it comes to consultancy management, and to maximize the first-mover advantage.
The platform in a short while looks forward to hosting networking session for consultants and clients to meet and engage with each other.
The long term goal for the directory is to become a brand to reckon with in terms of online consultancy management platform.
In the pipeline for the platform is a mobile application, this thr company believes would ensure job listing, as well as bidding for both parties, can be done on the go.
The Founders
Ayodeji is a Masters Degree holder in Molecular Biology, with a first degree in Biochemistry. Olatunji holds a diploma in Travel and Tourism Management, and has some web projects to his credit.