In a bid to support cashless banking in Nigeria, Diamond bank has announced plans to issue MasterCard debit cards to millions of Y'ello account holders; a move that is expected to significantly expand financial inclusion and reduce cash-based transactions in Nigeria's economy.
The scheme, according to a statement made available to the press at the 25th World Economic Forum on Africa in Cape Town, South Africa, is targeted at ensuring that interested Diamond Y'ello account holders are issued with debit cards that will give them unhindered access to the Bank's services and their funds at automated teller machines across the country.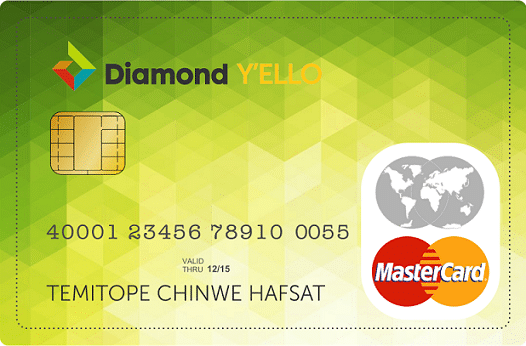 Shedding more light on the rationale for the scheme, Diamond Bank's Chief Executive Officer, Uzoma Dozie, stated that the launch of the Diamond Y'ello debit card is timely and aligns with the cashless policy of the Central Bank of Nigeria (CBN). According to him, millions of Diamond Y'ello account holders of the bank will have access to the Bank's services while still enjoying the financial transaction freedom that are now available to the Bank's numerous customers.
''With the introduction of this card, Diamond Bank has raised the bar for cashless banking in Nigeria's financial services sub-sector. As you know, the card automatically grants account holders unlimited accessto their funds and other financial transactions and also provide customers with additional interaction channels besides the agent locations. I think it is the biggest thing that has happened in the industry after the launch of the Fingerprint authentication feature on our Mobile app."
Speaking further, Mr. Dozie stated that a core component of Diamond Bank's strategic focus is to ensure the enhancement of the freedom of the financial lifestyle of the unbanked and under-banked by providing convenient banking services and multiple payment channels via the web and the POS, pointing that the Diamond Y'ello debit card will act as a physical link to this unique type of "account you open without documentations and other rigours associated with traditional accounts".
It would be recalled that in 2014, Diamond Bank launched the Diamond Y'ello account into the Nigerian market as part of its financial inclusion programme to reach the unbanked.
Diamond Y'ello account, which was introduced in partnership with the mobile telecommunications giant, MTN, is a fully mobile hybrid account that offers the over 55 million subscribers on MTN Nigeria network a fusion of financial services and telecoms incentives.
Diamond Y'ello account customers will have the benefit of:
Opening a full bank account without the need to visit a bank branch to fill forms or provide any documentation.

Easy access

to bank services through their network Agents for deposits and withdrawals.
A full bank account with interest payments on account balances.
The convenience of applying and receiving loans from their MTN

Mobile phones.

The ability to send and receive money to and from any bank account in Nigeria and also to non-accountholders.
Go-cashless with a

safe and secure

means to buy airtime and pay for goods and services
The Diamond Y'ello Account is activated by dialling *710# on any MTN line. According to the Bank, there are over 3 million Diamond Y'ello accounts owners who are serviced by over 500,000 agents in Nigeria.