The UEFA Champions League Final 2015 is a little over 24 hours hours away. Come Saturday, the 6th of June 2015, at 7:45 pm (GMT+1), Barca and Juve will knock heads for a shot at the bragging rights in Europe.
This year's final is particularly exciting becasue, The 'Old Italian Lady' is finally back, after many seasons of rising through the ranks of a demotion to the Serie B division. If you're a football fanatic, you probably don't want to miss this match. But just in case you'll be stuck in traffic or faraway form a TV when it starts, here's ways you can follow the UEFA Champions League Online.
The official website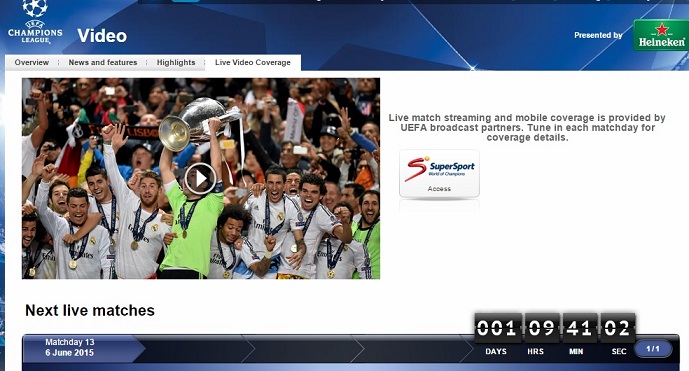 In partnership with local broadcast partners, live streaming of UEFA Champions League matches is usually served from the official website. This year's final will be no exception. So far, it appears all that is required is a regular sign up. However, considering the deal is in partnership with SuperSport in Nigeria, you might want to keep your DSTV smartcard number handy before you leave home tomorrow.
Twitter
Your Twitter TL always comes in handy on matchday, especially if you follow a lot of football fans. But Twitter has added a few more extra features to help you experience the final even better.
Hashflags gained popularity during World Cup 2014. We love them and they're back. During the UEFA Champions League final tomorrow, every Tweet with #FCBarcelona as well as #FinoAllaFine will trigger their club's insignia in a hashflag. Also, any Tweet with #UCLfinal will show an image of the game trophy.
We do provide Hashflags for the @ChampionsLeague Final in Berlin. Add color to your Tweet using #FinoAllaFine and #FCBarcelona! #UCLfinal

— Twitter Sports (@TwitterSports) June 3, 2015
You can find out more about following the final via the official Twitter blog.
Goal.com Live Commentary
If you're on a data budget but still want to experience the final in detail (goals, misses, saves, red cards, statistics and all), you can't lose with Goal.com's live commentary of the final. You might want to bookmark the live commentary page now.
Will you be away from a TV during the #UCLfinal? Are there any other ways you plan to use in following the match? Please share with us in the comments section.