Thanks to its wide diversity of cultures, wildlife, scenery (and Adam Sandler's movie; Blended), Africa is fast becoming considered by many leisure travellers to be a top holiday destination as ideal for families as it is for honeymooners or those simply seeking luxury.
Well, Jovago, one of Africa's top booking websites carried out extensive research to show the various habits of these African travellers ranging from the average number of days they spent at their hotels, to their preferred payment methods.
Room Costs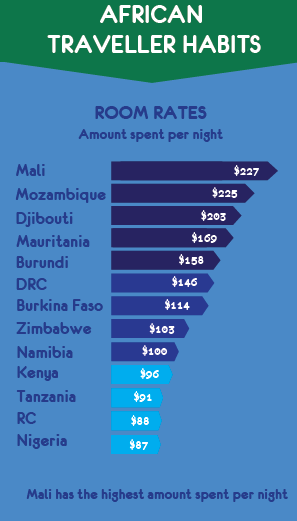 The survey shows Mali, Mozambique and Djibouti have the highest average amounts spent per night in hotel, with Nigeria having the cheapest - no surprise there. Which Nigerian doesn't love a bargain.
Preferred Payment Methods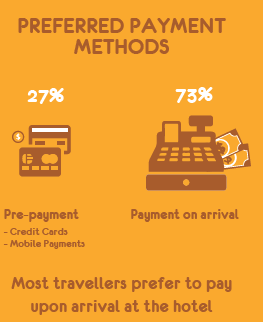 I can't really blame the travellers for not being totally trusting of our online payment methods as only 27% of travellers who book online prefer to pay through mobile payments. The rest prefer to do it the old-fashioned way.
Length of Stay
2 nights is the average hotel stay and the longest stay registered was for 30 nights. It seems as though business trips are getting shorter. The case may not be the same for vacations, 30 seems like a pretty long time to unwind.
Booking in Advance
63% of travellers are pretty cautious as they prefer to book less than 7 days in advance for their hotel stays. Following them with 26% are the spontaneous ones who prefer to book just hours in advance of their arrival at the hotel, then at 6% we have the super cautious who would rather not leave anything to chance.
Room Type
81% of rooms booked are double rooms hence they accommodate two adults, 15% are single rooms for the solo travellers and the other 4% range from rooms that accommodate two adults with kids or a group.