A few days ago, in this very brutal match that my club, Manchester City had against Manchester United; the very unfavourable scoreline at the end of the match read 4 - 2, in Manchester United's favor. Very painful. But even worse was the general consensus on Twitter: You cannot even troll Manchester City, because they have only like 2 fans in Nigeria. That hurt. Because we are here. We exist. Nigerian Manchester City fans exist.
So Twitter has come to our aid with the release of the Twitter Premier League Follower map, which shows a detailed global breakdown of the followers of all 20 clubs. You are allowed to zoom to different countries and view the concentration of the fans for the different EPL club sides.
The map was created by looking at the official Twitter accounts for each team, using their followers as an indicator of allegiance (as opposed to, say, instances in which people mention a team while watching an interesting matchup or talking about a team's rival).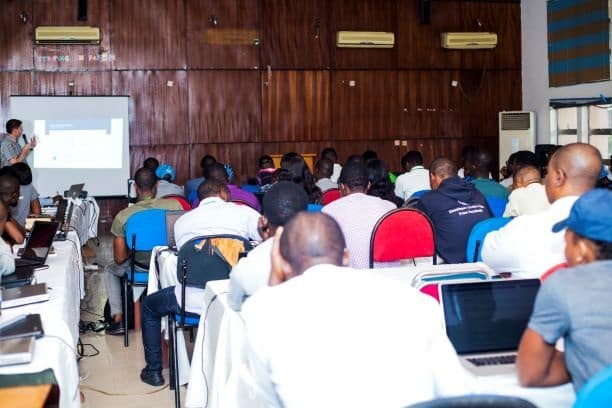 In Africa, @Arsenal carry their European form into Northern Africa with Morocco — the home of long-departed former Gunner Marouane Chamakh. @ChelseaFC, meanwhile, have a stronghold in Ivory Coast, the home of Blues legend Didier Drogba (@didierdrogba). Further south, @ManUtd prevail, with South Africa, Botswana, Namibia and Zimbabwe turning red.
But in Nigeria, Arsenal reigns supreme among followers in Nigeria with 26.10% of the football fans; Chelsea is a close second with 25.17% and Manchester United is third with 18.04%. Manchester City has 6.63% which goes to prove that we are more than two fans in Nigeria.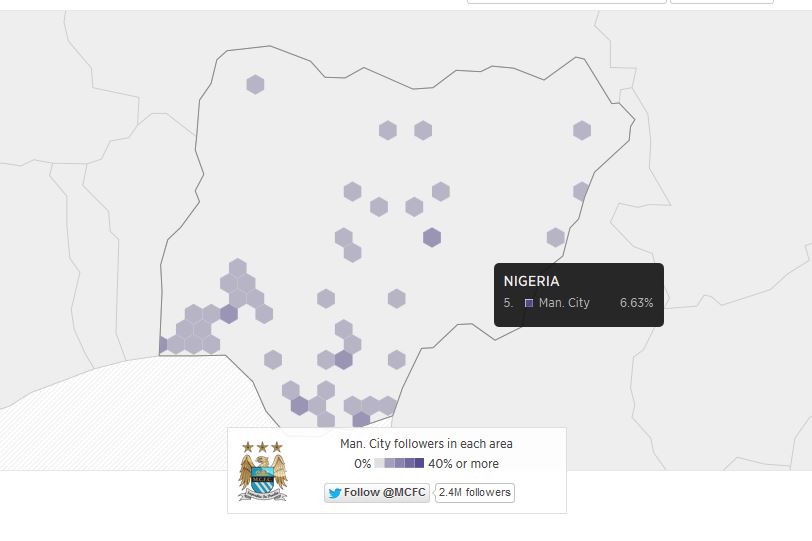 But of course, the map is based on those who mention these teams' official Twitter handles, so it could be less - or more.
The primary view shows which teams dominate each country around the world at a glance, but there are interesting features that help you explore the map in greater depth:
Find your club: Discover how your club fares in each country. Use the 'Zoom to' function in the right-hand corner of the map to instantly explore your club's presence in any given country.
Compare clubs: Pick any two teams and compare where they have their biggest density of followers. Compare local rivals such as @Arsenal and @ChelseaFC who face each other in a London derby this Sunday.
Most popular clubs: Use the dropdown menu to determine who the most popular clubs are in an area of your choice.
U.K: This is the only view where you can zoom right in, region-by-region, to discover a breakdown of where loyalties lie at a local UK level.
You can see fandom by region instead of treating each country as one big region.