Audax Studynet, launched in August 2013  as a Code School - situated on the Island - created to offer an in-depth Introduction to Computer Programming in a fun and collaborative environment to primary and secondary school students, has officially announced a three-days training program for  Students interested in having their career of Programming shaped at the earlier stages of their lives; it is a two-phased programme emphasizing on both students of the secondary school cadres and their Primary school counterparts as well.
Train the Trainers starts from March 23 to 25 in Lekki, Lagos; while the other session is themed "A Coding Boot Camp" is scheduled to hold from April 6 to 10 and guess what! You don't have to pay a dime!
At the end of the Train the Trainers program, participants will receive a certificate of completion and assigned as a Contract/Freelance Trainer for Audax Code School. The certified trainers will be part of the Audax training network, and will receive full support as well as resources.
The free five-days Coding Boot Camp will be in four curricula: Scratch, HTML, CSS and JavaScript. The program will start at 9.00 am and end at 3.00pm each day, with one hour break.
At the Coding Boot Camp, kids will be taught in an exciting and stimulating environment to spur their learning speed.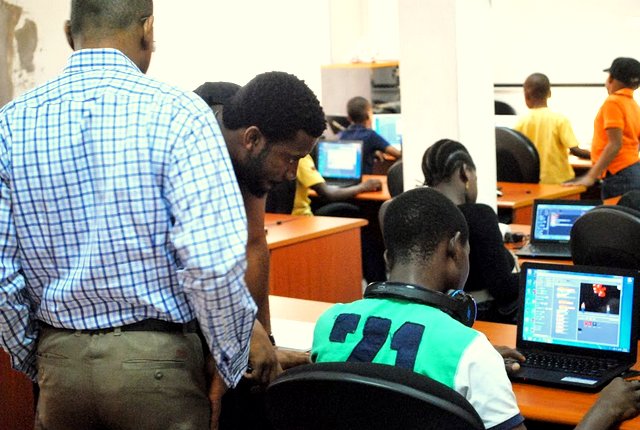 Here is how it works:
Interested schools only need to nominate 5 of their students to attend and participate in the Free Coding Boot Camp at the Audax Solutions office.
Audax Free Coding Book Camp is a precursor to Audax Code Club, which takes off from April 11, 2015 and every Saturday after.
One of the cardinal objectives of the Code Club is to arouse the interest of these children to imbibe the spirit of coding which is an important skill especially now that the world is living in a digital age.  It is not just enough for children to know how to use technology, they should also understand how these technologies work too.  Learning to code does not only strengthens the problem solving skills and logical thinking of children but it also supports key academic subjects such as science, mathematics and technology. - Emeka Onyenwe, Managing Director of Audax.
Audax Solutions Limited started 'Coding for Kids' in August 2013 and received a Google Rise Award in 2014 for enhancing computer literacy among the young generation in Nigeria – so Parents and Guardians, Get your wards into the World of Coding while the blood is still fresh.
For more info about the Programme, Please
Email anthony@audax.com.ng  or vivian@audax.com.ng.
or Visit http://audax.com.ng for more details