The Africa Angels Network (AAN) is a network of angel investors that invests in Africa-focused startups, primarily in the tech sector. Founded in July 2013 by Pule Taukobong - a former software developer who found his way into the world of corporate investments and Asset management - the Africa Angels Network has invested in 18 high potential startups across 8 African countries.
Taukobong was in Lagos, over the past week, to spend time with some of the AAN's existing investments, whilst taking the opportunity to learn more from, and about, the local ecosystem. Techpoint caught up with him at the Andela Campus in Yaba for a chat.
Walking from meeting to meeting with my main man @iaboyeji #Yaba #Startups #Africa #GoodTimes #Nigeria pic.twitter.com/D4iTjxkE9N

— Pule Taukobong (@PuleTaukobong) March 3, 2015
Taukobong has quite a refreshing approach to Angel Investing in Africa. "I always see myself as an entrepreneur and a startup", he remarked before adding that you don't have to be wealthy to invest in startups. He also makes it clear that he's in it for the long term:
In 10 years I want to create 10,000 jobs in Africa through the startups I invest in. I want at least 30% of our businesses to have female Co-Founders and I want at least 10 of our companies to have 100 million dollar valuations.
Here's more from the chat
Could you give us a bit on your educational and professional background?
Strangely enough I studied Information Technology. I studied at the Durban University of Technology, KwaZulu-Natal in South Africa, where I majored in Development Software and Information Systems. So I used to code; I actually really enjoyed using SQL and Java.
My first job was at Accenture and then from there I ended up working at Investec. Invetec is one of the leading investment banks in Africa, head quartered out of Johannesburg and London. In there I was a Business Analyst designing their online trading system. Then I became very interested in Stock Broking so, I became a Stock Broker. From stock broking I went into Wealth Management, advising high net-worth individuals on their asset allocation for their portfolios. From there I joined the same company in their Asset Management division in Cape Town before I moved with them to New York in 2011. One of the things I was very passionate about was African private equity and then from there I made the leap and started this company.
How did  a software developer end up with a passion for investing ?
The great thing I find about studying information technology as a programmer is that you develop a great sense of solving problems. This is because you have to understand things deeply in other to create an outcome. As you may know, as a developer you always have to think "if, then, while, else", so you are always trying to get to a solution.
I found that that helped me develop a good analytical mind set. I think to be a good investor you need to be able to analyse well, but also see the opportunity from analysing. I think programming actually laid down the foundation because, that mindset of being able to analyse things in depth with a solution driven analysis program, can make you a pretty good investor.
How many people make up the Africa Angels Network?
There's a couple of investors that are part of the holding company. But in terms of full-time staff, it's just me, myself and I.
You said you took "a leap" into Angel Investing, a crazy one at that, considering what you had going for you in the corporate world. What informed that leap?
Well it was a couple of things and I use the word "leap" because yes, I had a good job in New York. And for a boy who was born in Soweto to end up working in finance in New York, a lot of people were wondering why I would you leave and go start a startup? It was a bit of a leap of faith but I genuinely believed in the purpose of what I was doing and the opportunity of what I was doing. By that I mean I could see there was a rising tide of phenomenal tech entrepreneurs and that something as simple as capital could help them build legendary businesses. I had a good investment understanding, coupled with a good tech background. I felt like my past 13-15 years prepared me to do this.
But what really made me do it was I came across a couple of situations. First, I mentored a lot of people, specifically in South Africa at the time - it's spread to across the continent now - and I was seeing more and more students or youth saying they wanted to create a startup rather than get a comfortable job. These were young phenomenal minds coming up with great business ideas that are viable and feasible, in my opinion. I wanted to be a part of that.
Secondly, while living in New York and having a passion for tech and ecosystems there, I was seeing how the New York ecosystem was booming itself. Previously it only used to be about San Francisco and The valley. But the New York the angel and startup scene there is really doing well.There was also that opportunity of being part of an angel group in New York, 37 angels, which was the first Angel Investing course that I joined. I felt it was really interesting and I needed to do the same back home in Africa.
Wait, you actually study to become an Angel Investor?
Yes, you do 100%. Angel Investing is not just giving a cheque and hoping for the best. If you want to make money Angel Investing is one of the hardest ways to do it . You actually have to be humbled and tell yourself you need to learn how to become a good Angel Investor. I've done 2 angel investing courses. I'm currently on a Kauffman Fellowship where I am getting to understand Venture Capital investing.
So to this day I'm still learning. It's definitely a humbling game because the stats of Angel Investing are stacked up against you - only 1 in 10 startups you're investing in will do well.
Up until the time you took the leap to become an Angel Investor, you were on paid employment. How did you get the funds to take on such a capital-intensive venture?
The first 8 startups I invested in myself. To do that, I cashed out my pension fund and sold my house in Johannesburg. Remember by the time I quit, I had been working 13 years . So I got taxed very nasty penalties because if you cash out your pension before you get to the retirement age, the tax penalties are harsh . I basically put in my own capital. I put my money where my mouth is.
What we read in all the textbooks says that you have to be wealthy to invest in startups but for me, I always say that the Africa Angels Network is a startup that invests in, and support, startups. That's our approach so, I've created a startup that is a startup investment company . I seeded the capital and that capital was used to invest in my first set of startups. It was brave, it was crazy, people thought I was nuts but yet it made sense. I mean again, I had so much faith and belief in our entrepreneurs and in the ecosystem that for me it would have been crazy not to do this.
As a big Warren Buffet fan, I'm aware that it's a long term game. You end up, I believe, positive from a financial positive. But if you are chopping and changing, looking for quit exits, I think you might burn.
Have you gotten any Return on Investments so far? How long has it taken?
Return on Investments takes different dimensions. In terms of cash back, nothing has happened yet. That won't happen in a long time. But I've seen companies in our portfolio literally grow from 4 Co-Founders and a million dollar valuation, to a 10 million dollar valuation, employing 70 people. All that happened in less than 2 years. That reiterates the opportunity that is in this ecosystem.
Ultimately I have a 10 year view. I do believe they will IPO in 10 years and there'll be some sort of liquidity. And who knows, maybe they'll be 50x or 70 x by then. I've seen companies grow very quickly within 2 years, provided they are doing those things that I mentioned . So the opportunity is there and the returns are there - again, the returns are not only numeric - creating jobs, which is fantastic because that'll pay taxes and grow GDP which will help create the next Fortune 500 companies from Africa. You can't think short term, you have to think long term. The thinking is a bit out there I know but that's what it takes to be an entrepreneur right? You've got to be great, you've got to be bold and you have to believe.
Through the Africa Angels Network, you have invested in 18 startups across Africa including Nigerian startups like ACE, Andela and PrepClass. What do you look for when investing in startups?
First of all when it comes to big potential it's the market size you are addressing. By that often you're addressing a big problem. So I want to understand, "what is the challenge or problem you're solving"? If you look at Uber for example, they were solving a big problem, which was how do you efficiently leverage off a need for transportation that is on demand. As an investor you've got to seriously understand the market that the entrepreneur or business is trying to solve.
The second thing, which is equally, if not more, important is the individuals behind the business - the team. By "the team", I not only mean the Co-Founders or the developers. I also mean their mentors, their advisers, who have walked down their journey. That's absolutely key for me.
I also ask, "what is the actual product that they've designed or created to solve the problem.  Obviously, I go much more in depth of each - the market, product and the team. Sometimes it's also traction, sometimes it's not. The other thing I always add is gut feel. I always trust my guts. Sometimes I come across a situation where all the boxes are ticked but then my gut feel tells me something is not sitting well, or maybe I can see a bigger competitor coming into the space.  
What do you wish more African startup founders knew or did?
We don't have to act like this is Silicon Valley. Yes we can learn a lot - I read a lot from Paul Graham and I track what Sequoia is doing - from other ecosystems that have done it before. It's one of the reasons I spent so much time in the US. But what would really be key is that, entrepreneurs, including myself, need to remember to Africanize our thinking to suite our market. How you reach an audience of black 18 to 35 year-old females in the US vs Nigeria is by different mediums. So it's not just advertising online.  I mean, radio is still very big in Africa. But in the US you don't hear startups thinking about advertising on radio. Here however,  it makes a lot of sense to advertise on radio, to see how you do stuff with the buses and the transportation matrix. It's a different ecosystem, we need to continuously think about that.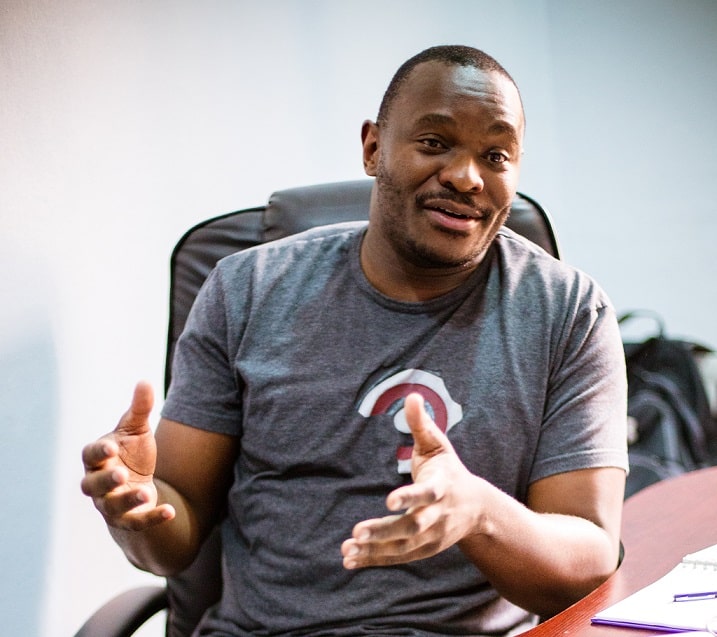 I think we also as entrepreneurs, not just startups, always need to be learning . We need to educate ourselves so we're not too stuck in a tunnel or hole of how we are building our businesses. So if for example you're building a business that allows people buy watches online, go see which other startups have built that. Someone has typically done what you're doing in one way or the other , somewhere in the world . Spend some time really unpacking that and understanding . Continuously inform yourself.
The other thing is "fail fast". The whole point of failing fast basically means learn quickly. And the way you learn quickly is by getting to the market quickly. Instead of locking yourself up in the room and developing what you think is a great solution, but never getting some market and realising you have to pivot. I'm a big believer in the "fail fast" philosophy and I think that more startups should be doing that and moving quickly.
Photo credit: Mohini Ufeli