Mdundo, Kenya-based online music distribution platform has expanded to South Africa, Ghana and Nigerian in a move to help artists distribute and monetize their music, according to a media report.
Mdundo affords local established and upcoming artists a platform to distribute their music and earn revenue based on the number of downloads they receive. Since the inception of the company in November 2012, Mdundo has gone live in Kenya, Uganda and Tanzania.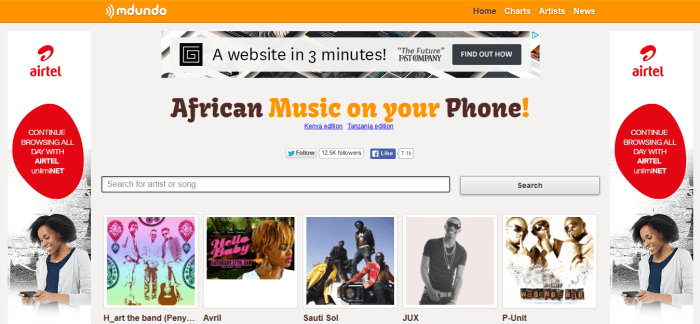 Mdundo does not yet have teams and physical presence in these countries but they have already started signing up artists from these countries. Artists just log on to Mdundo.com and then inform their fans that their music is available for download on Mdundo. The platform has already begun the process of signing top artists and music labels in these countries. In Nigeria, for instance,  Mdundo has signed the Chocolate City artists and if you are familiar with this label, you would know that is an impressive achievement.
We have quite a number of artists from all these countries, including some big name musicians such as M.I Abaga (Nigeria), Ice Prince (Nigeria) and Shatta Rako (Ghana) and approximately 20 artists  per country at the moment- Thiru Mungai, Mdundo's Head of Operations
Mdundo.com is currently accessible in 17 African countries but for now, it is focusing on some specific markets more than others because of the demand for music from these countries; and this expansion is happening after its amazing growth in Kenya, Tanzania and Uganda. The 88mph-backed firm has not raised any additional funding.