Hardly a day goes by without an African tech startup being featured in the mainstream media. CNN regularly updates its special report on the topic; The Guardian covers local debates surrounding emerging ecosystems; The Financial Times tracks Africa's mobile revolution; Forbes has extended its "Top 10" series to include African female tech founders; Vanity Fair pins its hopes of "continental lift" on entrepreneurs. Blogs, opinion pieces and social media cover the sector in even more granular detail. Judging by VC4Africa's 2015 report on venture finance, perspectives on African incubation and funding models, and the entrepreneurship program announced by Nigeria's investor and philanthropist Toni Elumelu, it would seem that the African tech sector is among today's most dynamic industries.
Amid the buzz, many investors are asking: "Is the hype warranted?"
According to VC4Africa, matchmaker of very-early-stage startups and investors, investments through the platform more than doubled in 2014, rising from $12 million to $26.9 million, while the average investment grew from $130,000 to more than $200,000. Their research shows that 49 percent of ventures start generating revenue in their first year and that 44 percent are successful in securing external investment. More than 75 percent of these are in the technology sector, with agriculture, health, finance and energy startups also represented.
Further along the growth path, a smaller number of startups have recently netted over $300 million from a very diverse set of investors, according to CBInsights.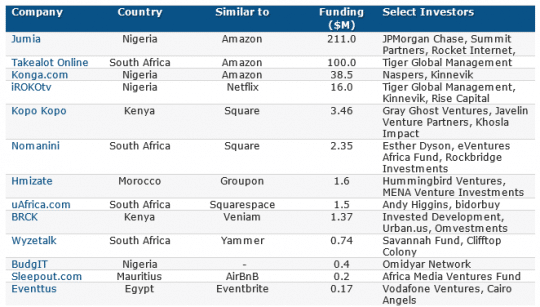 Recent Investments in African Tech Startups
Adapted from: https://www.cbinsights.com/blog/african-tech-startups
At least eight companies have acquired growth capital in Kenya in 2014, along others in Nigeria, Egypt, Ghana, Tanzania and South Africa and elsewhere.
New early-stage funds and angel networks in or focused on Africa are also on the rise. Among others, three models stand out: London-based NewGenAngels a collaboration between African and European networks (GAIN, EBAN and AAN); Kenya's Savannah Fund, a partnership between Erik Hersman (iHub, Ushahidi and BRCK founder), i/o Ventures, 500startups and Draper Associates L.P.; and RENEW, linking American and African investors and startups.
Many early stage investors are still learning from their own experiences and adjusting their strategies accordingly. For instance, while most are bullish on Kenya's tech scene, 88mph, an African seed fund has put further investments in Kenya on hold, while pursuing opportunities in Nigeria's booming tech sector.
African entrepreneurship ecosystems have also benefited from a large number of technology incubators, accelerators and coworking spaces, connected through networks such as AfriLabs and backed by private sources, such as MEST in Ghana, and public-interest projects, such as infoDev's mLabs and mHubs.
According to VC4Africa, the increase of capital is driven by three key trends: growing interest in startups from the African diaspora, the rise of local angel investors, and an increase in cross-border investments.
All of these instigate a positive change beyond investment returns; they set in motion a chain of opportunities in emerging and frontier economies. As Stella Kariuki, founder of Zege Technologies, once told me: "I want to be the change I want to see. [. . .] We build solutions that could be global but also solve African challenges practically." Many of the startups serve consumers at the Base of the Pyramid -- the three billion people globally who live on less than US$2.50 per day, a market that is still largely underserved when it comes to basic services such as energy, education, health and banking.
It seems clear that investors and startups in Africa are getting to know each other better and are making more and better matches possible. This is an important step in reducing "the missing middle": the absence of financing beyond the earliest stages of a company's growth. As enterprises enter national or regional markets, their capital requirements increase exponentially. Without private and public sources of investment, these requirements stifle all but the independently wealthy entrepreneurs and those with established business networks. A diverse resource base for early-stage firms democratizes the opportunity for growth-oriented entrepreneurs and increases the overall potential of the local creative class.
So is now a good time to invest in African technology startups? The answer is yes, as long as investment decisions are made with care, patience, and in partnership with local investment communities.
Sean Ding, Angela Bekkers and Jeremy Bauman contributed to the article.
This article was originally published in SXSWorld Magazine and copied from Worldbank.