Parody accounts are as old as Twitter itself. Anyone and everything that has the potential to inspire a meme will eventually get parodied on Twitter.The usual "victims" of Twitter parodies are public figures and brands but it can often extend to events, fictional characters, animals and even inanimate objects.
Every once in a while, parody accounts pop up on Nigerian Twitter to amass a sizeable following, owing mostly to their comic value and light-hearted social commentary. The trend however is that they fade into irrelevance almost as quickly as they rise to fame.
So far, only one account appears to have the potential to stand the test of time.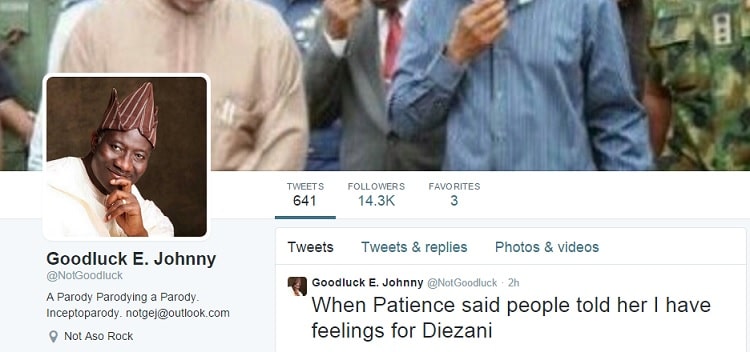 @NotGoodluck, a parody of President Goodluck Jonathan (GEJ) -- Mr. President doesn't have an official account per se -- was created in May of 2014. It's been growing at a rate of about 2k followers a month; 14k followers later, it's still going strong. Some would argue that its relatively disappointing follower rate is an indication that the average Nigerian on Twitter lacks a general sense of humour. Probably rightly so.
However a little over a month ago, not too long after the APC Presidential Primaries, where Muhammadu Buhari emerged winner, and only days after he started Tweeting @ThisIsBuhari, some fast thinking tweep created a parody -- @ThisIsNotBuhari.
https://twitter.com/ThisIsNotBuhari/status/547155664209207298
It's not nearly as engaging or consistent as the Goodluck Jonathan parody but, it appears to be picking up on follwers at just about the same rate. It comes as no surprise that accounts like these garner as much attention. And it's not just because they are in perfect timing for next week's elections. Beyond the elections, anyone who manages to pull off anything close to Fela's brand of political satire is likely to win the heart of Nigerians.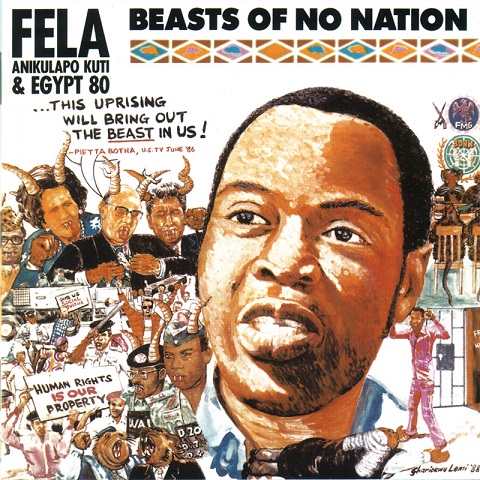 However, the very reason why they are so appealing potentially poses a serious concern. One has to remember first that these guys are utilising a proprietary medium -- Twitter -- which happens to have a set of rules it plays by. In a bid to get more attention, by way of retweet and favourites, runners of these accounts might stand the risk of committing defamation. An offence that could possibly lead to outright suspension.
So where do we draw the line between what is just pure fun...
As a young fine boy, I modeled a lot. The shoes belonged to the photographer. Calm down pic.twitter.com/EdQFjddmMx

— Goodluck E. Johnny (@NotGoodluck) December 2, 2014
And what might raise a few eyebrows...
Pssst...my daughter, come let me tell (show) you something pic.twitter.com/QCvzPt9QpJ

— Goodluck E. Johnny (@NotGoodluck) January 13, 2015
Well, I'm no legal buff but I think Twitter is very clear about kind of content it discourages. Here's a snippet from Twitter's content rules and policies
Impersonation: You may not impersonate others through the Twitter service in a manner that does or is intended to mislead, confuse, or deceive others
If I didn't know better, I'd interpret the above statement like this --  you can impersonate anybody, as long as no one is led to believe you're the real person. So instead of @ThisIsBuhari, we have @ThisIsNotBuhari. The owner clearly states that he is not Buhari. Same with @NotGoodluck. Anyone who takes these guys more seriously than they take themselves is on a long thing.
Of course, the statement may not be as broad as we might want to make it. The case of a once active, but now suspended, MTN parody account immediately comes to mind. @MTN_NG, an hilarious take on MTN customer care, came into limelight late 2013. But it's fame was short-lived. MTN obviously wasn't too happy with the defamation of their brand so, they go it suspended. What is a fair reaction? Well, if you consider the misleading stylisation of the handle -- @MTN_NG as against the authentic @MTNNG -- and tweets like these...
@MTN_NG @MTN180 I've not bn f**king enjoying ur rubbish network 4 a month now....No more subscribing n I'm done wit dis useless MTN

— Bimbo (@doubledutch518) February 2, 2015
This new @MTN_NG caller tune sweet sha. 'You have what it takes to be better'...

— èη!gmá (@enigma106) January 30, 2015
Then maybe MTN did have a case. But if you ask me, then so do Buhari and Jonathan. Some would argue that MTN is a brand so their image is more fragile than that of a public figure. That has me scratching my head.
A couple of questions:
What exactly qualifies as a brand?
Are Muhammadu Buhari and Goodluck Jonathan a brand or not?
Say the guys behind @ThisIsBuhari applied to Twitter for a suspension of @ThisIsNotBuhari, would they have a case?
Please drop your thoughts in the comments section.