The itel A70 boasts an impressive array of specifications that will leave tech enthusiasts in awe. One standout feature is the massive storage capacity of up to 256GB, complemented by the innovative Memory Fusion technology. Users can bid farewell to storage constraints and enjoy the luxury of storing their favourite photos, videos, and apps without compromise.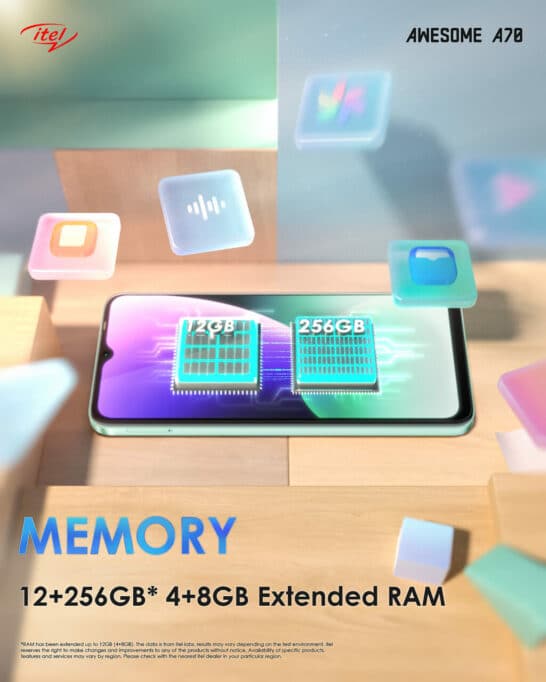 With a stunning 6.6-inch dynamic bar display, the itel A70 takes visual immersion to new heights. Whether binge-watching your favourite series or browsing social media feeds, the larger-than-life screen ensures a captivating viewing experience that brings every detail to life.
Power worries have become a thing of the past as the itel A70 houses a robust 5000mAh battery. Say goodbye to constant recharging and embrace uninterrupted usage throughout the day. Whether it's work, entertainment, or staying connected with loved ones, the itel A70 covers you.
Capturing life's precious moments in stunning detail is made effortless with the 13MP AI camera. From breathtaking landscapes to beautiful portraits, the itel A70's camera system has advanced artificial intelligence technology that enhances every shot, ensuring memories are preserved with utmost clarity and vibrancy. Performing tasks is also easier with the aid of Google Apps such as Google Search, Google Maps, YouTube, NearbyShare, and lots more.
Beyond its remarkable features, the itel A70's refreshing design exudes elegance and sophistication. The sleek aesthetics and ergonomic build make it a joy to hold and behold. The device effortlessly merges style and functionality, making it a true fashion statement.
itel has again struck the perfect balance between affordability and luxury with the Itel A70. This smartphone is more than just a device; it's an invitation to indulge in an unparalleled mobile experience. Whether you're a tech enthusiast, a movie lover, or a professional on the go, the Itel A70 caters to your every need.
"At itel, we understand the aspirations of our consumers, who seek both affordability and quality. With the introduction of the awesome itel A70, we aim to redefine the smartphone landscape, offering a device that combines cutting-edge features, stunning design, and an irresistible price tag," said Oke Umurhohwo, itel's Marketing Manager for West Africa (Region 1).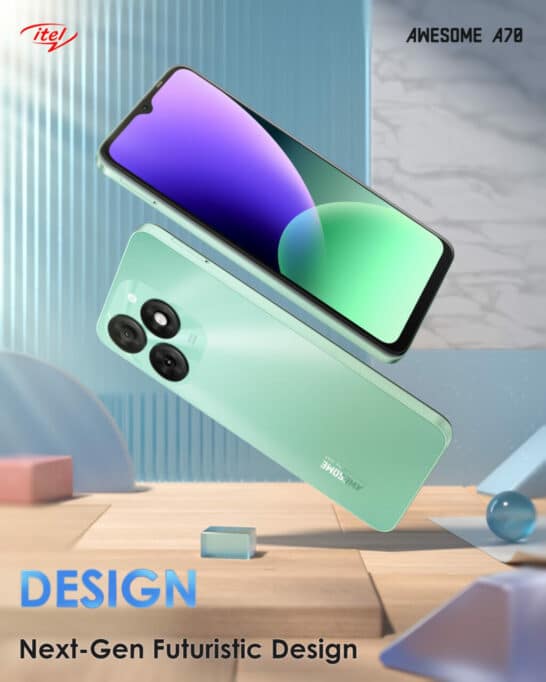 The itel A70 is now available in all itel authorised retail and on Jumia for 63,300 naira, and it is time to embrace a new era of mobile excellence. Take advantage of this affordable luxury that promises to elevate your smartphone experience without breaking the bank.
For more information about the brand and to explore the itel A70, please visit itel's official social media pages @itelNigeria or itel's official website here: www.itel-life.com.
About itel:
Established over 10 years ago, itel is a reliable smart life brand for everyone. Adopting "Enjoy Better Life" as its brand philosophy, itel's mission is to provide budget-friendly consumer electronic products and lifestyle products for everyone. It democratises technology by giving entry to technology and connectedness to consumers without prior access to it. After more than 10 years of development, itel has expanded its presence in more than 50 emerging markets globally. itel has a product portfolio of smartphones, TVs, accessories, electrics, home appliances, laptops, and lifestyle products. In 2022, it ranked No.1 Global Smartphone brand under $100 and No.1 Feature Phone brand.