86 percent of Nigeria's vast population of over 200 million people currently lack access to electricity. Even 5.96 million of those who do have electricity are overcharged by the country's electricity distribution companies, according to the Nigerian Bureau of Statistics (NBS).
Amidst this energy challenge, BLUETTI, a leading clean energy storage company, offers effective solutions to help address Nigeria's power deficit. With BLUETTI's solar power stations, Nigerians can harness free solar energy and have reliable backups during power outages. Let's dive into these products and discover how they can truly make a difference.
AC200MAX+B230 - Scalable Home Backup Power
BLUETTI's flagship model, the AC200MAX, features a substantial 2,048Wh battery capacity and a powerful 2,200W AC output (4,800W surge). The 16-outlet power station provides uninterrupted power to most household appliances and essential devices during power outages, including refrigerators, air conditioners, and electric ovens.
A notable feature of the AC200MAX is its expandability. It lets you increase the total capacity to 6,144Wh by adding two 2,048Wh B230 battery units. An AC200MAX unit can power a 150W refrigerator for 10 hours, a 10W light bulb for over 150 hours, and a 5000 BTU AC for approximately 1-4 hours. By adding B230 battery units, you can extend the power supply to these appliances twice or even thrice the duration.
The AC200MAX offers 7 charging methods, either separately or in combination, for flexible and fast recharging. For example, it takes approximately 5 to 6 hours to fully charge the AC200MAX using an AC adapter at 500W, but by combining 900W of solar power with AC charging for a maximum of 1,400W dual input, the charging time could be reduced to less than 3 hours.
EP500Pro - Powerhouse for Extended Power Outages
The EP500Pro comes with a massive 5,100Wh capacity and an impressive 3,000W output. It can provide electricity to the entire house, ensuring that the lights stay on, food remains fresh in the refrigerators, and all essential equipment is running. Featuring sensitive UPS functionality, it switches over seamlessly within 20ms in the event of a power outage, providing uninterrupted power at all times.
The EP500Pro can handle multiple devices simultaneously with its 15 power outlets. It can charge various devices simultaneously. For instance, it can run a 100W smart TV for about 50 hours, a 500W space heater for 8.6 hours, and a 1,000W microwave for 4.3 hours. Despite its weight, the EP500Pro has four sturdy wheels at the bottom, making it easy to move and position wherever you need power.
The EP500Pro is powered by safe and reliable LifePO4 lithium iron phosphate batteries that can deliver at least 3,500 life cycles before reaching 80% of their original capacity. This is approximately equivalent to ten years of use at one discharge per day. Plus, the EP500Pro is equipped with an intelligent Battery Management System (BMS) that ensures efficient battery usage and protects against overcharging and over-discharging for peace of mind.
EB3A/EB70 - Compact Emergency Power
If you are looking for portable power solutions for emergencies, the EB3A and EB70 offer compact and powerful options. Weighing only 4.6kg, the EB3A offers 268Wh of capacity with 600W of power output to power electronics and small devices. The EB3A features 9 versatile outlets and can charge a 100W laptop for approximately 3.5 hours, a 60W mini fridge for 3.6 hours, and a 5W light for 30 hours. Small as it is, the EB3A could be an uninterruptible power supply with a responsive UPS feature, powering critical loads during sudden power failures.
The EB3A can be recharged in any way, either by AC, solar panels, car, or generator. It even supports a 430W dual charge, fully recharging within two hours. Even more impressive is the EB3A's capability for remote monitoring and control via a dedicated BLUETTI app on your phone.
The EB70 has a larger capacity of 716Wh while weighing only 9.7kg. With 12 outlets and 1,000W of power, it could charge various essentials and mid-range devices during power cuts. A 12W lamp could keep on for 50 hours, a 400W juicer for 1.5 hours, and a WIFI router for 65 hours, not to mention small devices such as phones, computers, and speakers for more runtime.
The EB70 also accepts multiple charging methods, including wall outlets, solar panels, and cars. Pairing to an adapter or solar panels for 200W input, it charges quickly in under 5 hours to minimize downtime. BLUETTI equips almost all of its power stations with an intuitive screen for better monitoring and management of the battery storage, and the EB70 is no exception.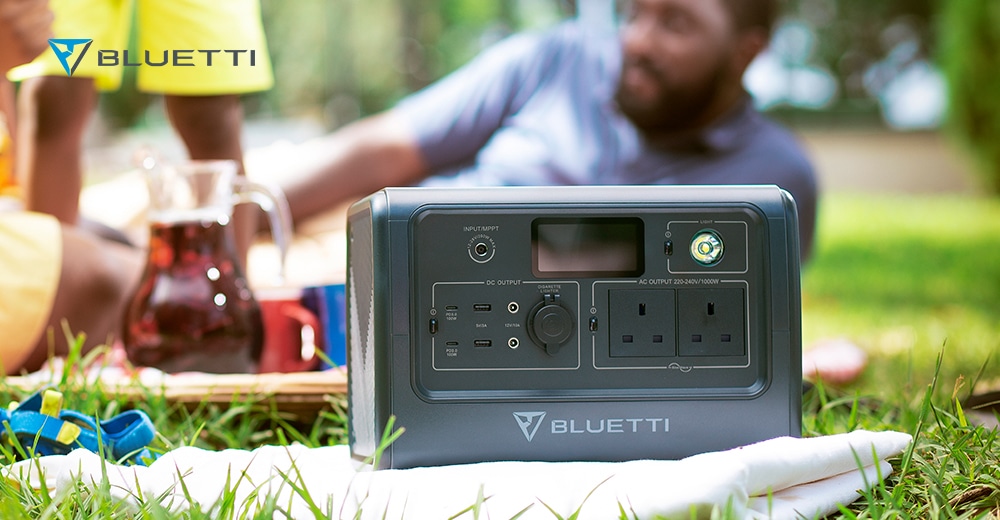 Empower All in Need
Driven by its mission to empower communities and individuals, BLUETTI is committed to bringing clean energy to every home for a sustainable future. Since 2021, BLUETTI has launched the 5-year LAAF (Lighting an African Family) program to bring electricity to off-grid households in Africa. BLUETTI's latest endeavor is a partnership with Solar Sister, donating home solar kits to Nigerian women in off-grid families. Along the way, BLUETTI will continue to bring light and hope to those without.
In response to Nigeria's insufficient power supply, BLUETTI shines as a beacon of hope, providing efficient and dependable power solutions to both households and businesses. Dedicated to making clean energy accessible to all, BLUETTI has recently organized offline activities in four communities of Lagos. These events offer residents a unique opportunity to experience various BLUETTI power products firsthand and conveniently charge their devices on-site for free during power outages.
For more information, please visit BLUETTI online at: https://bit.ly/44jND6f