Nimbus Media Ltd, a destination out-of-home-advertising company and the Small and Medium Enterprises Development Agency of Nigeria (SMEDAN) have today announced a call for applications for the 2023 edition of the Nimbus Aid Project.
The transformative social impact initiative spearheaded by Nimbus Media Ltd will provide 20 women-led businesses across Nigeria with over N40 million ($53,681) worth of advertising on Nimbus screens. Successful applicants will also benefit from various marketing and brand-building support from other project partners.
Speaking on the partnership, Dr Bunmi Kole-Dawodu Lagos State Manager, SMEDAN, stated, "Our partnership with the Nimbus Aid Project comes as a promising addition to SMEDAN's plans for the year. We aim to significantly extend our impact on women-led enterprises beyond our previous efforts. With this collaboration, we are confident in achieving these objectives."
In Nigeria, small and medium enterprises (SMEs) constitute the backbone of the economy, driving innovation, creating jobs, and fostering economic diversification. According to the International Labour Organisation, they contribute 48% of the national GDP, account for 96% of businesses and 84% of employment. However, these SMEs, particularly women-led ones, often face challenges that hinder their growth. 
Wale Adegoke, CEO of Nimbus Media Ltd, stated, "The Nimbus Aid Project reflects our commitment to driving positive change in our society. We believe in the power of media to uplift businesses and empower voices that need to be heard. By spotlighting women-led businesses through this initiative, we're not only advancing gender equality but also fueling the engine of economic growth in Nigeria."
"This year, we are grateful for the support of prominent sponsors, including SMEDAN, LSETF, Marketing Edge Magazine, TechCabal, Techpoint Africa, News Central TV, Hervest, FBN Quest, Carpe Diem Solutions and others who share our vision of unlocking economic opportunities through entrepreneurship and gender equality."
The Nimbus Aid Project has a storied legacy of significantly impacting businesses. Since 2016, it has supported 13 organisations, 11 being women-led, with N35 million worth of Digital Out-Of-Home (DOOH) advertising. With this support, beneficiaries have recorded over 2.8 million unique views of advert materials in key cities across Nigeria.
The 2023 edition is poised to take this impact further, empowering women-led SMEs and setting the stage for a more inclusive and economically-empowered business landscape. To apply for the Nimbus Aid Project 2023, women-led businesses are encouraged to visit https://www.nimbus.com.ng/nimbus-aid-project   The deadline for applications is Friday, 8th September 2023.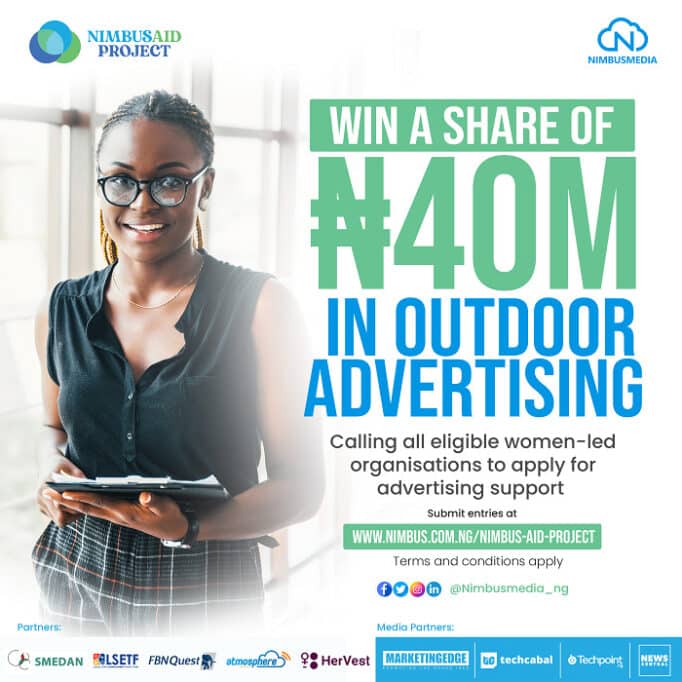 About The Nimbus Aid Project
Since its launch in 2016, the Nimbus Aid Project has supported businesses and social impact organisations committed to creating economic and social opportunities in Nigerian communities. The initiative is led by Nimbus Media Ltd, a destination out-of-home advertising agency in Lagos.
Previously known as "Nominate A Charity," Nimbus Aid Project's mission is to ensure SMEs and social impact organisations benefit from the reach and credibility that outdoor advertising brings to major brands.
Past beneficiaries of the Nimbus Aid Project include Headforth Foundation; a non-profit providing free and easy access to justice for indigents; MyMedicines; a platform for last-mile access to genuine and affordable medicines across Nigeria; and Wadi Africa, a digital platform connecting African researchers to the resources required to carry out groundbreaking research.