Quidax, an African cryptocurrency exchange, has hit a major milestone as the company marks its fifth year of official operation.
To celebrate the achievement, Quidax is offering free Naira deposits and withdrawals to its customers from August 1st to 7th. Between this period, all customers - whether old or new - will be able to deposit and withdraw Naira for free across all of the company's channels.
The accomplishment isn't a minor one. Official data from the U.S. Bureau of Labour Statistics shows that 65% of businesses fail in the first five years. And, Quidax has been able to fight through several challenges of its own in the past few years.
Let's walk through some of the company's most notable moments.
Official Launch
Quidax was launched in 2018 by Buchi Okoro (Co-Founder/CEO), Uzo Awili (Co-Founder/CTO), and Morris Ebieroma (Co-Founder/CIO).
Okoro, an alumnus of Covenant University, Ota, explained that he had developed the vision for Quidax following an unfortunate personal experience he had while trading cryptocurrencies.
"I had started trading cryptocurrencies while in school, and I got scammed on a specific transaction. While I was hurt by the experience, I also realized that thousands of people fall victim to fraud in the crypto space. My goal with Quidax was to create a platform where people could trade and transact using crypto safely."
Together with Awili and Ebieroma - also students at Covenant University - Okoro set out to create Quidax. And, after getting some seed money and entering the Techstars Accelerator Program in 2018, the company got off the ground.
Initial Expansion
The first two years for Quidax were filled with significant expansion. At the time, the crypto market had been battling through one of its worst periods, with coin prices tumbling after hitting massive highs in 2016 and 2017.
Nevertheless, this period also saw a lot more people learning about cryptocurrencies - especially in Africa. And, this curiosity saw them get more involved in the space. Soon enough, Quidax had achieved an enviable customer base and was growing massively.
Navigating the CBN Ban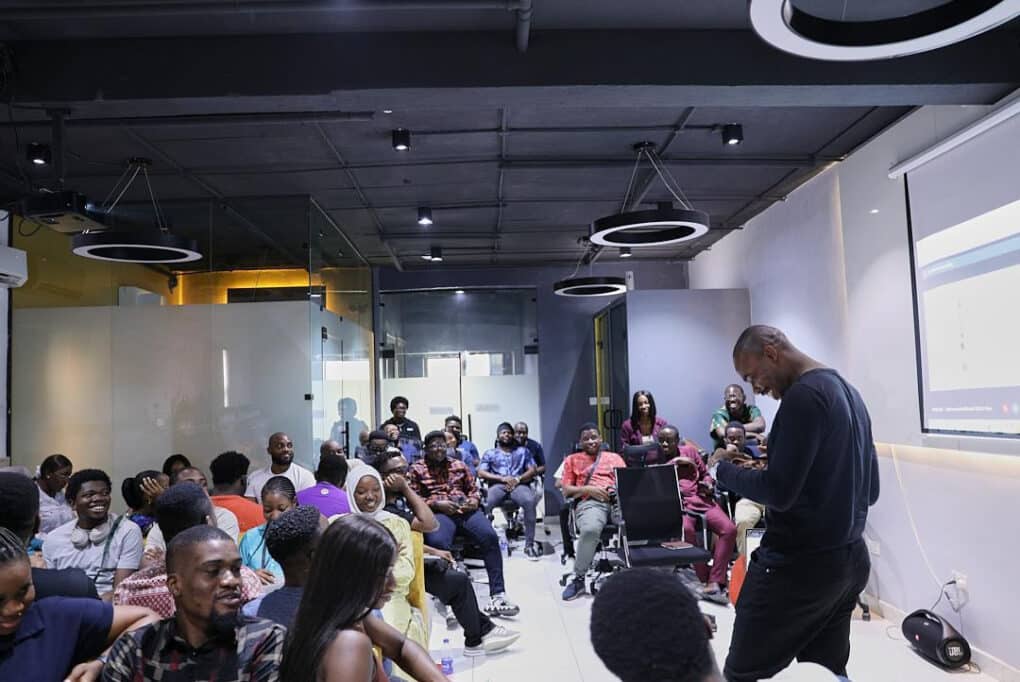 This growing company met its first major challenge in February 2021 as the Central Bank of Nigeria (CBN) announced a ban on crypto-banking relationships.
At the time, the apex bank placed a restriction on banks having affiliations with cryptocurrencies of any kind. This meant that crypto companies, traders, and businesses accepting cryptocurrencies had their bank accounts shut down immediately.
Considering that crypto is still a growing space, this ruling was concerning for many of Quidax's customers. Nevertheless, Quidax was able to find a way through this. The company launched a peer-to-peer service, making it possible for customers to deposit and withdraw funds safely.
The service, called Qdirect, provides an added benefit of trust - instead of transacting with an unknown person, you're directly making transactions with Quidax. This way, customers are assured of a smooth, secure transaction.
QDX Token Launch
In May 2021, Quidax also hit a major milestone after the company launched its in-house crypto token, QDX. The asset marked a first for the African crypto space, offering benefits such as rewards and staking to the exchange's customers.
Despite a slowing market, the QDX launch was met with significant excitement, and Quidax raised $3 million in additional funding from that launch in a single day.
The launch of the token was also accompanied by the launch of the QDX Vault - Quidax's staking service. With the QDX Vault, Quidax users can stake their QDX and earn rewards from airdrops and other promotional campaigns from the exchange.
Don Jazzy Unveiling & BBN Campaign
Quidax's continued growth went into 2022, with the company embarking on several impressive marketing initiatives to improve its reach and brand impact.
Part of that was the unveiling of Michael Collins - popularly known as Don Jazzy - as its official brand ambassador. Jazzy, who is one of Nigeria's foremost music producers and industry executives, helped drive Quidax's brand marketing efforts, participating in numerous campaigns as the company grew to become one of the trusted names in crypto.
Quidax was also an official partner for 2022's edition of Big Brother Naija - Africa's most popular reality game show.
Dollar Savings Pivot
Another milestone for Quidax has been the launch of its Dollar Savings tool. Announced in September 2022, the product provides a way for customers to convert their money into U.S. Dollars, save it, and earn up to 10% in interest annually.
The tool couldn't have launched at a better time. The Nigerian Naira lost over 20% of its value against the Dollar in 2022, and it is on track to lose even more this year. With inflation also reaching all-time highs, Quidax's Dollar Savings tool provides the perfect way for anyone to protect their money - and earn attractive returns while they're at it.
Just as well, it provides a way for Quidax to cater for its customers who might be a bit wary of the crypto market. As the industry works to recover from another bearish market, many customers who might want to wait out the storm but are still looking for a way to earn have the perfect opportunity with the Dollar Savings tool.
This year, the company improved on the service even more, making it possible for customers to withdraw money from their Dollar Savings plans and USD wallets into their Domiciliary accounts.
Quidax's accomplishments as the company turns five have been impressive, to say the least. And, as the crypto market looks set for a recovery, the company has proven itself to be a reliable, safe place for anyone looking to get into the space.