The highly anticipated 2023 edition of the Techmybiz Pitch-a-thon delivered an awe-inspiring display of innovation and talent as 22 exceptional digital solutions emerged winners.
The Techmybiz is an initiative of GIZ/Digital Transformation Center Nigeria (DTC Nigeria), which is jointly funded by the European Union (EU) and the German Federal Ministry for Economic Cooperation and Development (BMZ) and is implemented by Deutsche Gesellschaft fuer Internationale Zusammenarbeit (GIZ) GmbH.
Following a rigorous review of thousands of applications from entrepreneurs across Nigeria, through a "Call for Digital Solutions" campaign that offered a platform for many innovators, entrepreneurs and startups within the Nigerian ecosystem to register, 50 outstanding digital solutions were selected to pitch their ideas in the 3-day hybrid event.
The entrepreneurs showcased their ingenious pitches, captivating the audience and showcasing the disruptive potential of their technologies across various industries
A panel of judges, comprising industry experts, entrepreneurs, investors, tech enthusiasts, and seasoned professionals, evaluated the pitches and selected the winners.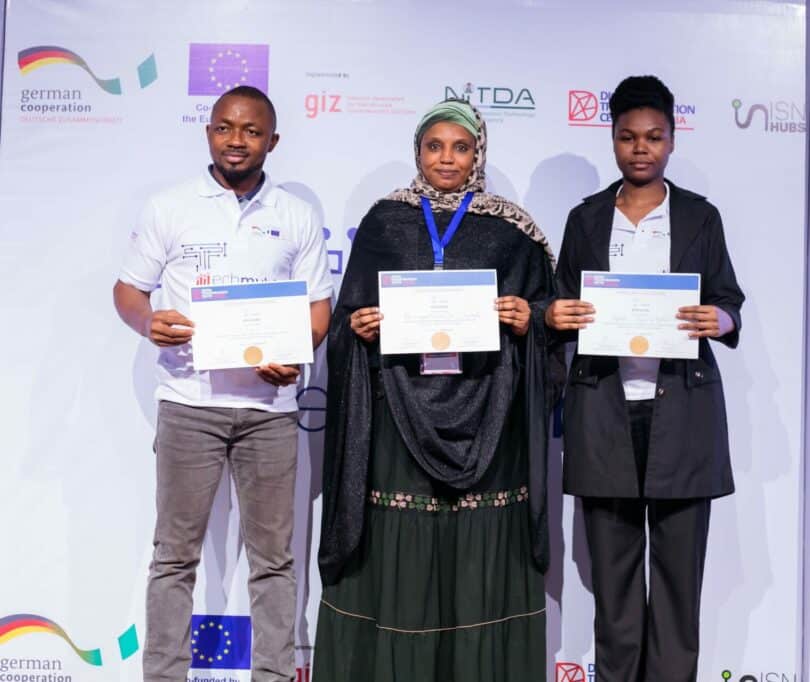 Here are the winners:
Asoro Automotive
Asoro Automotive is a comprehensive online platform that serves as a one-stop solution for all automotive technology needs in Nigeria.
With a user-friendly interface and intuitive design, the platform offers a seamless experience for both car owners and automotive technicians.
It offers a wide range of services, from repairs and diagnostics to parts procurement, training programs, and expert advice.
With its user-friendly interface and wealth of features, the website serves as a valuable resource and a reliable partner for all.
Blualpha Nigeria Limited
EvriSale App is built to solve the challenges of micro, small, or medium businesses that it is involved in the sale of good and services.
This solution is designed and developed to help businesses monitor sales operation of physical goods and service-based products (no stock products that are not tracked such as Hair Salon, Beauty Shops, or Consultation) in a manner that the owner has control of the business in his/her mobile phone, and for Business owners to delegate stock inventory and app tasks to his/her supervisor.
The app provides the business with reports such as sales reports, and inventory reports.
myStash
The Profit app by myStash is a tool for business finance management. The app allows business owners to develop a budget for their business, track their business expenses seamlessly, and monitor cash flow.
With the Profit app, a business owner can fix percentages to be set aside anytime your customers pay for your product or service.
This is a great additional benefit, especially for female business owners, some of whom are unable to access loans because they do not have collateral assets like land or other expensive assets. So far, myStash has empowered over 5,000 business owners.
Echovon Technologies Limited
This solution is a SaaS web platform and mobile app that offer data insight and a marketplace for SME retailers to instantly identify bestselling regional products.
No more waiting to stock high-demand products that increase revenue, and enjoy 90% savings on commission fees on their marketplace.
As a consumer on Vevet's marketplace, you can order food, groceries, and other products from nearby supermarkets and restaurants.
Receive a list of your favourite products which entices you to place more orders thereby increasing revenue for us and our vendors.
Metro e-Corporate services Ltd
Metro e-Corporate services ltd is a tech-driven corporate compliance company that offers a one-stop solution revolutionizing corporate compliance for small and medium businesses by leveraging cutting-edge technology to simplify legal compliance, saving time, effort, and resources.
Loyalty Alliance Systems Limited
Loystar is an omnichannel retail commerce platform that caters to micro, small, and medium-sized businesses (MSMEs) by offering a comprehensive suite of tools and solutions.
The platform includes a Point-of-Sale (POS) system and inventory management software, which empower merchants to effectively manage their sales, customer records, and inventory across multiple locations, including online channels.
With the Loystar software, merchants can efficiently track their sales transactions and maintain detailed customer records.
The platform supports various payment options, allowing businesses to accept payments in multiple ways to cater to customer preferences
Big Family 360 Foundation
Northwave app is a fintech mobile application that allows MSMEs to engage in money circling (collective savings) in a safe and secure manner.
The application is designed to ease the retrieval of investment among group members that are engaged in money circling without any breach of contract.
The Northwave app helps to collect and retrieve savings from group members(customers) via their debit cards and bank accounts as due, hence saving group members from losing their money and investment. The group's monetary contribution is based on one's financial capacity and strength.
Xchange Box Solutions Ltd
This solution provides both credit access and payments/collections for mostly women-led corner shops where women sell consumables and petty trading by giving them as low as 100 USD weekly repayable credit to sustain their trading subject to increase based on records of repayment verifiable through its payment platform via Card Reading devices given to them for receiving payments, creditworthiness records (based on repayments and transaction volumes) for rural communities' corner shops.
CDIAL AI
Its product, IndiGenius is a cutting-edge multilingual keyboard that harnesses the power of artificial intelligence (AI) to revolutionize digital communication, intelligent typing input, and translation across 160 languages worldwide.
This innovative keyboard goes beyond conventional input methods by offering speech-to-text functionality, making it an invaluable tool for individuals with typing challenges or fatigue.
Developed after 11 months of extensive research of special characters and missing alphabets that are absent from conventional keyboards and an in-depth understanding of the African market, the collective intelligence gained during this research was ingeniously deployed into the design and functionality of IndiGenius.
Agrovesto Enterprise Ltd
Agrovesto is a platform that provides seamless Agro-commodities trading and payment experience for smallholder farmers and crop buyers.
The platform is built to digitize the flow of food from farms to buyers and provide real-time market data for easy trading decisions.
Users can also access on-demand standard warehousing and affordable logistics solutions easily.
The platform also built farmer onboarding software that enables profiling of farmers and disbursing high-quality input through our trusted suppliers and also offers advisory services for sustainable food production.
Greenera Technologies LTD
Greenera Technologies specializes in the manufacturing and production of solar standalone systems for both residential and commercial applications.
Its innovative products harness the power of the sun to provide sustainable and reliable energy solutions.
By utilizing its solar energy, Greenera Technologies systems help reduce carbon emissions, lower energy costs, and contribute to a greener future
Topcity Enterprises Ltd
Topcity is a Nigerian-based startup that is engaged in the use of technology in onions processing, modern Onions storage, linking farmers to market and training women in onions processing to reduce post-harvest losses to N300 billion($650m), improve food security, reduce hunger, promote productivity and profitability among Farmers/women, improve national economy and create employments.
Advanced Engineering Centre
Precision moulds are accurately machined equipment used for the mass production of plastic products, including bottled water, shoe soles, hangers, plates, gallons, etc. Moulds are used to form plastic shapes, profiles and products.
Moulds fabrication requires a high level of engineering expertise and skills which is very scarce in Nigeria and Africa. Modern mould fabrication requires Computer Aided Design (CAD) and Computer Aided Manufacturing (CAM) both of which are digital technologies.
Crox Technologies Ltd
Croxapp is a peer-to-peer (P2P) parcel delivery platform that was created to address the challenges of traditional courier services in Nigeria.
It connects individuals who need to send parcels with trusted and verified individuals who are already travelling in the same direction as the parcel's destination.
This innovative platform allows users to send parcels at a reduced cost and time, while also providing an opportunity for individuals to earn cash by picking up and delivering parcels on their way to their destination.
Veritas Imperial Investments Limited
GIFTY - Digital Shop Maker is a SaaS platform that enables MSMEs to create e-commerce websites in under five minutes using their smartphones.
The platform provides several benefits, including shorter, more seamless sales conversations with customers online, accurate sales records, and AI-powered sales growth insights.
GIFTY was created to address the challenges MSMEs face when engaging in sales conversations with potential customers online.
These conversations are often stressful and repetitive, leading to longer sales cycles and low or no sales.
Kamel, Inc
Kamel is an all-in-one solution to enable anyone to start, manage, and grow a retail business of any size - even without access to capital.
With its product, vendors can get access to a WhatsApp-integrated e-commerce website, in addition to tools for managing inventory, orders, bookkeeping, customer relations, etc.
Vendors also get their products promoted by the Kamel network of resellers who earn commissions from every sale they broker.
Retailloop Solution Technologies
Retailoop is a composable retail engine that helps semi-formal retailers build scalable commerce solutions with amazing developer tools.
Adashi
Adashi helps unbanked and underbanked customers especially MSMEs who have issues accessing formal financial services to save and access credit.
The platform is not only helping the unbanked to save more but has been able to take away the hassles of cumbersome paperwork the agent/collector has to go through on a daily basis.
Adashi has taken away the issue of transparency and accountability which are part of the reasons these users don't trust formal financial systems.
BIME
BIME is an automated bookkeeping software designed to make bookkeeping easier for small businesses.
It includes features such as automated bank transaction imports, expense categorization, invoicing, and financial reporting to help businesses manage their finances more efficiently.
One of BIME's key advantages is its ability to automatically import bank transactions. This eliminates the need for manual data entry and lowers the possibility of errors.
The software also automatically categorizes expenses, saving businesses time and ensuring that their financial records are accurate.
CreamsonTechnology Company
This solution helps sustain an eco-friendly, cleaner and healthier environment through waste recycling of P.E.T plastic materials from the local areas into feedstock by deploying ultra-modern fully-automated NANO SENSOR refining lines to sort, crush, wash and recycle up-to-market-top quality 99.7% purity level for the production of carpets, fibers, plastic clothing and new bottles.
This is done alongside environmental sustainability and relevant SDGs enlightenment campaigns across communities, educational and religious institutions with a focus on the 3Rs: Reuse, Recycle and Reduce.
Bitcoops
BitCoop is a user-friendly and intuitive app designed for managing cooperative societies of all sizes. Whether you're in charge of a small community cooperative or a large, multi-location society, BitCoop has everything you need to streamline your operations and keep things running smoothly.
With BitCoop, you can easily keep track of your members and their contributions, as well as your financials and day-to-day operations.
The app's member management features allow you to maintain detailed information about your members, including their contact information, contributions, and payment history.
Moon Innovations
This product is the solar smart inverter system, a single-box solution providing homes and businesses with solar electricity, wifi internet access, and AI-enabled security surveillance with a mobile application to monitor and control this system from anywhere remotely.
It also includes an intruder alarm system which can be triggered when an intruder is detected via the mobile app.
MSMEs in Nigeria are quite lucky to have all these digital solutions they can apply in their organisations, to make their businesses more efficient and effective.