Imagine you wanted to get a nice headset on Amazon and then get it without spending a dime. Yay, that's the magic Amazon gift card does. Also, now imagine a loved one's birthday is near and you've been shuffling through several items online but still can't make a gift choice. Choosing a gift for someone can be stressful, trust me. Guess what? Gifting them an Amazon gift card leaves the decision-making entirely up to the recipient. Quite relieving, if you ask me. Oh yes, we are still talking about Amazon gift cards. Another awesome thing about it is its high rate in Nigeria. Really, who won't love Amazon gift cards?
This article is specially written for you because you won't just be learning how to buy Amazon gift cards but also the ideal platform to buy them. Keep reading to learn about the best platform to buy Amazon gift cards.
Where To Buy Amazon Gift Cards In Nigeria
The best platform to buy Amazon gift cards online is NOSH. With the right platform, buying gift cards online is not much of a headache. It's actually very straightforward with a few steps on the Nosh platform. You may be wondering why I recommended the platform. Asides from the fact I've had a smooth experience while purchasing different kinds of gift cards on the platform, there are certain qualities that stand out. Let me break them down for you.
First, the ease of use is absolutely amazing. There are certain platforms you visit and end up confused about what to do next. I can promise that's not the case here. As a first-time user, you can easily buy a gift card with even no guide at all.
If you are wondering about how long it's going to take, the transaction is swift. Under an average of 5 mins, you can purchase a gift card and it will be delivered to your email address.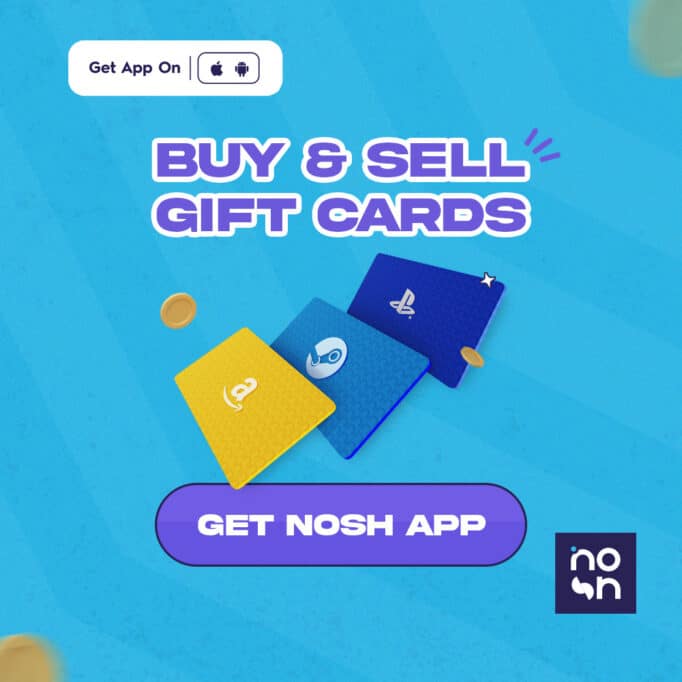 There is a standby customer support team you can access for questions or complaints. The support team is eager to make the process easy for you and customer service is top-notch.
How To Buy Amazon Gift Cards Online
As I mentioned earlier, you can buy an Amazon gift card on Nosh with a few easy steps. Check them out below:
Visit the Nosh website. Or download the mobile app on Google PlayStore/AppStore.
Create an account by clicking on the Sign Up+ button.
Verify your email address and sign in back.
Click on the Buy Gift Card option.
Select the country of the Amazon gift card you want to buy e.g. the United States.
Pick the brand of the gift card which in this case is Amazon.
Select the amount you want to buy. Besides it is where you pick the quantity of the cards.
Confirm your info is correct.
Swipe right to complete the purchase.
What To Know About Amazon Gift Card Purchase
It's essential you know the following before you buy an Amazon gift card.
Amazon gift cards can only be redeemed on the Amazon website specified in the country of purchase.
They are available in several denominations. So, you can purchase one within your budget.
You can not use Amazon gift cards to buy any other kind of gift card.
Amazon gift cards are not returnable nor refundable.
There is no expiration date on Amazon gift cards and attract zero fees.
Amazon is not responsible for lost or stolen gift cards. It's important you protect your code and not share it with anyone.
Frequently Asked Questions
What Is Amazon Gift Card Used For?
Amazon gift cards are used to buy products available at the Amazon store or website. They are an acceptable payment option for the brand.
How Much Is Amazon Gift Card Rate In Nigeria?
Presently, an Amazon gift card rate in Nigeria ranges between NGN350 and NGN360 per dollar. This rate can change in the next minute due to certain factors. A rate calculator is a viable option to know the current rate in real-time.
Why Is My Amazon Gift Card Not Working?
This may be because you applied the Amazon gift card to the wrong account. Other possible reasons include an unreadable claim code or an already redeemed gift card.
Are Amazon Gift Card Refundable?
No, Amazon gift cards are not refundable. It's important you really want to buy before you go ahead with the purchase.
Conclusion
Amazon gift card is nice to have and definitely ideal to gift to a loved one. With an amazing platform like Nosh, you can easily buy an Amazon gift card in Nigeria. I will recommend you carry out your purchase on the mobile app. Go to PlayStore or AppStore on your device and search "nosh". Download the Nosh app at the top result and sign up. That marks the beginning of a hassle-free gift card purchase. Cheers!