Infinix has launched NOTE 30 5G, setting a new standard in the NOTE Series range offering ultra-fast connectivity and upgraded gaming performance. With its Dimensity 6080 5G processor, the NOTE 30 5G is highly power efficient, allowing for faster processing speeds and smoother multitasking. Additionally, the 45W All-Round FastCharge along with Bypass Charge ensures that users can quickly charge their device while gaming without the worry of overheating. The NOTE 30 5G also boasts a stunning 120Hz FHD+ display and a powerful 108MP camera with upgraded features for a fantastic mobile photography experience.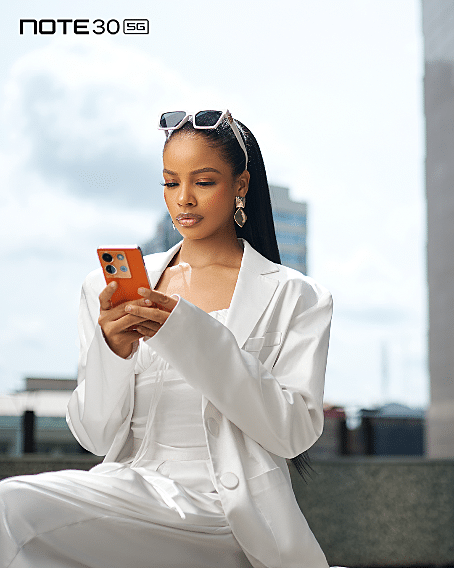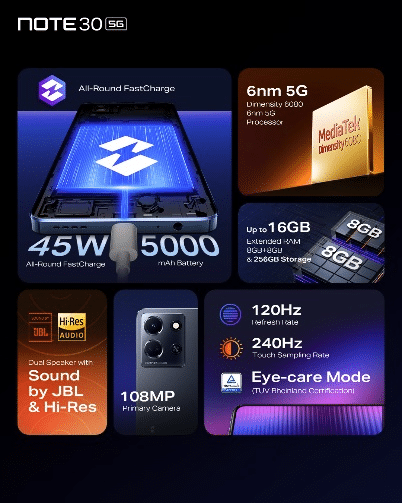 "At Infinix, we are proud to bring the power of 5G technology to our users with the NOTE 30 5G. We designed this device to keep users connected to the world, anytime and anywhere, with the first-ever All-Round FastCharge solution ensuring safety, intelligence, and flexibility. Along with 5G connectivity, the NOTE 30 5G features a premium display and ultra-clear camera, making it the ultimate choice for power users who demand excellence at a competitive price point. We are confident that the NOTE 30 5G is the ultimate all-rounder that meets the needs of our users." – Oluwayemisi Ode, Integrated Marketing Communications & Public Relations Manager, Infinix Nigeria.
The Fast Charge Revolution
The NOTE 30 5G is a remarkable device, featuring a range of advanced charging technologies. Its 45W All-Round FastCharge can charge a large 5000mAh battery to 75% in just 30 minutes[1]. Additionally, the battery cycles are up to 1000 times, which is 25% higher than the industry standard. The phone also has Bypass Charge technology, which filters the current to supply power directly to the main board, resulting in an average temperature drop of 2℃ - 7℃[2]. This effectively controls the phone's temperature, allowing users to charge and play games simultaneously. With Intelligent Power E-IQ, the phone learns users' charging habits, giving them a full charge before dawn and adding multiple security protections to ensure safety at all times. Additionally, the NOTE 30 5G supports PD3.0 agreement and reverse charging, adding flexibility to the charging experience.
Designed for Smartphone Gaming
The NOTE 30 5G is a powerful gaming smartphone that features the Dimensity 6080 5G processor, providing 20% faster in-game performance with CPU frequencies up to 2.4GHz, enabling snappier app response, more FPS in games, and smoother connected experiences. The processor's 6nm process offers ultra-efficient performance and lower power consumption.
In addition, Infinix's Ultra Power Signal (UPS) technology is optimized for weak signal user scenarios, improving signal performance with a new antenna design and proprietary algorithms. UPS technology intelligently switches antennas, accelerates the network, and reduces lag rate during low latency applications. The NOTE 30 5G achieves a 40% increase in cellular signal strength and a 100% increase in WiFi signal strength in landscape mode[3]. With the NOTE 30 5G, gamers can enjoy uninterrupted and lag-free gaming sessions thanks to Infinix's cutting-edge technology.
Additionally, The NOTE 30 5G's impressive 120Hz refresh rate display is enhanced by Infinix's Smart Refresh and Magellan Engine technologies. These features automatically adjust the display's refresh rate based on user scenarios to provide a smooth experience and conserve power. Plus, the Eye-care Mode, certified by TUV Rheinland, safeguards users' eyes during extended screen time. The display provides an immersive viewing experience for gaming or video watching.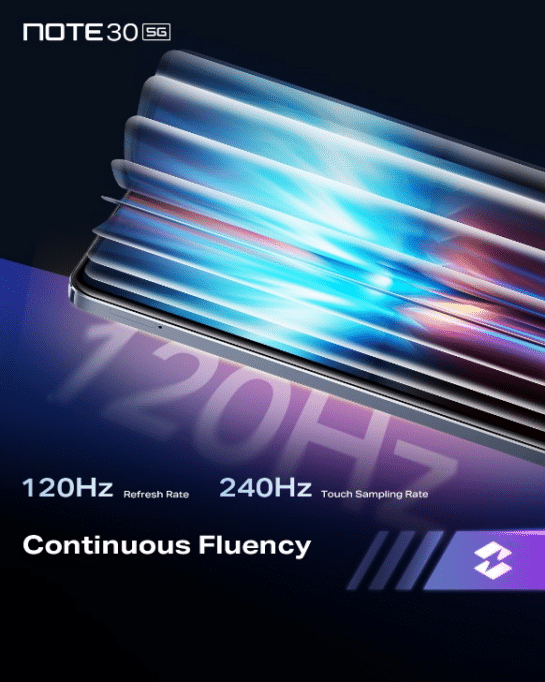 Exceptional Smartphone Photography
The NOTE 30 5G comes equipped with a powerful 108MP primary camera that captures sharp and transparent images. It features automatic color gradation technology that enhances image quality even under challenging lighting conditions, as well as a Dual View Mode for capturing moments from both front and rear cameras simultaneously. The Sky Remap and Street Photography Filter features allow users to adjust the sky and bring professional tools to their fingertips. With a 16MP selfie camera that features Style Makeup, users can showcase their multi-faceted personality with customized makeup for both men and women. Overall, the NOTE 30 5G delivers exceptional photographic capabilities.
Additional Key Features
Extended RAM
The NOTE 30 5G is equipped with 8GB of RAM and 256GB of storage. It also features an Extended RAM technology of 8GB+8GB, which is equivalent to 16GB of RAM. This technology enables better multitasking performance and improved storage capabilities, with a hot start rate increased by 12% and a 10% increase in commonly used app launch speed[4]. The NOTE 30 5G offers ample memory and storage to run multiple apps smoothly and store large files without any hassle.
Dual Speakers
The NOTE 30 5G has stereo dual speakers, which provide a Hi-Res certified cinema-quality audio experience. The speakers are designed in collaboration with JBL to ensure premium sound quality.
AI Noise Cancelation
The NOTE 30 5G features AI noise reduction technology that can identify and suppress background noise during calls, meetings and gaming, ensuring clear voice communication. This is achieved through an AI algorithm that separates human voices from environmental noise, resulting in better call quality.
Dual Sim Capabilities
The NOTE 30 5G allows for Dual 5G SIM capability for high-speed internet on both SIM cards at the same time. It also features Clever 5G 2.0 technology to optimize channels and extend battery life for an efficient connectivity experience, whether on the go or at home.
XOS 13 on Android 13
The NOTE 30 5G operates on XOS 13, an operating system built on Android 13. With this, users can enjoy new sound design, motion graphics, and a smooth user interface. XOS 13 also offers upgraded PC connection 2.0, Lightning Multi-Window, Notepad and other features that make for a more personalized and intuitive experience.
NFC
With the NOTE 30 5G Multi-Functional Near Field Communication (NFC), users can enjoy the convenience of short-range wireless technologies, making it possible to share payloads of data such as transit passes or charge to credit cards.
Availability
The NOTE 30 5G is available in Magic Black, Interstellar Blue and Sunset Gold, and sold at authorized Infinix retail outlest across Nigeria for N146,500 only.
For more details visit: http://www.infinixmobility.com/ and follow @InfinixNigeria on Instagram and Twitter for local promotions and activities.