Strix officially begins operations today, May 22, 2023. It is a brand-new startup that offers customers an array of gadgets, giving them a lifeline to the world.
Strix is the home for affordable and durable mobile, tablet, SmartWare, and home technology.
With a solid commitment to quality and customer satisfaction, Strix aims to provide Nigerians with a seamless shopping experience for all their gadget needs.
Furthermore, Strix is a cutting-edge startup dedicated to transforming and enhancing the tech experience.
And then with Strix, you can explore a realm of unparalleled quality as they redefine the boundaries of technology with top-tier devices, including phones, tablets, headphones, laptops, speakers, and beyond.
They invite tech enthusiasts to upgrade and embrace the spirit of innovation and join them on their thrilling journey. They call on savants to dive headfirst into the limitless possibilities of the future, where they promise revolution meets excellence.
Elijah Olusehinde founded Strix in 2023, seeking to revolutionise the gadget and accessory market.
The Mathematics graduate from Osun State University has a passion for technology and possesses a deep understanding of the Nigerian consumer, having founded two successful consumer-oriented startups.
Elijah and his team are dedicated to bringing the latest and most reliable gadgets to the hands of their customers.
"Strix wants to build a trustworthy and organic relationship with Nigerians," says Elijah Olusehinde.
"We are a bold bunch looking to make shopping for gadgets a seamless process. Our goal is to become the go-to destination for anyone seeking high-quality gadgets at affordable prices.
"We are not just in the business of selling gadgets, we want to provide our customers with a lifestyle."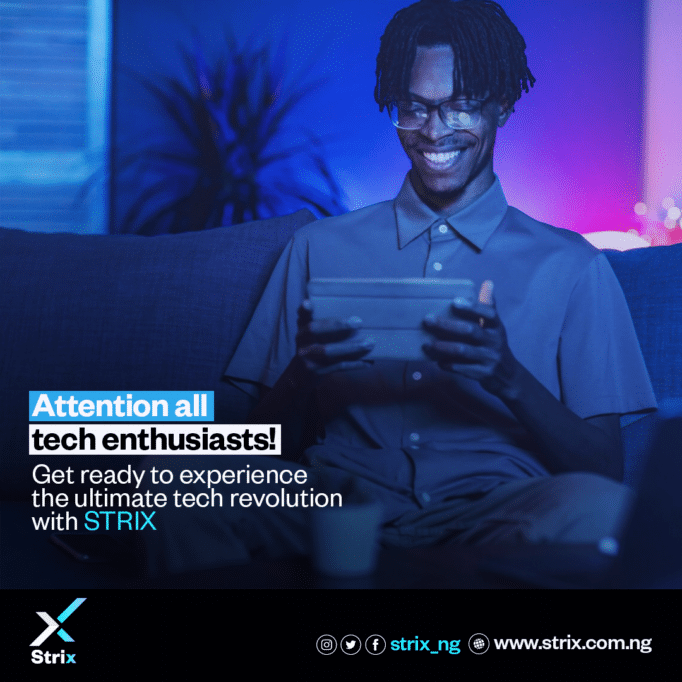 Strix has begun its operations in Enugu, Nigeria, with plans to open its Lagos branch shortly. This strategic move allows Strix to establish a strong presence in Nigeria and serve the growing demand for cutting-edge gadgets.
"We are excited to announce that operations have resumed in Enugu," reveals their energetic CEO.
"Our team has been working tirelessly to ensure that we offer a wide range of products that meet our customer's diverse needs and preferences.
"The opening of our Lagos branch is just the beginning. We have ambitious plans for rapid expansion, aiming to bring the convenience and reliability of Strix to customers across Nigeria."
At Strix, customer satisfaction is at the heart of everything they do. The company takes pride in offering a carefully-curated selection of gadgets, ensuring each product asserts rigorous quality standards.
Whether it's a smartphone, tablet, smartwatch, or home technology, customers can trust that they are getting the best deals without compromising durability and performance.
In addition to its extensive product range, Strix also provides exceptional customer support to assist shoppers in finding the perfect gadget that suits their needs.
Their team of professional, knowledgeable, and friendly experts is always ready to answer questions, offer guidance, and provide technical assistance, making the buying process smooth and hassle-free.
As Strix embarks on this exciting journey, they invite Nigerians to join them in experiencing the future of gadget shopping.
With a commitment to quality, affordability, and customer satisfaction, Strix aims to redefine how Nigerians connect with the world through technology.
For more information about Strix and its product offerings, visit their website at www.strix.com.ng or their Enugu store today.