The fifth edition of the Deji Alli ARM Young Talent Award (DAAYTA) program came to a successful conclusion through a virtual pitch event, and Captain Natima Opuiyo of Natibo Technologies emerged as winner of N12 million grant.
The program was established in honor of ARM's founding CEO, Deji Alli, to support young entrepreneurs with innovative and sustainable ideas capable of impacting society positively. After a rigorous review of over 450 applications from start-up entrepreneurs across Nigeria, seven outstanding companies were selected to pitch their ideas. The selected startups were Cdial Limited, Moon Innovations, Natibo Technologies Nigeria Limited, Sakula Limited, StackJunior, Strich, Inc., and ThinkBikes Limited.
The finalists delivered captivating pitches, demonstrating their ingenuity and the potential of their technologies to disrupt various industries. A panel of judges, comprising industry experts, entrepreneurs, venture capitalists, tech enthusiasts, and seasoned professionals, evaluated the pitches and selected the winner. The winner of DAAYTA 2023 received funding of ₦12,000,000 (twelve million naira) over a period of one (1) year for the following purposes: development of business plan, completing of an entrepreneurial education at the Pan Atlantic University's Enterprise Development Centre (EDC) in Lagos, Nigeria, and receiving 5-month acceleration support for the development of their venture through a reputable entrepreneurial hub in Lagos, Nigeria.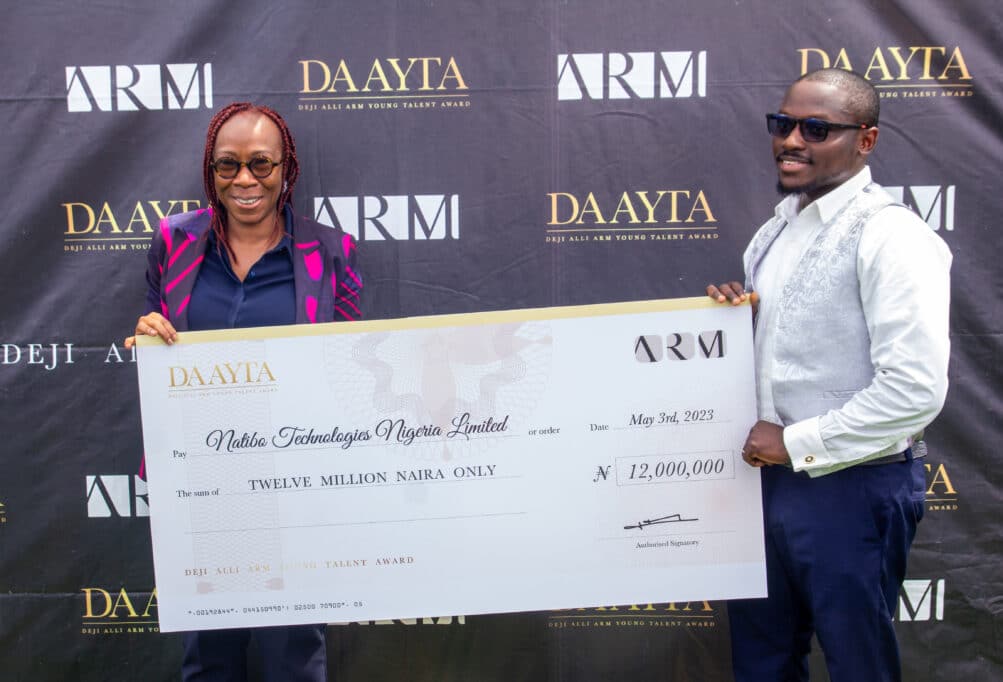 The DAAYTA program is a testament to ARM's commitment to supporting start-ups and providing them access to new markets. The virtual event held on April 14, 2023, witnessed enthusiastic participation from entrepreneurs, investors, and industry experts.
The CEO of ARM Group, Jumoke Ogundare, said in her opening remarks, "We are thrilled with the level of innovation and creativity displayed by the finalists of DAAYTA 2023. The ideas presented were truly exceptional, and we are excited to see how these young entrepreneurs will continue to positively impact their communities and contribute to the growth of the Nigerian economy."
In addition, the CEO congratulated all the finalists and the winner of DAAYTA 2023, stressing that one of the major purposes of the program was to encourage collaboration within the DAAYTA alumni network.
A unique addition to the DAAYTA 2023 is the introduction of the DAAYTA Alumni Impact Award. The award was created to reaffirm the commitment to supporting the startups in the ecosystem and further deepening the relationship with the alumni through closer engagement, interaction, connections, and continuous support for their business growth.
The winners of the DAAYTA Alumni Impact Award were Fela Akinse, the Founder of SALUBATA (DAAYTA 2021 edition), Boluwatife Omotayo, the Founder of GAMP Technology, (DAAYTA 2022), and Uche Kenneth Udekwe, the Founder of Natal Cares (DAAYTA 2021).
About ARM:
ARM is a leading investment management firm that provides diverse asset management services to a broad and diversified client base, including corporations, foundations and charities, high net-worth individuals, and small savers. Established in 1994 as an asset management firm, Asset & Resource Management Holding Company Limited (ARM) has evolved into one of Nigeria's most innovative and respected non-bank financial institutions focusing on Traditional Asset Management and Specialized Funds. For more information about ARM or the DAAYTA Program, visit www.arm.com.ng
About TechnoVision
TechnoVision is the brand name for TechnoVision Communications Limited— a technology services company that advises clients on technology-led transformation and early-stage entrepreneurship in Africa. See http://tvcng.com/ for more details. For more information about visit www.tvcng.com.