There's been a growing interest in cryptocurrency as of late. While crypto evangelists like Elon Musk are moving away from the field, there is still a lot of hype around these digital coins. Cryptocurrency is a digital currency that uses cryptography to secure transactions. These don't have any middleman or central regulating body and use a decentralised system to record transactions. It's also an investment asset that can be bought with the expectation of financial return. If the price of a particular cryptocurrency rises, so will its value.
That being said, cryptocurrencies have large price swings, and the possibility of facing a loss is substantial. It is important to do your research about each crypto before investing. One way to minimise this risk is to get in on a new token's pre-sale. A pre-sale is a fundraising event for a new cryptocurrency. It's an opportunity to buy coins with potential at a low price and enjoy ample profits in the future.
In this article, we are going to discuss three cryptocurrencies, DigiToads, Metacade and Big Eyes Coin in their pre-sale phase for beginner investors to sink their teeth into. These coins show a lot of promise judging from their pre-sales.
DigiToads, Digital Monsters
Behold the mighty toad! DigiToads is a play-to-earn meme coin with high growth potential. It aims to become one of the top meme coins on the market and a leading name in the P2E (play-to-earn) world. The game involves collecting, raising, and battling different toad NFTs. The top 25% of players receive TOADS tokens at the end of each season. DigiToad believes in giving back to the community; token holders receive monthly rewards from the prize pool and TOADS has pledged to donate 2.5% of its sales to save the Amazon Rainforest.
Winning Games at the Metacade
Play-to-earn games are gaining a real foothold in the blockchain space. Metacade is the world's first community-led metaverse arcade. As of this writing, Metacade is in its 6th pre-sale stage and has raised almost $10 million. What makes it unique is that this isn't just a single game; it's a bunch of different GameFi projects under the same roof. MCADE wants to appeal to a diverse group of gamers from all skill and interest levels. Players can earn MCADE tokens by playing games, writing reviews, and participating in the community.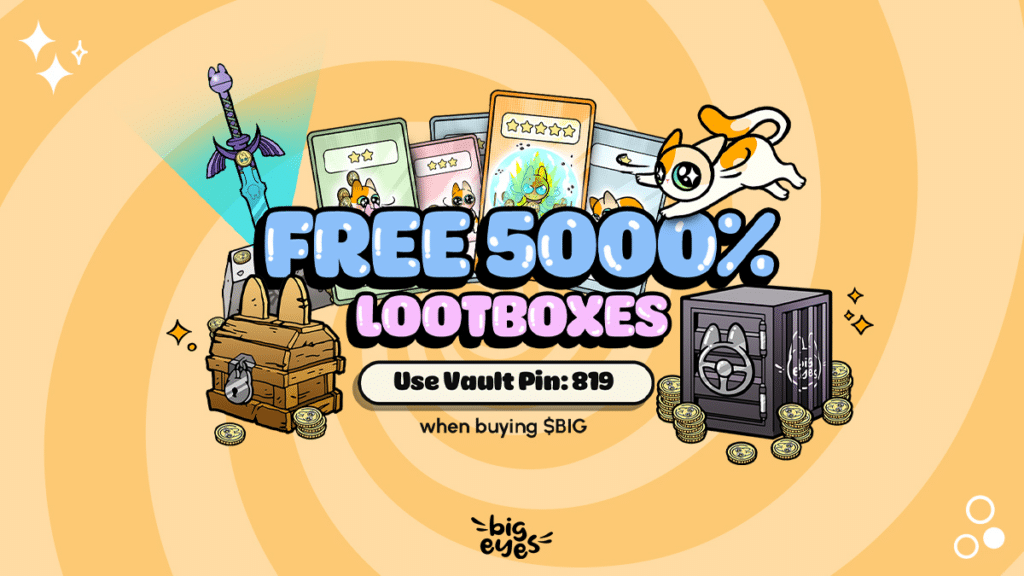 The Size of Big Eyes
Meme tokens like Dogecoin started as a joke but have since become legitimate cryptocurrencies. The cat-themed Big Eyes Coin is following in the footsteps of its canine brethren. Already on its 12th pre-sale stage with $31 million in the hat, BIG's success is almost unprecedented.
What makes Big Eyes Coin special? A look at its website reveals tons of cute imagery and a creative marketing strategy. Big Eyes Coin believes in community building, and it does this through social media, loot boxes, its Sushi Crew NFT Club, and charity work. BIG has recently launched a Vault Pin. If you purchase BIG tokens worth $100 or more and enter pin 819 on its website, you get free loot boxes containing $BIG tokens.
Check out Big Eyes Coin here
Presale: https://buy.bigeyes.space/
Website: https://bigeyes.space/
Telegram: https://t.me/BIGEYESOFFICIAL