In furtherance of its commitment to bridge the $42bn gender finance gap in Africa, HerVest, a fintech dedicated to providing financial inclusion for women through a Gender Lens Investment (GLI) approach, has launched its revamped digital app to deepen access to financial growth services for underserved and excluded African women through target savings, impact investing and credit financing.
Users of the HerVest app can now take advantage of the investment features by investing in women-led small and medium enterprises to earn competitive interest on the go. Unlike the previous investment model on the app that focused largely on agro investments, the HerVest offerings have been expanded to boost access to funding for women-led entrepreneurs by connecting them to the capital and infrastructure required to scale their businesses.
The new HerVest app also has a dollar investment feature that allows users to invest in dollar-denominated assets such as stocks, real estate, and a fixed income option to earn 10% - 14% returns in dollars. This feature protects investments from inflation and allows users to diversify their portfolios into high-quality investments to build wealth.
This is in addition to the newly integrated personal savings feature where users can earn 15% interest returns yearly, trade and investment opportunities which are now available to users via the innovative, user-friendly app.
The newly revamped HerVest app is designed to reflect a trendy modern look and feel with aesthetically appealing designs, an improved visual hierarchy across the onboarding and the app's interface to provide a seamless experience for users, aid swift information processing and reinforce trust.
With the HerVest app, users can now take a quick onboarding tour to gain requisite knowledge of the core functions of the app. In addition, users will have improved navigation for simpler access to the app's features and enhanced performance.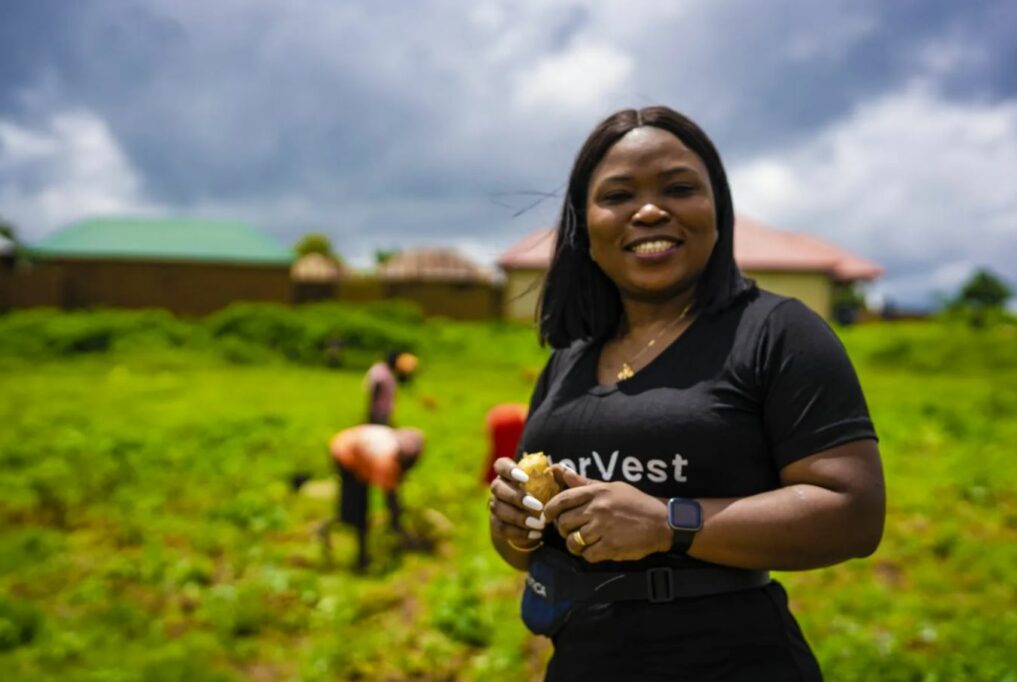 Commenting on the development, the Chief Executive Office and Co-founder, HerVest, Solape Akinpelu said the improvement in the brand's offerings is targeted at increasing the accessibility of its solutions to help underserved women build sustainable wealth and achieve a better, fulfilling future. "We are proud to introduce a refreshed and dynamic app built specifically to help link women to opportunities by providing them with the access to credit, trade, extension services and premium investments through a gender-focused lens," she said.
"Access to sustainable finance is a huge challenge as more women still face the challenge of being priced out of the existing market of microfinance loans due to high operating costs of providing loans to them. However, with our members-only cooperative model backed by technology, we are able to connect and lend peer-to-peer profitability.
"Following our initial heavy concentration in the agro space, we have decided to expand and cover as many sectors as possible outside agriculture to help more women founders scale their businesses. Users of the revamped HerVest app can now access a range of financial solutions that allows them to build sustainable wealth either through a dedicated personal savings option, trade investment offerings or an optimised dollar investment which can be fixed, put in stocks or in the thriving real estate option," Solape added.
HerVest is an inclusive fintech platform that provides financial growth services to underserved and excluded African women through target savings, impact investing and credit financing - specifically for women farmers in Nigeria. So far, HerVest has impacted over 10,000 thousand female farmers across Borno, Plateau, Kaduna, Benue, Niger, Oyo, Kwara and Ogun States.
With a mission to improve women's lives by giving them access to and use of financial services across rural, urban, and peri-urban areas, HerVest offers savings, funds transfers, impact-investment, and credit via its platform. HerVest exists to serve Nigerian women with easy access to financial tools and services to achieve their financial goals and ultimately close the $42bn gender finance gap in Africa.
Currently, HerVest has over 30,000 women community members and is helping them achieve financial wellness through competitive returns on target savings, agro investments and gender-driven financial literacy resources. HerVest is downloadable on internet-enabled devices.