Nigeria's retail giant Access Bank and Connected Analytics, owners of ThankUCash, a leading rewards platform, have announced a new partnership tagged Access Rewards. Customers who use their bank cards on Access Bank POS at different retail locations or supermarkets will receive a 2.5% cash-back incentive on their purchases due to this program. Regardless of their bank, all cardholders in Nigeria are eligible to participate in this reward program.
This project aims to serve the customers who go to these particular retail locations and the registered merchants on their network. According to Chioma Afe, Group Head, Marketing and Communications, Access Bank, "We are excited to partner with ThankUCash to offer our customers even more ways to earn rewards. This partnership is in line with our commitment to providing our customers with convenient and innovative banking solutions, and we believe the partnership will further enhance our customers' shopping experience. We have added more merchants and supermarkets across Nigeria, and Access Bank will roll this out in the coming weeks".
ThankUCash will host the rewards program using its cutting-edge technology and vast experience. The Access Rewards campaign aims to ensure that customers who conduct business or shop at merchant locations receive Access Points that they may redeem for items on their next visit to participating merchant locations.
Commenting on the partnership, Simeon Ononobi, CEO and Co-founder, ThankUCash, said, "We are thrilled to partner with Access Bank, the largest customer-based financial institution in Nigeria, to offer Nigerians even more ways to earn rewards. Our platform helps banks and institutions learn, reward, and reach more of their customers, offering them more rewarding benefits."
According to delighted shoppers at kick-off merchant locations like Ebeano Supermarket Adebayo Doherty (Lekki Phase 1), Access Rewards was just in time for the festive shopping, and the process has been seamless. This feedback cuts across all participating merchant locations. Customers can check their points balance, history, and other exciting offers by downloading the ThankUCash Customer app or using the USSD number 347100#.
Since February 1st, Access Bank has started a Valentine's Day Campaign and expanded the list of participating businesses to ensure customers have a positive experience. To earn your Access Rewards, go to the following merchant locations: Prince Ebeano Supermarket locations on the Island, Ikeja, and Abuja, De Prince Superstore Gbagada and Magodo, FoodCo Lekki, Ikoyi, Abeokuta and across Ibadan. EAT'N'Go locations– Domino Pizza, ColdStone and Pinkberry stores across Lagos, Dodo Pizza and Krispy Kreme locations across Lagos.
Access Bank will onboard more locations across the country and announce them as the project continues.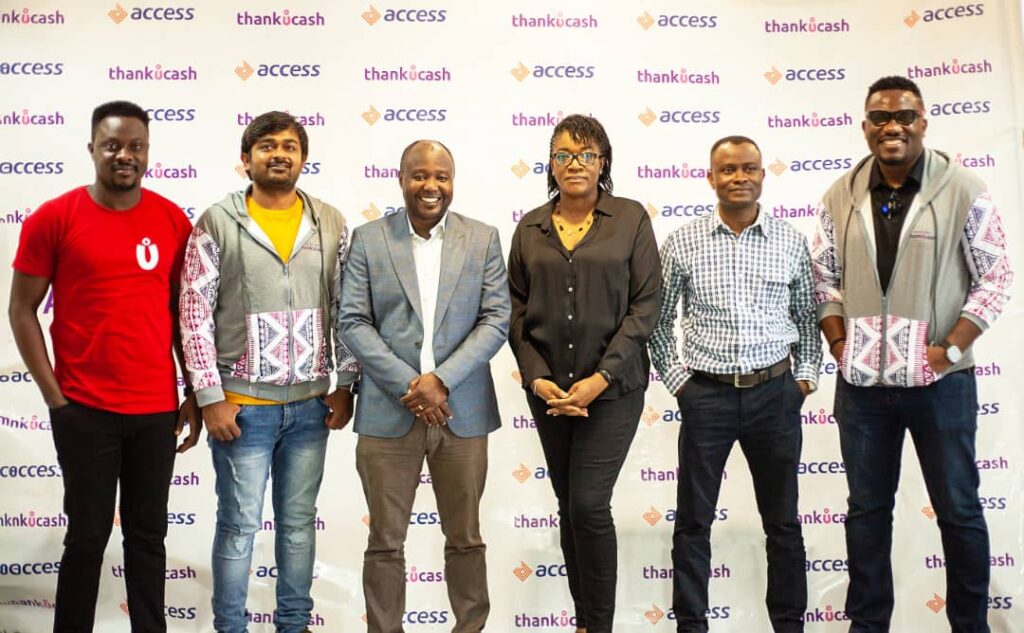 About Access Bank
Access Bank is one of the largest financial institutions in Nigeria, offering a wide range of banking and financial services to individuals and businesses. The bank is committed to providing its customers with innovative and convenient banking solutions.
About ThankUCash
ThankUCash is a business solution platform that builds products to achieve customer loyalty, management, and retention. They provide solutions for banks, big companies, and SMEs with their Customer Management Tool, POS Rewards, and Card Rewards.
They are also the owners of dealday, the biggest deal platform in Nigeria.
Visit https://www.accessbankplc.com/retailvalentine# to learn more about Access Rewards powered by ThankUCash, or download the app for android and IOS to keep track of your points and discover even more fantastic offers.