The winners will receive funding, incubation support for 3 months as well as access to workspace, market and networks to aid business growth
Nigeria's Agricultural sector is facing a myriad of challenges such as climate and weather changes, insecurity, rural-urban migration, and lack of expertise, financing and infrastructure. These have affected food production and processing, leading to food inflation. According to International Trade Organization, food inflation rose to 22.95% in Q1, 2021!
In places like Benue State which caters to over 70% of the food consumed in Nigeria - rightfully called the nation's food basket, these challenges are even more conspicuous; it has exacerbated the pre-existing socio-economic developmental challenges, disrupting livelihoods, education and economic development.
There's an urgent need to creatively tackle these challenges and grow the country's Agricultural sector. First City Monument Bank (FCMB), one of the biggest financial players in the development of Nigeria's agriculture sector, has partnered with the United Nations Development Programme (UNDP) in Nigeria for this purpose. Together, they have launched the AgroHack Challenge to crowdsource innovative solutions to the challenges faced across the Agricultural value chain, which includes:
Production
Processing
Storage
Agricultural Finance
Agricultural Commerce
Supply chain, etc.
"The significant contribution of Agriculture to Nigeria's economy highlights the sector's potential and the immense benefits it can provide for the nation," said Kudzai Gumunyu, Divisional Head, Agric Business at First City Monument Bank (FCMB). "The agricultural sector has the potential to be more than it currently is, with greater returns and yields for farmers, stakeholders, and the Nigerian economy. However, to do this, we must move beyond the traditional methods of agriculture and position ourselves for the future by consistently utilizing tech and innovation."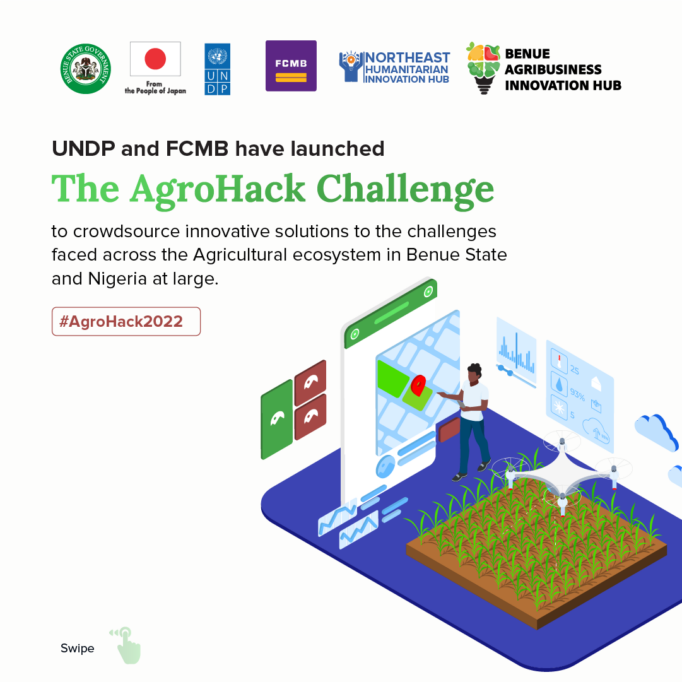 The AgroHack Challenge is open to Agritech startups, Agri-business entrepreneurs, engineers, innovators and tech solution enthusiasts across Nigeria. 50 innovators will be selected for the pre-incubation phase and the top 25 will be selected to proceed to the incubation stage. These 25 startups will receive USD 30,000 of equity-free funding, incubation support for 3 months & other exciting benefits.
Application for the Challenge is currently open and will close on December 14th 2022. APPLY NOW by visiting www.agrohack2022.ng
This program will culminate in a Demo day, an Agriculture-focused summit and the launch of the Benue Agribusiness Innovation Hub (BAI-hub). The Summit will bring together stakeholders in the Agriculture ecosystem to discuss development opportunities and the future of Agriculture in the country. 
About the Organizers
United Nations Development Programme (UNDP)
The United Nations Development Programme (UNDP) is the leading United Nations organisation fighting to end the injustices of poverty, inequality, and climate change. Working with a broad network of experts and partners in over 170 countries, UNDP helps nations to build integrated and lasting solutions for people and the planet.
In Nigeria, UNDP provides technical and policy development support to the Federal Government of Nigeria and supports the implementation of interventions across various thematic areas to meet the medium to long-term national development priorities and the Sustainable Development Goals (SDGs)
First City Monument Bank (FCMB) Limited is a member of FCMB Group Plc, which is one of the leading financial services institutions in Nigeria with subsidiaries that are market leaders in their respective segments. Having successfully transformed into a retail banking and wealth management-led group, FCMB expects to continue to distinguish itself through innovation and the delivery of exceptional services.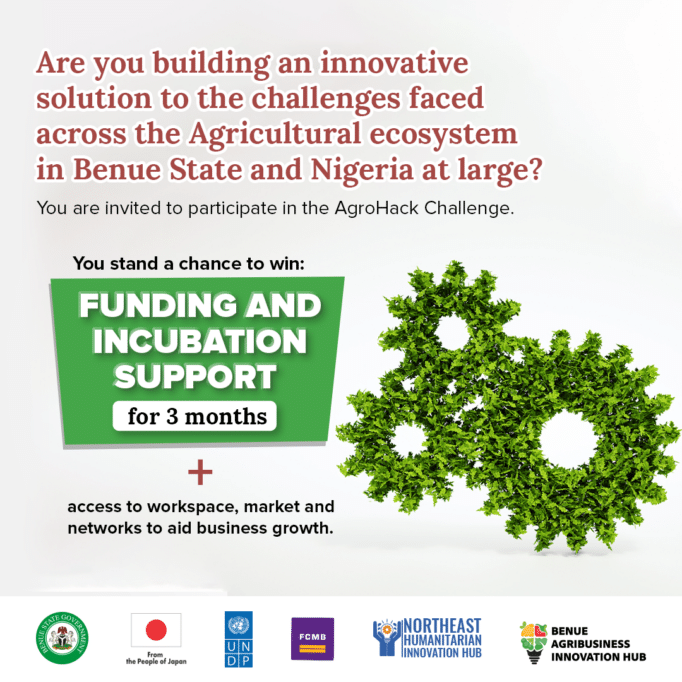 Passion Incubator is a technology incubator and accelerator with expertise in innovation program design and technology investments. Established to support and promote innovation and facilitate collaboration within the African ecosystem, we are a platform for nurturing, cultivating and exhibiting African entrepreneurial talent as well as providing thought leadership.
We invest in entrepreneurs tackling some of Africa's most pressing challenges and partner with corporate organisations, government agencies, DFIs, academia, and embassies to develop and implement innovative solutions.
Benue Agribusiness Innovation Hub
The Agro-business Innovation Hub at the BENCEDI centre is proposed as a joint partnership between UNDP Nigeria, and the Benue state government to drive synergies between corporate partners, small- and medium-sized enterprises (SMEs), start-ups, research institutes and institutes of higher learning. These collaborations are aimed at creating an enabling environment to drive innovation and collaboration among companies in the agri-food sector and to bring more developments from the Hub to market.
NorthEast Humanitarian Innovation Hub
The Humanitarian Innovation Hub is a social innovation centre with an emphasis on the power of collaboration and community inclusion from ideation to implementation.
As a social impact-driven innovation space, our differentiating marker is the ability to approach social challenges from an 'out-of-box approach inspired by human-centred design thinking.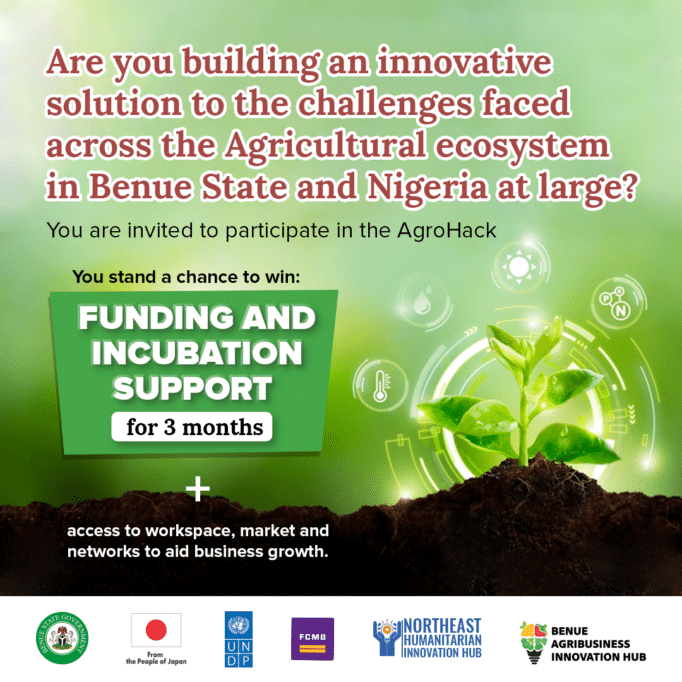 Centre for Food Technology and Research, Benue State University, Makurdi
The mandate of CEFTER is to promote teaching, research and extension in post- harvest sciences, enhance agricultural productivity and industrial output for the socio-economic advancement of Nigeria and Africa.
Thrive Agric is a fast-growing agricultural technology company passionate about ensuring food security, linking farmers to capital, data-driven best practices and access to local and global markets for their commodities.
As the U.S. Government's global hunger and food security initiative, Feed the Future works to give families and communities in some of the world's poorest countries the freedom and opportunity to lift themselves out of food insecurity and malnutrition. By equipping people with the knowledge and tools they need to feed themselves, we are addressing the root causes of poverty and hunger, helping people end their reliance on aid, and creating important opportunities for a new generation of young people—all while building a more stable world.
Japan is located at the west of the Pacific Ocean in the Northern Hemisphere. It is on a mission to provide a wealth of information on important policies and efforts to spread the fruit of innovation
Benue State is one of the North Central states in Nigeria with a population of about 4,253,641 in the 2006 census. The state was created in 1976[4] among the 7 states created at that time. The state derives its name from the Benue River which is the second largest river in Nigeria.