The era of Tech is upon us, and we want to help you be a part of it!
Data by data, technology is reshaping the global workforce into a more nimble and digitally-focused industry. The implication of this is that tech talents are now highly sought after in every job market in the world, and the demand to hire them is expected to increase by 22 percent between 2020 and 2030, substantially faster than for all other occupations.
For young adults, this means that learning tech skills are more important than ever before. With the right tech skills, young adults can open up a world of opportunity for themselves. They can get jobs in cutting-edge industries, start their own businesses, and even create new technologies themselves. However, learning tech skills is not always easy. It can be expensive to get the necessary equipment and software, and it can be difficult to find good quality resources to learn from. This is where the Young Professionals Scholarship Program comes in. This scholarship program provides financial assistance to young adults who want to learn tech skills but may not have the means to do so otherwise.
The Young Professional Scholarship -Tech Edition Unveiled
In 2021, as part of the Growth Caza initiative, the young professional scholarship program was first introduced. For the inaugural launch, more than 500 applications were received and 50 individuals in total were chosen to fill out the first cohort for business analysis and project management and the second cohort for data analysis and database management. After the program's initial three months, mentors were assigned to each scholar to aid them as they developed professionally.
This year, the program has been redesigned to suit candidates who are interested in breaking into the non-code tech space with little or no experience and it will be open to 3 Cohorts:
Cohort 1: Data Analysis
Cohort 2: WordPress Website Development
Cohort 3: Scrum Masters & Product Ownership.
The program is designed to give candidates the foundational knowledge they need to succeed in the tech space, while also providing them with a network of professionals who can help them advance their careers.
Bridging the Skill Gap and Investing in the Next Generation of Tech Talents
The Young Professional Scholarship Program - Tech Edition is trying to bridge the gap between the current state of the workforce and the future of work. The gap between the skills that young professionals have and the skills that employers are looking for. The specific skills that the scholarship is focusing on are data analysis, WordPress website development, and Scrum Product Owner & Scrum Master. These are all non-code tech skills that are in high demand by employers, but that many young professionals lack.
By providing training in these areas, the scholarship program is giving young professionals the opportunity to acquire the skills that they need to succeed in today's job market. In addition to the training, the scholarship also provides access to a network of mentors and other resources that can help young professionals make the most of their new skills. The scholarship is worth over CAD$20,000, and it is an initiative of GrowthCaza by BNET Learning.
About Growth Caza by BNET Learning
Growth Caza is an impact-focused platform and online community under the BNET Learning brand that serves as a hub for professionals to learn, network, find and give the assistance they require to advance their careers. By intentionally nurturing them and creating a varied professional network, Growth Caza aims to position these professionals for growth.
BNET Learning, on the other hand, is a 21st Century Corporate Learning Platform built upon a passion to see individuals and organizations grow, excel, and attain set goals while aligning knowledge and competencies with global standards and best practices. You can check out some of the professional courses we offer on our website.
Application Process For Scholarship
Application for the Young Professional Scholarship Program - Tech Edition 22/23 is currently ongoing and closes on the 28th of November, 2022. To apply, click on this link, register for the Finishing Strong event, and follow the instructions on the page promptly.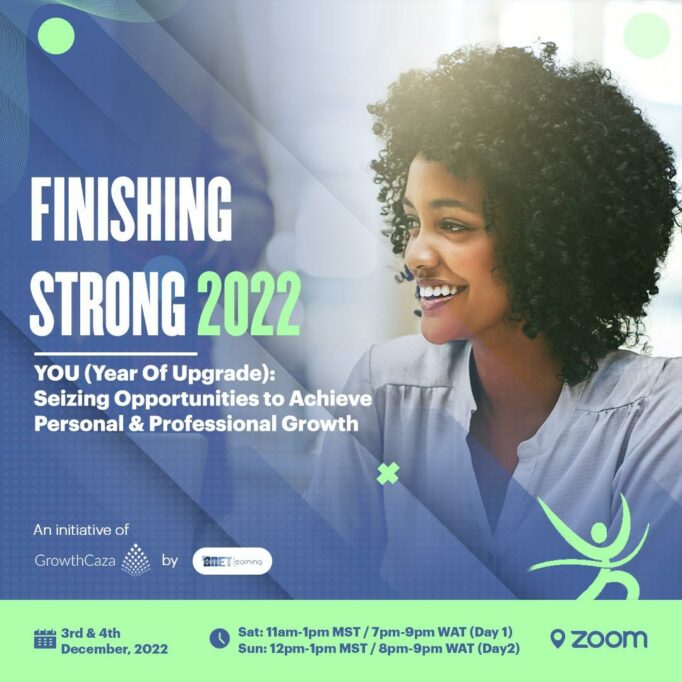 The scholarship awardees will be revealed live at Finishing Strong 2022, the annual flagship event of Growth Caza by BNET Learning. This virtual conference is one of the biggest gatherings of global thought leaders and industry professionals who come together to help attendees realize the best possible way to achieve career goals and fully exploit the prospects in the upcoming year. Click here to register today!
Now is the best time for young professionals to learn tech skills.
The demand for tech skills has never been higher and the need for them will only increase as technology becomes ubiquitous in our lives. That is why now is a great time to start learning these valuable skills so you can take advantage of this growing industry before it's too late!