In 2017, Hio Sola-Usidame started Logigrains, a freight forwarding company serving businesses in Nigeria. Although that was not his first time in the industry, he soon discovered that Nigerian companies that need to move across the world face four major challenges.
The first problem was getting a quote and making a booking for their cargo. Over a call with Techpoint Africa, he disclosed that this process could take businesses as long as 15 days.
If a business succeeded in getting a quote, the next challenge would be how to make payments. At any point in the freight forwarding process, a business could be dealing with up to seven parties, including truckers, customs, and the warehouse. These parties would typically ask for payments through numerous channels.
Should this hurdle be crossed, businesses need assurance that their shipments will arrive safely at the intended destination. According to Sola-Usidame, as much as 70% of trucks carrying goods in Nigeria have no visibility, leaving them susceptible to theft.
The final challenge businesses face is documentation, with many of these processes conducted offline. With these four problems in view, Sola-Usidame founded OnePort 365 in 2020 to play in the fast-growing digital freight forwarding industry.
Digital freight forwarding involves the use of digital technologies to facilitate the movement of products. Companies in this space will coordinate the movement of products by serving as an intermediary between businesses and the organisations that move these products, facilitating payments, documentation, and enabling visibility.
Building in uncharted waters
In the company's first year of operations, it worked with five enterprise accounts, a number it increased by 10x in 2021, with revenues also growing by 6x. Its success in a relatively short time has attracted attention from investors, leading to the startup's $5 million seed round in 2022.
Its impressive list of investors includes Flexport, widely considered the biggest player in the digital freight forwarding industry and an investor in Topship, another Nigerian logistics startup. ODX and Mobility 54 are some of the other investors.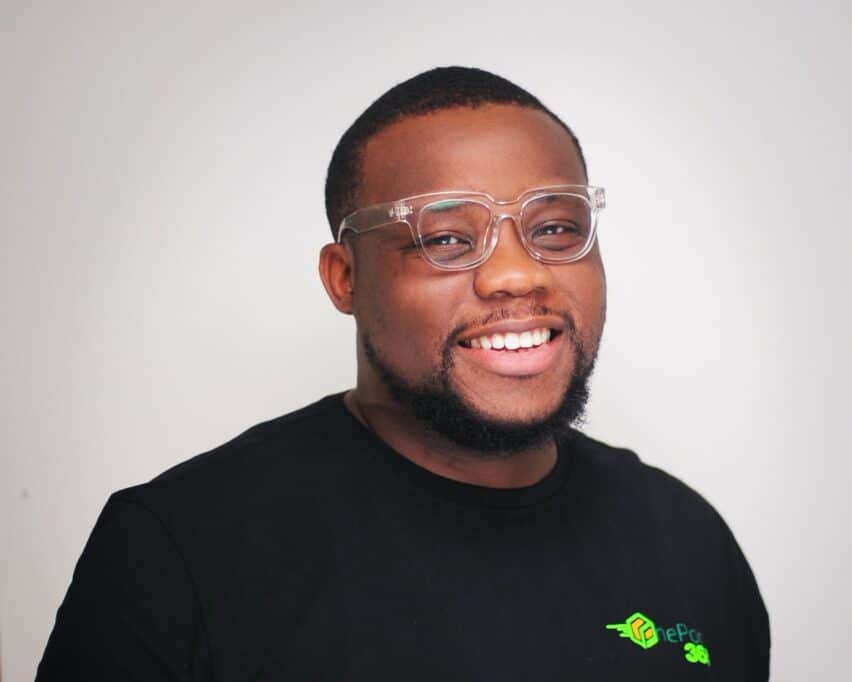 Sola-Usidame explained that raising a seed round was to help accelerate the startup's expansion across Africa and hire more people for its tech team. It currently operates in Nigeria and Ghana but plans to move into Kenya. The funding has also enabled OnePort 365 to offer trade financing for its users, which he says helps their customers increase their trade volumes.
With the security of cargo such a critical issue, Sola-Usidame revealed that the startup has 100% visibility on the status of cargo shipped using the platform. Customers can also track their shipment as it moves towards its destination.
"We have visibility on shipments which means we're not using man-on-truck, which is what some people do. We can get real-time visibility on the movement of the cargo. For example, every time the cargo door is opened, we're aware and constantly working with law enforcement to address these challenges."
Even with these systems in place, one cannot rule out the possibility of theft. Consequently, the startup ensures everyone who uses OnePort 365 to ship goods is insured. The startup's business model has it making money from currency arbitrage, transaction fees for every booking, and a commission for each transaction done on the platform.
Facilitating intra-African trade
Despite much of Africa having a shared colonial and sometimes cultural history, trade between countries on the continent remains cumbersome. Some reports suggest that the cost of moving goods in Africa is as much as 60% to 70% higher than in the United States or Europe.
For instance, exporting goods to Burundi from any East African country is estimated to take as much as 71 days, a process OnePort 365 experienced recently when a customer requested goods to be transported to Burundi.
Sola-Usidame explained that the process would require the cargo to be moved to Europe, where it would stay for about three weeks before getting to Kenya, where it would be moved by road to Burundi.
Expectedly, these challenges have meant that trading volumes between African countries have remained low. Yet, governments and businesses on the continent have been relentless in their efforts to see this problem solved. The African Continental Free Trade Area Agreement is the latest effort to improve commerce between African countries.
OnePort 365 intends to take advantage of initiatives that improve trade within Africa and has joined the Sealink Consortium – an initiative of the Nigerian Export-Import Bank (NEXIM) and the African Export-Import Bank (AFREXIM) aimed at improving the logistical challenges around moving goods in Africa.
Building partnerships and plans for the future
With so many moving parts in the business, the startup focuses on building only features that its partners do not have.
"We believe very much in working with partners who are specialists in what they do, so if there are things that already exist that we can plug in, we'll do that. We have so much to build on our hands, especially around streamlining the booking process, so we currently work with partners."
Although Sola-Usidame ran a traditional freight forwarding business before starting OnePort 365, he disclosed that one of the startup's most significant challenges has been getting the right employees. Comparing the digital freight forwarding space with fintech, he points out that a thriving fintech space means there is an already existing pool of talents to draw from.
"This space is not difficult, but you still need a bit of knowledge to be able to fly, so you're either bringing guys from outside the sector and giving them a good foundation to work with or bringing guys from within the sector and then upskilling them to digitise the processes that they've traditionally done with pen and paper."
Despite having no blueprint to follow, Sola-Usidame has huge ambitions for the two-year-old startup revealing a desire to be the leading player in Africa's digital freight forwarding industry. The startup also plans to be present in at least five major ports across Africa by Q2 2023.