The news
In an email to its drivers, Uber disclosed that it was increasing fares in Lagos.
According to the email, the base fare will increase from ₦340 ($0.78) to ₦450 ($1.04), while the minimum and per minute fare will go from ₦600 ($1.38) to ₦650 ($1.50) and ₦14 ($0.03) to ₦16 ($0.03), respectively.
The company disclosed that this change was the result of changing economic conditions, including increased fuel costs.
On Monday, October 3, 2022, ride-hailing company, Uber revealed that it was increasing its fares for the UberX and UberX Share in Lagos in an email to drivers, a copy of which was seen by Techpoint Africa.
Per the email, the price update goes into effect today, October 3, 2022, and is the result of "changing economic conditions, including increased fuel cost."
Due to the changes, the base fare will increase from ₦340 ($0.78) to ₦450 ($1.04). The minimum fare will also increase from ₦600 ($1.38) to ₦650 ($1.50), while the per minute fare will go from ₦14 ($0.03) to ₦16 ($0.03).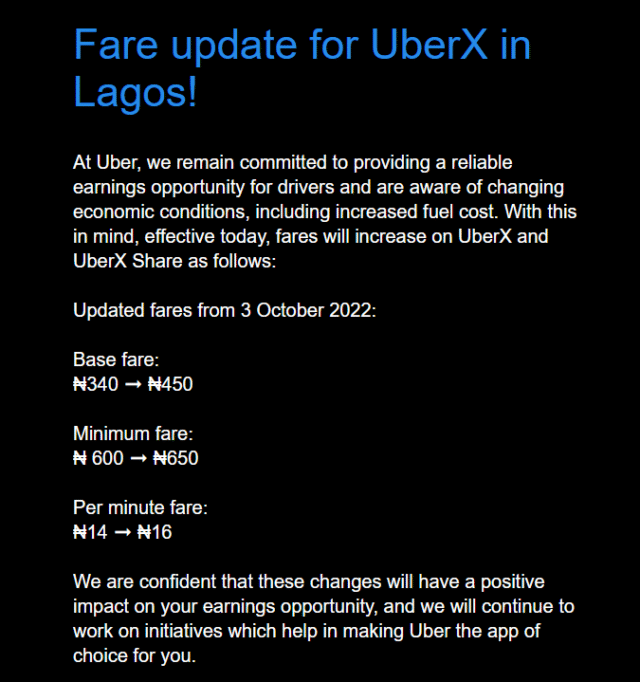 According to the Central Bank of Nigeria, the price of fuel in Nigeria has increased by 90.54% between December 2015 and December 2021. In June 2022, The PUNCH reported that petrol would now be sold for between ₦170 ($0.39) and ₦190 ($0.43). However, users can still purchase petrol at lower prices depending on their location. 
Uber's decision to increase its fares may come as a surprise to users but is in line with its activities in other countries where it has operations. In August 2022, Bloomberg reported that Uber was increasing its fares in London by 5%, with plans to do the same in other cities across the United Kingdom. 
This price increase was necessary as the company needed to attract more drivers, many of whom had left the company during the pandemic.
The COVID-19 pandemic meant that fewer people were moving about. Conversely, more people ordered food online, which led to a surge in demand for drivers at food delivery startups.
For many drivers, doing less work for more or similar pay was a no-brainer hence the exodus. While Uber's ride-hailing revenue fell by 43% between 2019 and 2020, its food delivery revenues increased by 179% in the same period.
Uber has not been the only ride-hailing player to increase its prices. A report by Rakuten Intelligence revealed that the cost of a ride on ride-hailing apps had increased 98% between 2018 and 2021, driven partly by a shortage of drivers.
While the driver shortage explains Uber's decision, it does not paint the whole picture. Like many other VC-funded startups, Uber's quest for growth saw it subsidise fares for users.
But in recent times, the company has begun pushing for profitability. In an email to employees in May 2022, CEO Dara Khosrowshahi said, "we have to make sure our unit economics work before we go big." The result of that has been an increase in fares.