During an episode of his show, popular television host Steve Harvey remarked that every man should have at least five suits – black, navy, grey, brown, and tan. Unfortunately, the men of Techpoint Africa did not get the memo.
Shortly before the Techpoint Africa awards in January 2022, we discovered that we had to wear either midnight blue or black suits. However, only two people had any of these colours.
Suggestions began to fly, and Yinka Awosanya, Lead, Intelligence by Techpoint, suggested that we rent suits since most people were not interested in buying one. Safe to say, that idea died naturally as soon as we saw the cost of renting. In the end, we opted to buy new suits.
Renting products at the click of a mouse
Nigerians have rented items that they needed for a long time. These could be chairs for an event, a bus to convey travellers to an event, or a generator to provide power during an event. However, renting these items often requires knowing the service providers, and Rentit wants to remove this bottleneck.
Seun Abimbola did not set out to build a business that makes it easy for anyone in Africa to rent any item. While at an event organised by a friend, the projector that had been rented stopped working. Ever resourceful, he made a call, and a projector was delivered.
"Rentit started purely as an experiment, if I would say that. One of my friends was doing a training and his projector packed up. The training was about to start, and I was in the room. I was just there to show support and all of that. Everybody says they know one guy that knows a guy, so I'm usually the guy at the end of that chain. I picked up my phone, made a call, and a projector showed up."
That got him thinking. What would his friend's fate had been if he was not around? Was there a platform for people like his friend to rent needed items? Could there be a market for helping people rent things that they needed for a short time? 
While enrolled in a course at the Pan-Atlantic University, he met his co-founder, Tayo Adegoke. They soon hit it off, running a few businesses together. Naturally, he reached out to run the idea by him and soon, they launched a simple website to test their idea.
"Later, I was thinking about it. If I wasn't in that room that day, my friend would have been stranded and unable to do his training. So I then thought, what if we had a website that you could go to if you needed to rent something short-term; you just search, and you rent it. Preferably something around you. So I called my co-founder and then said, let's do this. We built a very simple interface to test it."
Initially, they ran it as a side project as they both had other things they were doing. That was until COVID happened. With most economic activities halted, they had more time on their hands and could evaluate Rentit.
"For many people, the lockdown was the time to really reflect on their lives. We started looking at the numbers and where we thought things were going. We looked at what we were doing at the time. And then we just thought, maybe we should double down on this. We started this business sometime in 2019, but the commitment to go all in was taken in the middle of the lockdown sometime in 2020."
In 2021, Rentit facilitated transactions worth $90,000, paying $70,000 to asset owners on the platform. The startup's 12-man team is spread across the four Nigerian cities — Lagos, Ibadan, Abuja, and Port Harcourt — where it is currently active, but there are plans to expand to other West African cities in the coming years. 
Rentit makes money from users who wish to rent items and those listing their products. Users who rent items on the platforms are charged a 5% fee, while those who list their products are charged 10% to 15% when a product is rented on the platform. 
For example, this Toyota Prado rents for ₦70,000 ($140) daily. Users who rent it at this price will be charged 10% to 15% (₦7,000/$14 to ₦10,500/$21), while the asset owner will be charged 5% (₦3,500/$7).
While suits are some of the most rented items on Rentit, Abimbola shared that cars and generators are the most demanded items on the platform. Although some customers have requested services, the focus currently remains on products.
A similar space for Rentit is the home rental market, but Abimbola revealed the startup would only get involved when they are confident they can make a difference.
"I think that space still has room for a lot of innovation, and it's something we're looking at critically, but I always like to play games where we can win. I want to have an obvious advantage."
The competitive landscape
While few businesses are digitising the rental process for Nigerians, Abimbola believes that Rentit's biggest competitors are used product marketplaces.
"What we consider our biggest competitors are actually used markets. So if you're a photographer, for instance, and you need to get a Canon camera, one option is to rent it. The other is to figure out how to probably buy a used one. And so that makes the used markets our first competitors because that's what people would rather do."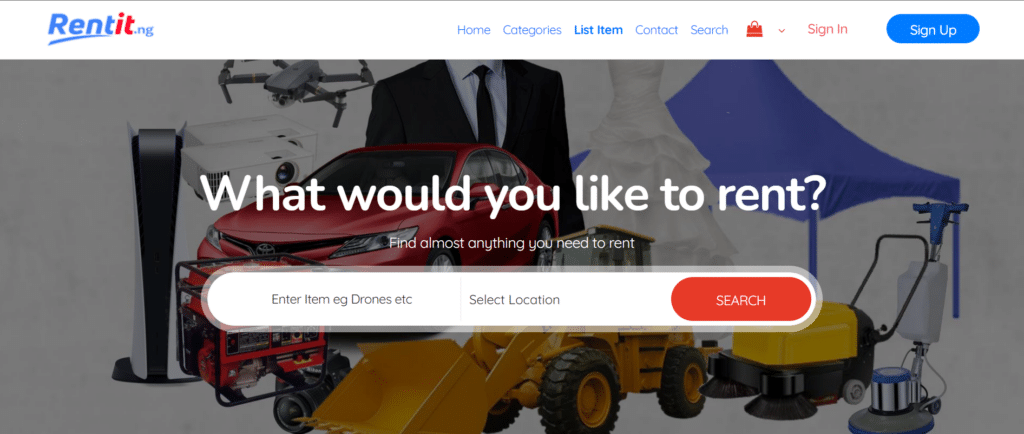 Jiji is the largest classifieds marketplace in Nigeria, with only a handful of competitors. A significant part of that success is down to being heavily backed by investors, but with Rentit not having raised capital from investors, positioning itself as a credible option for short-term rentals might be challenging.
Yet, Abimbola revealed that the company is in no hurry to raise from VCs, insisting that it would be an option when they are certain it would positively impact their operations. 
20 years an entrepreneur
Since starting his first business selling phones, Abimbola has a few tips for entrepreneurs.
"One of the things I think people don't pay attention to in running a business is the overhead cost. I have a theory that you can survive bad days if you keep your cost on the leash.
"What I've seen in the tech space recently is people maybe just chasing valuation for the purpose of valuation or revenue at all cost. And I think the fundamentals of the business are out of sync, so for me, it's keeping the cost down and going hard at revenue. The real validation you have in a business is not necessarily somebody funding it. The real validation is customers paying you money repeatedly to do what you're doing."
On hiring employees for a startup, he advises that startups find how they can fit into a potential employee's career. He also recommends that entrepreneurs strive to test the validity of their business ideas as soon as possible.
"Validating an idea is as simple as running an Instagram ad for a thousand bucks a day. Run an ad on Twitter for your product. If a stranger randomly scrolling through the timeline sees it, engages with you, and wants it, it's proved that you have something, and then you can build on that."