Foremost e-commerce platform startup, providing easy business management for SMEs: Bumpa, has joined with Google in an initiative aimed at empowering Africa's small and medium businesses in Nigeria, Ghana, Kenya and South Africa.
The Google Hustle Academy, seeks to provide MSMEs across Kenya, Nigeria, Ghana and South Africa with expert training on business strategy and development, digital marketing, and financial planning. The participants will also have access to key industry leaders and master classes on business to help create opportunities, boost business growth and job creation across the region.
Bumpa rolled out its mobile app in 2021 to help business owners create e-commerce websites integrated with Facebook pixel and Google Analytics to run ads & sell products. The app also helps business owners record sales, receive payments, issue invoices and receipts, receive business reports, send SMS and emails to customers.
Since its launch, the company has attracted thousands of SMEs to its app by providing business-relevant features and collaborating with other organizations to bring value to business owners in Africa.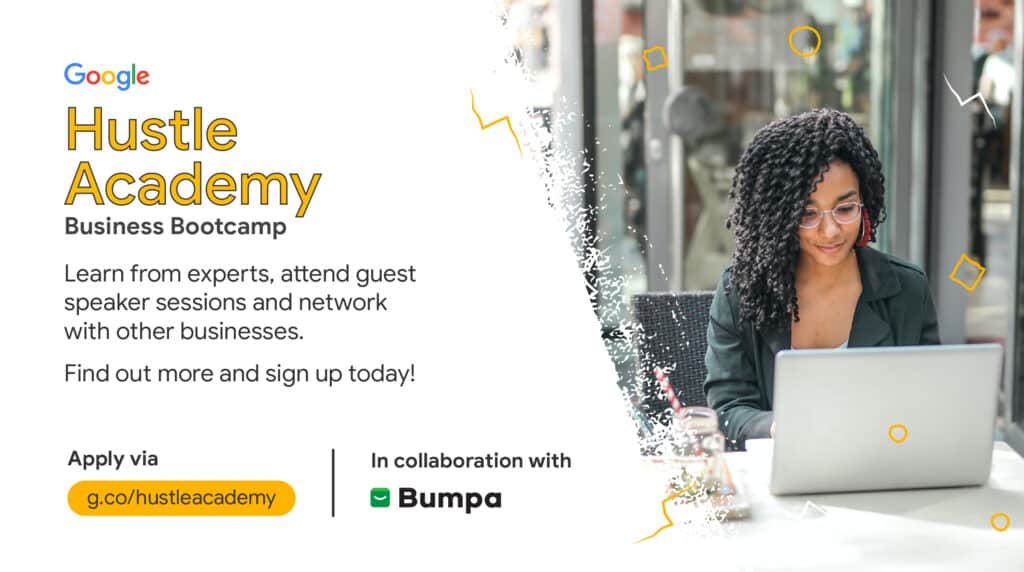 Bumpa's CEO, Kelvin Umechukwu spoke on why Bumpa is keen on strategic collaborations like this for business owners:
" One key offering at Bumpa, is providing business owners with e-commerce websites that can be integrated with tools like Google Analytics for ads and much more.
Collaborating with Google to provide more in-depth training on tools for business growth will do a world of good for our customers and other business owners in Africa."
Last year, Bumpa was one of the 26 African startups amongst thousands of applications to be selected by Google in its Google Black Founders Fund programme.
"We are thrilled to be collaborating with Bumpa to give much-needed assistance to MSMEs. Small and medium-sized companies (SMEs) are the backbone of the global economy, accounting for the majority of businesses in almost every region. They employ over 50 million people in Sub-Saharan Africa and contribute to the region's GDP. Through the Hustle Academy we will provide them with training to assist them in packaging their businesses and obtaining the necessary funds to take them to the next level." said Head of Brand and Reputation, Google SSA, Mojolaoluwa Aderemi-Makinde
When asked what Bumpa hopes to achieve with the Bootcamp, Ayodele Ogunkunle, Marketing Lead at Bumpa had this to say:
"It is our goal that in making the gems on digital marketing and business development accessible to more SMEs, business owners on our platform and beyond will be able to grow their business beyond their local market."
Google Hustle Academy Bootcamp is a free week-long Bootcamp with live training sessions delivered virtually. The program is open to businesses that have been in operation for more than a year, have developed a business strategy and defined their product or service offering, and are aiming to grow. They must also have made a profit in the previous 12 months or be within 1-3 months of breaking even.
For questions and information about the Google Hustle Academy Business Bootcamp, interested applicants can apply via g.co/hustleacademy