Meet Olamilekan Sadiq, also known as DJ Necessity. He's a Disc Jockey (DJ) with over 14 years of experience. He takes us through his journey in the industry with funny quips along the way and tells us a little-known fact about him that involves children and coding. Welcome to Everyday People, Episode 1.
I love to play at wedding parties. Why? I love to see couples dance, especially the razz ones that will be like, "DJ, you're killing me. You're killing me, just give me!!" It's sweet, and I always pray that any wedding [party] I play for, it's till death do them part. It reminds me of a wedding I attended with a friend, and on the third day after the wedding, that's the end. It was the lady that paid for the DJ, and I followed my friend to collect his balance because he used my set.
"Na because say una do me well, na why I dey give una money. The bastard [guy] that I wedded, we are not together again," she told us. I was shocked.
I want to be part of the reason the wedding is memorable, so I always go with my A-game, my last breath, like "this party, una go take!"
So before I go to any event, I'll pray, "God, this one I'm going to, apart from it being a superb day for me, the home should be at peace."
Because any wedding I go to, it's always a memorable one.
How he got into DJing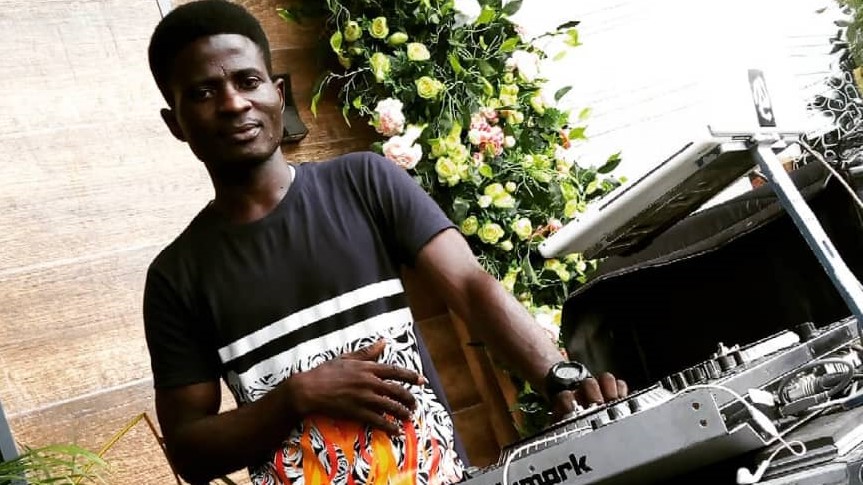 You see, DJing was one thing that helped me in a very big way. It wasn't something that I learned from anyone; it was a self-tutored skill with the use of the Internet. I was home one day in my hostel; I didn't go to school that day (I attended the Lagos State University). So I was home doing nothing and decided to connect my laptop to my sound system and started doing some basic things. I'm a fan of music, and although I don't know how to sing or have a good voice, I love music a lot. I prefer to listen to music than to eat, literally.
That day, I was only trying to entertain myself. And then one of my neighbours was like, "Hello guy, are you a DJ?" I said, "No, I'm just playing around."
He asked me, "Is it a mix you are playing?"
And I replied, "No, no, no, it's not a mix. Yeah, I'm actually doing this mix for myself."
And in his thick Igbo accent, he said, "So you are the one doing this ya thing?"
I said yes. "Ah, men, you are useless, brother. What your mates are using to make money is what you are telling me you are making fun with."
And I was like, "Well, this guy is saying something." 
This was not the first time someone was telling me this, but not with the harsh tone the man said it with. Because I was like, "If I do this thing, who will patronise me?" But I didn't get it right then. If I'd known that I was good at it, I could just go anywhere and then ask to work for free. From there, I could start picking myself up. This was around 2008.
Learning, the Internet, and everything in between
You know, I studied computer science, and I'm a person that loves to tweak mobile phone applications. This helped me with access to Internet subscription where you just pay a token or even pay nothing to have access to the Internet. So, all I did was tweak a few things and get access to the Internet, and since there was free Internet, I could actually do so many things. And YouTube was not a very popular website at that time; only those that were very versatile with the Internet or were on Facebook met some people.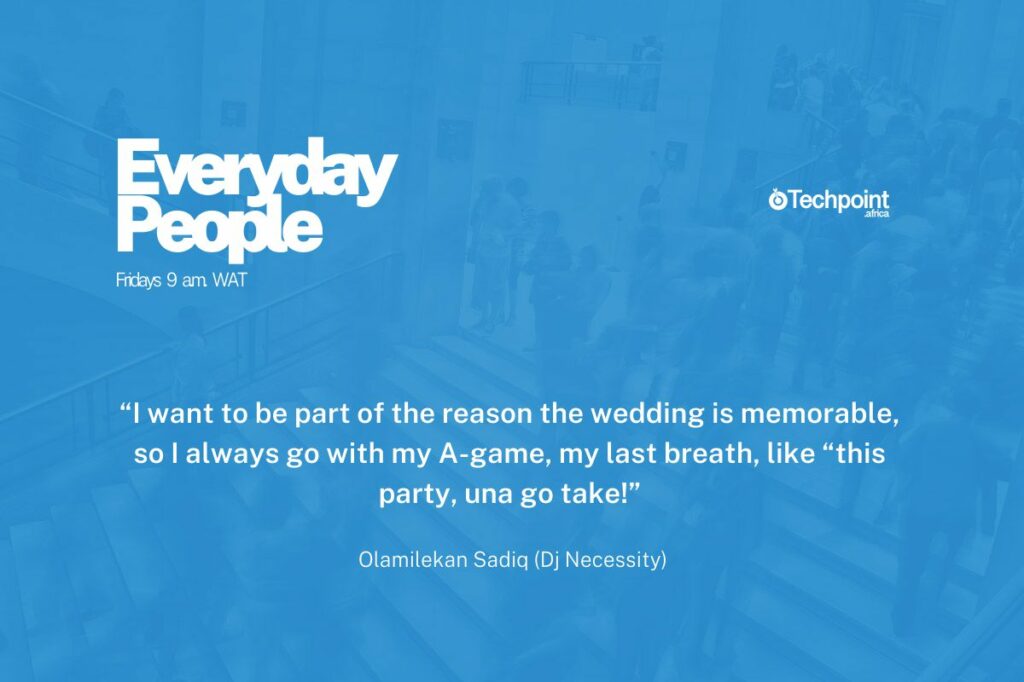 Interestingly, the Virtual DJ app which I used — and which I learnt from — I got from a friend's system [laptop]. I was like, "Let me just see how this thing works." And with one or two attempts and the little I got from the Internet, I was able to work out something.
Thirty per cent of what I've learnt about DJing was from the Internet. The remaining 70% was all on me and questions from other professionals that may not want to tell you what you need to do but just give you a summary. I took what they gave me and broke it down, and it became something.
What it means to be a DJ now
Back then, it wasn't easy because you'd have to look out for someone to go out with to help with some basic connections. Then, I would always look through social media to make contact with top DJs, and I was doing that was because one, I wanted to learn their skills, but, unfortunately, I didn't get anyone to learn from. Two, I also wanted to have a little bit of their connection.
The logic was since I go out to work with you, there will be a time that they will be very busy. So it wasn't easy. They'll think you want to steal their connections, and that is what is basically happening in the world today. If I take you to work with me somewhere, definitely somebody will request for my business card. Instead of giving the person my card, you give them your contact. To get someone you can trust in this Nigeria, ehn? E hard.
Right now, it's not very hard [to become a DJ]. As long as you have money, you can be anywhere now. As long as you're a DJ and rich, I would say, basically, the skill does not even matter again. It is the money and the connection you have that matter.
There are so many talented DJs that you haven't heard on air. I know multiple DJs that are great DJs, legends, but because of their financial constraints, they actually get nowhere except for past glory that they live on now. Most of the DJs I know that work in radio stations are paid very little, or they do it for free.
On a particular street, I can count up to 20 DJs. Now imagine the competition. Imagine getting paid less just because you want the gig or you want to include it in your portfolio.
When you hear some DJs — I am a DJ, and I know when a DJ is good or when he is not good, although I'm not in the best position to judge — you can say this guy is good. But when you listen to some DJs, you are like, are you sure this person learnt this trade before getting into it?
And if you look at it very well, most of them just come into it to make it a side hustle and also to shade themselves from whatever they've been doing before. 
More than a Spotify or Audiomack playlist
DJs are the breath of the party, the breathing life of the party. If there is no DJ, there is no party. We are the life of the party.
It's not just about having a Spotify or Audiomack playlist; you need to switch moods. As a DJ invited to a party to play music, I will actually want to see every person I'm playing songs for. Okay, you want to use Audiomack to set your songs.
What if the mood of the party is not where they have to dance — gbe body in particular — maybe they want to groove to the song, slow the vibe down, let's just take some chills and drinks. Whatever you think you are doing, you are making a playlist for yourself. But a DJ will definitely look around, see the ambience, the environment, and then tell what sort of song a person needs to listen to.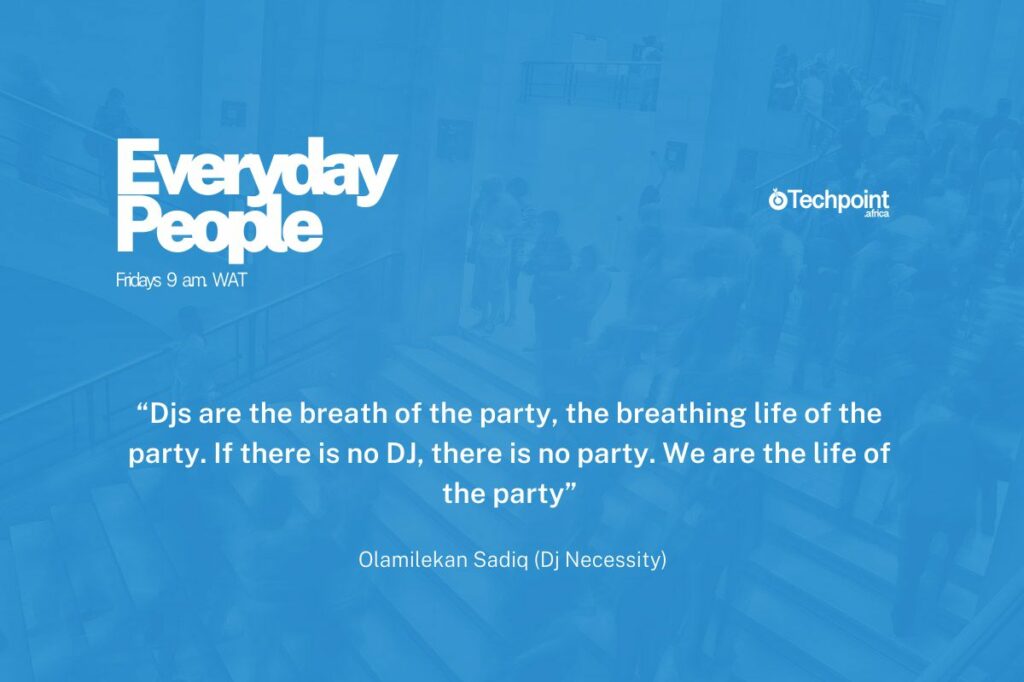 If you go with Boomplay or Audiomack, you'll find your vibe, and people will vibe to it. But, there'll be a time that the vibe will be lost. Yes, the DJ does special requests, but before the special requests, you must have served everybody round. Okay, you want to play Essence by Wizkid and Tems, but you have a grandpa who wants to dance to [Ebenezer] Obey or [Ayinde] Barrister. Hello, you'll be killing his vibe.
I can remember when there was no Internet to download songs. Then I had a friend, God rest his soul, who had a special bag that he used to pack CDs. And how they get songs is by going to a particular store in Ikeja. Once they get there, they just write out the list of songs they want to burn into the CD, and they copy it.
But now it's way easier, especially with these amazing websites, but I don't really subscribe to getting the song in a pirated way because whoever sang a song that you like spent a whole lot of money getting the instrumentals, having the song recorded, the studio sessions, making artwork for the music, including the fact that they still have to use their own finances to promote the songs through all the available platforms they can work with. 
So the Internet, tech, has been fantastic and has made it much easier. And that is even why we have more DJs in town now. If it was back then, we had CD racks to get songs from, someone would have been tired of carrying load. Now, with my laptop and a hard drive, I have about 300,000 songs. With a CD, you have just 60 minutes of play.
Technology has made this profession so easy. There are some technicalities that you need to work with when it comes to DJing, like adjusting your songs, making them run, and they should be balanced out, effects and echo and all. It is not something that was very easy back then. But now, with just the touch of a button and what you need to align with, you're good to go as a DJ.
Coding with kids
My favourite tool is my laptop, and it's because I do a lot of things with my laptop. I do basic coding — not professional coding. And the reason why I do that is because I use that medium to get along with kids.
I love kids a lot, and I do that coding pro bono because I learned it from nothing. So it's good that I give back too and teach them the basics. If they have an interest, they can grow it and become whatever they desire.
I go to schools to teach. I approach them and tell them I want to teach in their school. I don't charge them, although the school may give me something to thank me.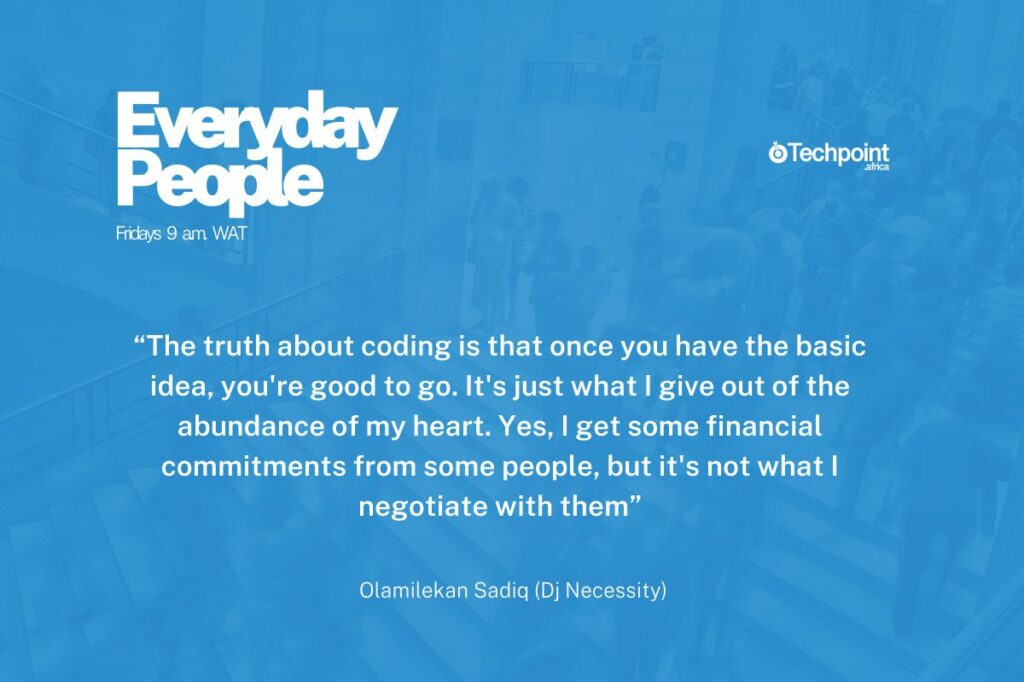 The truth about coding is that once you have the basic idea, you're good to go. It's just what I give out of the abundance of my heart. Yes, I get some financial commitments from some people, but it's not what I negotiate with them.
I don't have a foundation, but I hope to have one. But it is someone that has money that sets up a foundation. So far, I have worked with six schools, and I've been enjoying those kids. They remind me of my days in secondary school, although I went to a public school. Kids will always be kids.
The easiest coding language for children is Scratch, because it's like animation and coding at the same time. But if you want to work with basic coding, like code code, to solve problem and not to play games or do 3D animation effects, then it's Python. It's very easy to learn.
The age range of those I work with, the youngest is ten. So, if a ten-year-old student can write a basic code, then it's just a matter of going through the functions and the parameters. Once you're done with that, you're fine. I teach Python, and it's a coding software that covers a very wide area of activity you can use for data science, to solve problems, create games and apps, or design websites.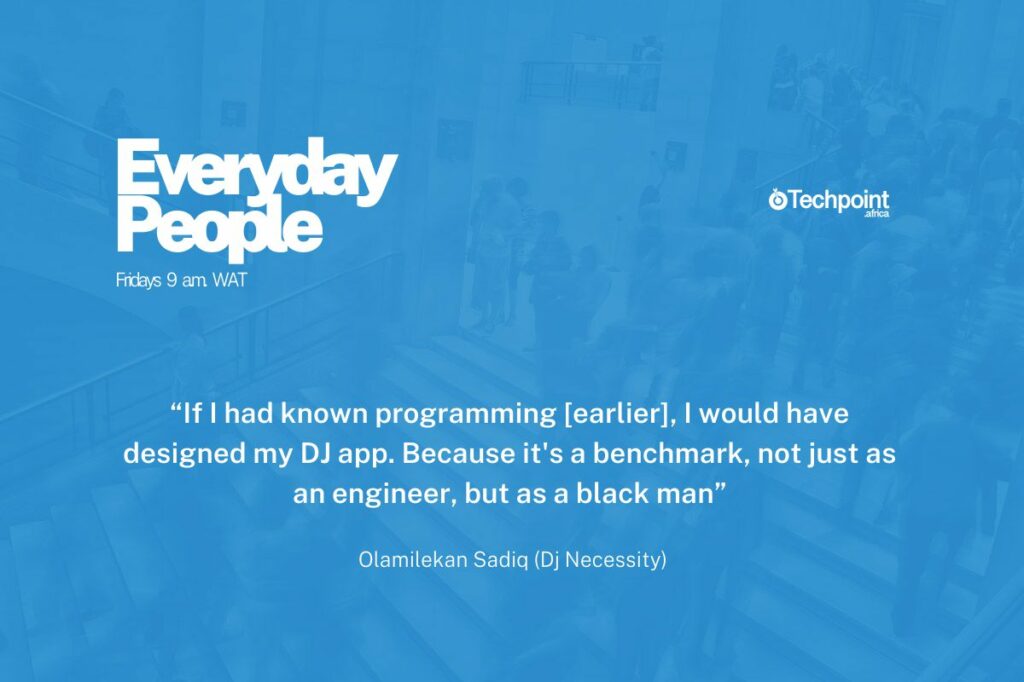 HTML, CSS, those are not basics. We need to work with the basics first. Others can come in later because it is when you've set your parameters, keys, and functions, then you can start introducing Java, JavaScript, CSS, HTML, and you're good to go
But even though I'm teaching you the basics, you should also have the spirit to continue to learn; don't waste my effort on you. So in as much as I'm telling them to work on something, I also encourage them to study more, find more. Let's get to do more, get to know more, let's get to see more.
What's next for Olamilekan Sadiq?
The journey has been fun, but if there's something I regret not knowing at the beginning of my career, it is programming. If I had known programming, I would have designed my DJ app.
Because it's a benchmark, not just as an engineer, but as a black man, to show that we can actually also do something good. Because without these corporate white people that built this software, it wouldn't have been easy.