Looking for new crypto projects with lots of potentials from 10x to 100x in 2022?
I think I might just have found one of those rare gems.
Introducing Madiba.app. According to the founders, the project is inspired by the legendary Nelson Mandela, considered by many as one of the most iconic figures in recent African history. Inspired by his ideas on freedom and equality, they claim that this project will help to bring lots of value to all the members of its ecosystem and community.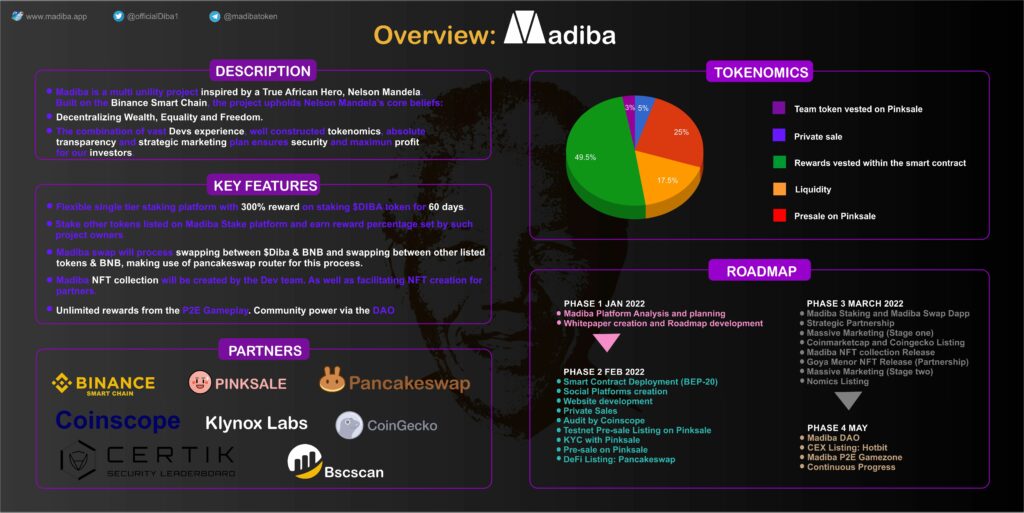 Let's look at how they hope to achieve this.
After going through the white paper, interacting with the website, and engaging in the community channels, these are the utilities that they will be launching on the project.
A decentralized swap: with the continuous growth and popularity of DEX platforms, having a utility that lets you swap and liquidate your $DIBA token (their official token) or any other BSC token added to their swap seems like a green flag for a new project like this
300% Staking APR; Just as DEX platforms have been growing wildly popular in the crypto space, high potential for Passive income has also become what a lot of people are looking out for in a project. I think this project has got it right by starting With such a juicy offer as it is most likely to attract a lot of investors. 
Public sale to be executed as a fair launch on pink sale: As much as this project seems to have very good utilities, this is the main reason that I think it's noteworthy, after checking out the details of their pinksale fair launch, I was convinced that the developers and founders of this project are in it for the long term. With 70% liquidity assigned to pancakeswap for a lock-up period of over 700 days, this looks like a real commitment to the project from its creators. 
NFTs and gaming; they are also releasing two NFT collections with the token, one centred on Mandela, the other on the Famous Goya Menor, I think this is an excellent move to make the token very popular, especially if the NFTs can be linked with the Diba token. There is also promise for bringing in P2E games, for that I would be interested to see what they have up their sleeves. 
A DAO and NFT liquidity pool is also promised in their road map, these seem like a right mix together, and should even add further value to the coin when executed.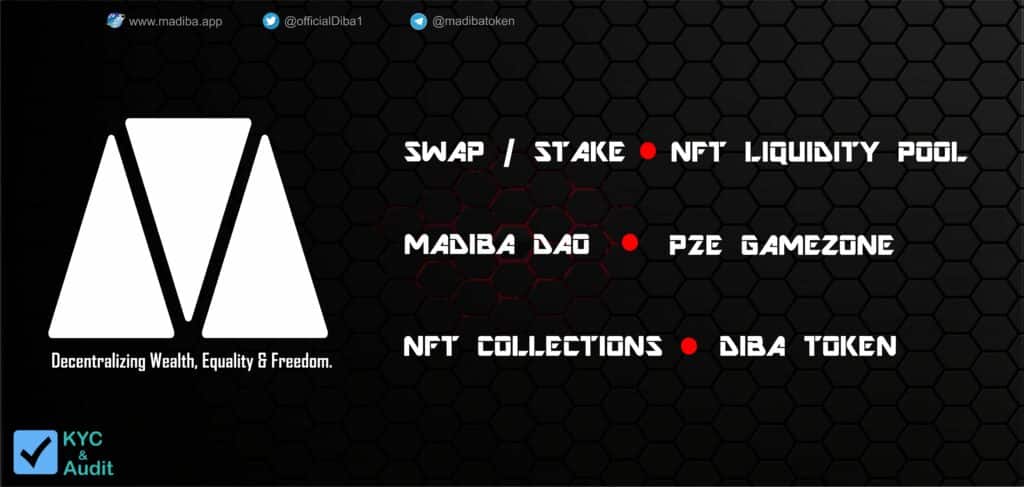 In conclusion, the Madiba project seems to carry all the elements of a project with great potential to succeed on the product side, My only concern will be checking how fast and well they can build a big community around their project, also the developers are anonymous although they have done a KYC audit with Pink sale and their smart contract has been audited. So there is little to have fears on.
In total, this project seems like the right one to jump on, especially now that they are on private sales. Public sale comes up on pinksale shortly after the Private sale.
Kindly join the Madiba project community to find out more about the project from the Dev Team.
Website: www.madiba.app
Telegram: https://t.me/madibatoken
Twitter: https://twitter.com/officialdiba1