DeFi is a multibillion-dollar industry that has grown in popularity in recent times. It is an open-source and transparent financial service ecosystem where users easily trade digital assets, obtain loans, and purchase insurance, to mention but a few.
Leveraging this sector has opened up new economic opportunities for Africans with an estimated market cap of over $2 trillion.
To help further this mission, Bekonta, a Nigerian fintech startup, create opportunities for the "have-nots" in our communities, helping these people gain control of their financial lives through blockchain (DeFi).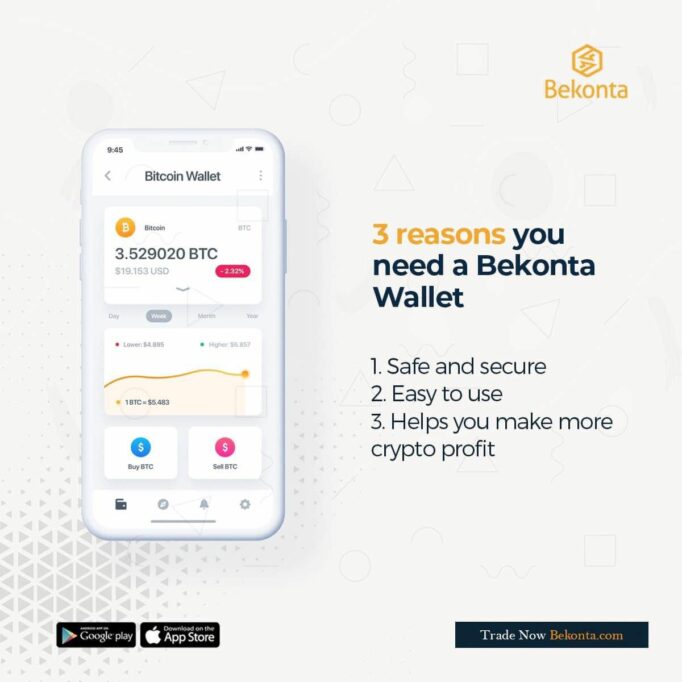 Through their automated platform, Nigerians can buy relevant coins like Ethereum, BNB, USDT, BUSD, Tron, etc, that grant them access to DeFi protocols where they can stake, lend or invest in several DeFi projects to earn interests.
Ultimately, Bekonta aims to help Nigerians benefit from DeFi protocols easier through their blockchain services.
Understanding Decentralized Finance
Decentralised finance, or 'DeFi,' is a digital infrastructure that ideally eliminates financial intermediaries like the Central Bank or government agencies, hence enhancing seamless peer-to-peer transactions. Many consider DeFi to be a broad term depicting a new trend of financial services innovation.
It is inextricably linked with blockchain, the decentralized, immutable, public ledger on which Bitcoin is based. It allows all computers (or nodes) on a network to keep a copy of the history of transactions. The concept is that no one person has control over or can manipulate the transaction ledger.
Decentralized apps, or dApps, allow two or more parties to exchange, lend, borrow, and trade directly using blockchain technology and smart contracts without the association of third parties.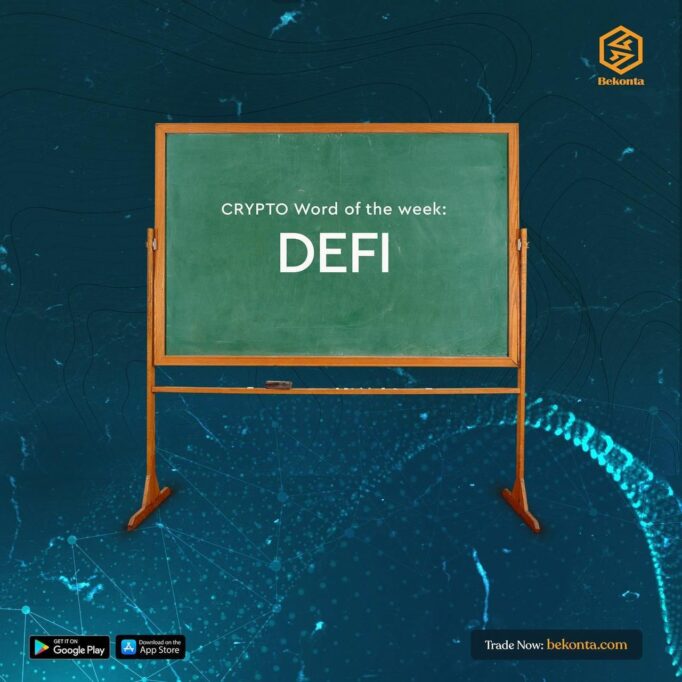 How does DeFi work?
DeFi provides financial services using cryptocurrency and smart contracts, eliminating the need for mediators like guarantors. Lending to earn interest in minutes, receiving a loan, peer-to-peer trades without a broker, saving cryptocurrency and making a higher interest rate than a bank, purchasing derivatives such as stock options and futures contracts are examples of such financial services.
DeFi is open source, so protocols and apps are hypothetically available for people to investigate and improve. So, users can design their dApps, by innovating around protocols to uncover new combinations of opportunities.
Users employ dApps, the majority of which can be found on the Ethereum network, to facilitate peer-to-peer business transactions. Coins like Ether, Polkadot, Solana, stablecoins, tokens, digital wallets, DeFi mining, yield farming, staking, trading, borrowing, lending, and saving using smart contracts are some of the more popular DeFi services and dApps.
What is a smart contract?
A smart contract is a computer code that serves as a digital agreement between two parties. It runs on a blockchain stored in a public database and cannot be changed.
As a result, they can be sent automatically without the involvement of a middle man. The possibility of borrowing and lending your bitcoin without the use of an intermediary removes the hazards associated with traditional lending.
To check fraud, DeFi protocols integrate cryptographic verification mechanisms and smart contracts. Also, if a borrower fails to meet their loan requirements, their lender can always retrieve their funds, eliminating the need for security.
Also, DeFi savings accounts may function similarly to bank savings accounts or depending on the platform, they may offer greater interest rates or pay daily, weekly, or monthly.
What are the Benefits of DeFi?
DeFi provides financial services without the involvement of banks by utilising cryptocurrency and smart contracts. The possibilities for what you can accomplish with DeFi continue to expand with the launch of more dApps.
The most common applications of DeFi include sending money anywhere in the world as quickly as possible with little cost.
You may also store money in crypto wallets and earn higher yields, carry out peer-to-peer borrowing and lending, or trade cryptocurrencies anonymously, any time.
In addition, you may trade tokenized versions of investments such as stocks, funds, and non-fungible tokens (NFTs); crowdfunding; and purchasing insurance.
With the expansion of DeFi there are now more ways to make money. For example, using Ethereum-based lending apps to generate passive income is an option. Users essentially lend their money and earn interest on the loans.
Another approach used by more sophisticated traders is yield farming, where users search through a plethora of DeFi tokens to discover prospects for higher yields.
Also, by locking crypto assets in these lending protocols, DeFi creates a new way for users to manage their savings and earn interests. As the popularity of DeFi grows, asset tokenization has become a trend. Users can now tokenize their assets like real estate, company shares, voting rights, etc.
Globally, DeFi is changing the way we buy and sell goods and services online today and Bekonta believes that bridging the gap between Nigerians and this innovative technology will unlock the limitless possibilities for our youths.
How Bekonta is Making Easy for Nigerians to get started with DeFi
To get started with DeFi, simply, create an account on bekonta.com.
Then, buy relevant coins like Ethereum,BNB, USDT, Tron, etc, on Bekonta and transfer them to your Decentralized wallet, e.g Metamask or Trustwallet. Here you can stake lend or invest in several DeFi projects eg pancakeswap.
About Bekonta
Bekonta is an automated platform that enables you to Buy, Sell or Store your Bitcoin (BTC), Ethereum (ETH), Tron (TRX), Binance Coin (BNB), and More securely. We encourage more Nigerians to learn more about the blockchain space and get involved.