From providing water, sanitation, and hygiene services to low-income communities in Sierra Leone, catalyzing the growth of the textile industry in Nigeria, and providing low-cost home toilets in Ghana, the 2022 cohort of West Africa Fellows is bent on tackling issues of poverty and injustice in the region.
Together, the cohort's interventions cover the breadth of the Acumen Manifesto, demonstrating the true meaning of leadership. Below, we highlight a few examples of their work grouped under the themes of our Manifesto.
It starts by standing with the poor, listening to voices unheard, and recognizing potential where others see despair
At Acumen Academy, we insist on solutions grounded in a deep understanding of the context we are working to change. Acumen Fellows recognize the similarity between them and the communities they serve, motivating their commitment to the work they do. This is why 2022 West Africa Fellow and founder of Baba Azimi Foundation, Aishatu Jaun is working to ensure women, children, and persons with disabilities develop a greater sense of agency to make their own decisions and are free to chart the courses of their lives like everyone else. Growing up in a patriarchal community, Aishatu strived to be an example that inspires other women to take a seat at the table and more importantly do so with a sense of belonging.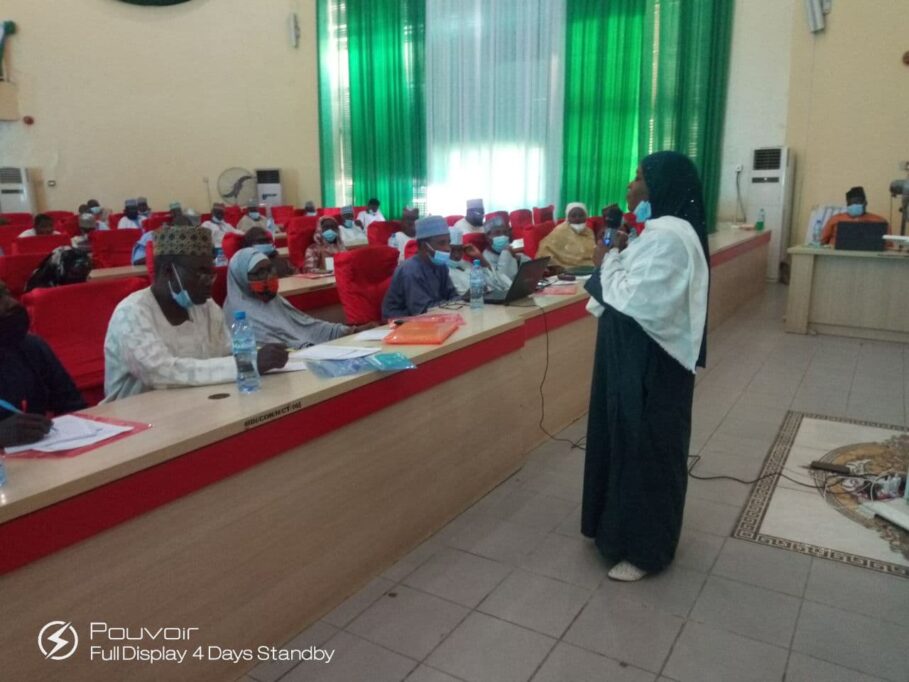 It thrives on moral imagination: the humility to see the world as it is, and the audacity to imagine the world as it could be. It's having the ambition to learn at the edge, the wisdom to admit failure, and the courage to start again.
By moral imagination, we mean embodying other people's problems and discerning ways to solve them. We go beyond empathy to action, insisting on providing opportunity, choice, and dignity to all. Newly named Acumen Fellow and CEO of Ambuvets Konsult, Shehu Shamshudeen demonstrates this through his story.
As a child, Shehu witnessed firsthand the impact of adequate veterinary services for livestock when his grandmother and other farmers lost nearly 200 livestock due to what was called at the time a "strange disease," but what Shehu has learned were preventable diseases that could have been warded off with vaccinations. Today, as a veterinary doctor, Shehu has supported more than 40,000 rural farmers, providing last-mile delivery of animal vaccines and is exploring government partnerships to deliver this service at scale.
It requires patience and kindness, resilience and grit: a hard-edged hope. It's leadership that rejects complacency, breaks through bureaucracy, and challenges corruption. Doing what's right, not what's easy.
At Acumen Academy, we understand issues related to poverty and injustice are rarely one dimensional problems involving just a lack of income. Rather, they are more complex and require long-term approaches to solve. For nearly eight years, founder of Girls Education Initiative of Ghana and 2022 Acumen Fellow, Elizabeth Patterson, has supported female students from basic through tertiary levels of education with academic interventions (including scholarships, supplementary classes, leadership development, mentoring, professional development workshops, and internships). This multi-pronged and long-term approach assures a lasting solution to the disparity in educational access for girls.
It is the radical idea of creating hope in a cynical world. Changing the way the world tackles poverty and building a world based on dignity. 
Acumen Fellows are individuals bent on creating a more equitable world that serves us all. Inspired by how developing a reading culture transformed his life and opened him to opportunities, Adamu Bashiru is ensuring incarcerated persons have access to books, resources, and educational support capable of transforming their lives in the same way he experienced. Adamu has dedicated the last decade to setting up libraries and educational programs in prisons across Nigeria.
What's next for the cohort?
Over the course of the year, the Fellows will learn with and from each other in a series of virtual and in-person seminars about how to strengthen their ability to influence people and systems on behalf of the poor and the vulnerable. At the end of the Fellowship's first year, Fellows will join our global community of social innovators—who have made an impact on more than 8 million lives across the world—to share in a lifelong journey centred on creating a world that assures dignity for all.
The West Africa Fellows Program is generously supported by Ford Foundation, Global Affairs Canada, Hazon Holdings, and Mitsubishi Corporation.
To receive updates from the West Africa Fellows Program, please sign up here and follow Acumen Academy on Twitter and Facebook If you would like to contact us directly, send an email to [email protected].
Meet the 2022 Fellows and discover how they are changing the narrative in West Africa.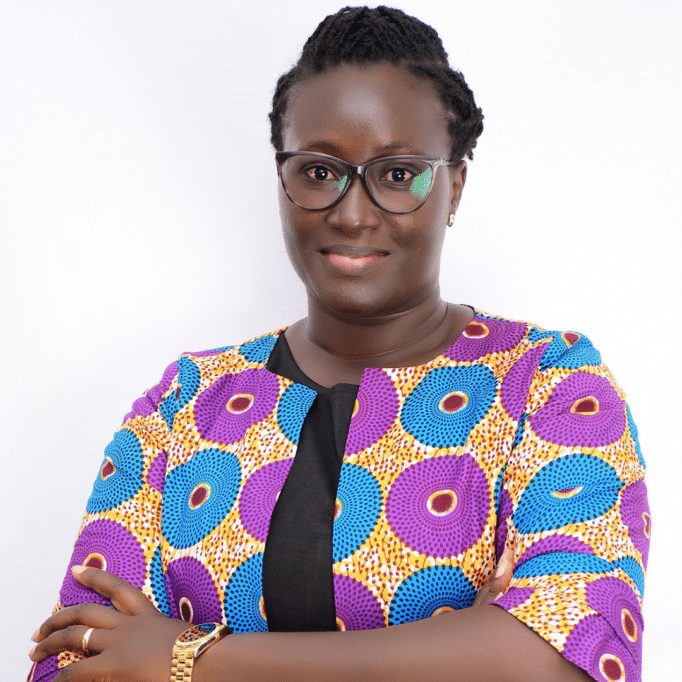 Abigail Aruna
Abigail is the CEO of Clean Team Ghana Limited, a social enterprise that provides dignified toilets to low-income urban households in Kumasi: an alternative to public toilets that improve sanitation, convenience, and dignity while offering direct daily cost savings to the user. Clean Team has provided more than 3600 households with toilets and impacted the lives of more than 18,000 people. Abigail was the second employee to join Clean Team and has been an integral part of its growth from 100 users to more than 18,000 today.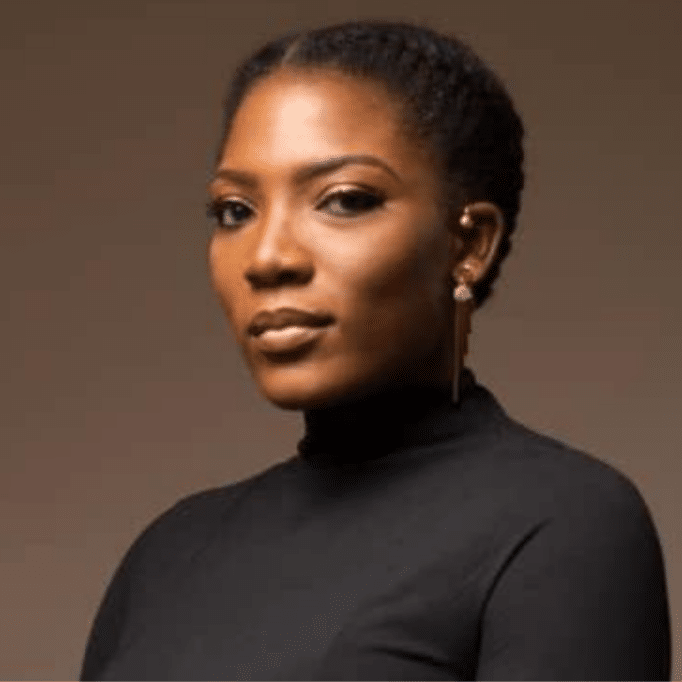 Abisade Adenubi
Abisade is the Founder and CEO of Heritage Apparels, a textile and apparel production company in Nigeria with a mandate to establish a world-class production facility. Abisade is committed to the revival of the textile and apparel industry in Africa and is deeply persuaded of the fashion industry's capacity to contribute significantly to the continent's economic transformation.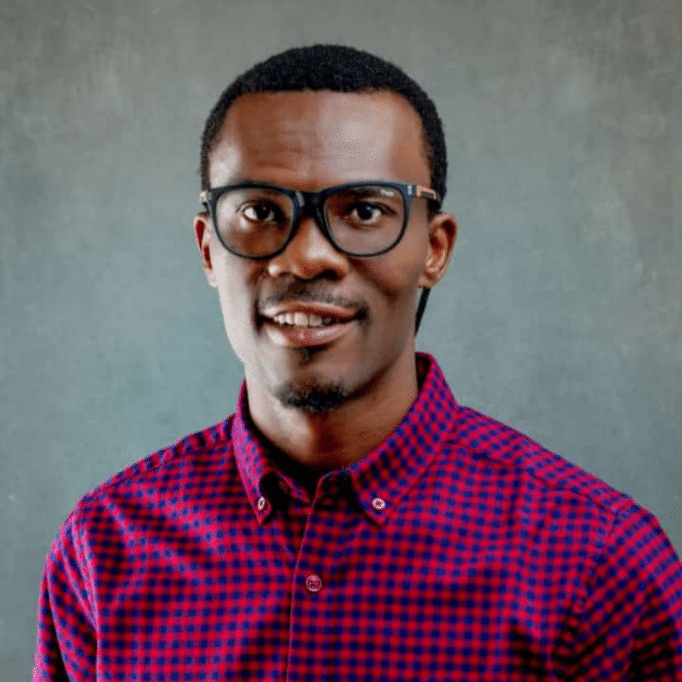 Adamu Bashiru
Adamu is the Founder of Dream Again Prison and Youth Foundation. He sets up libraries in prisons and supports inmates to cognitively utilize their time and energy while incarcerated to add value to themselves. Through his 3R's model, he dubbed Rethink, Reform and Re-enter, he gives hope and life skills to inmates to prepare them for effective social integration towards curbing recidivism. Adamu holds a Higher National Diploma in Business Administration from Abdul Gusau Polytechnic, Talata Mafara Zamfara State, Nigeria.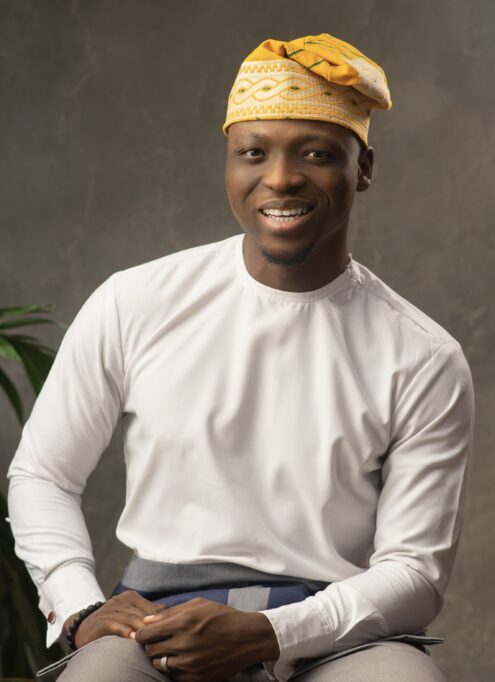 Adebayo Okeowo
Adebayo is the Africa Program Manager at WITNESS, an international human rights organization empowering people to use video evidence to hold the powerful to account and deliver justice for cases of human rights abuses. He has spent a decade advocating for greater protection of socio-economic rights and working with communities to obtain redress before national, regional, and international bodies. Adebayo holds an LL.B from the University of Ilorin, Nigeria, and an LL.M from the University of Pretoria, South Africa.

Aishatu Jahun
Aishatu is the Executive Director and Founder of Baba Azimi Foundation (BAF), an organization providing effective protection services for women, children, and persons with disabilities. BAF particularly works towards making these services accessible to gender-based violence survivors. Before founding BAF, Aishatu worked as the Director of Justice Sector Reform in the Government, coordinating justice sector institutions and reform in Jigawa state Nigeria. Aishatu holds a master's degree in Law from the University of Warwick.
Alhagie S. Nyang
Alhagie is an Advocacy Specialist at Freedom House - Promoting Rights and Justice (PRJ) in The Gambia Project. Before this, Alhagie was the National Coordinator of Activista The Gambia. Activista is a youth-led CSO working to promote the rights of young men and women. He also worked as a teacher, and public servant at the Ministry of Youth and Sport as a Youth Coordinator supporting young people and their agencies and movement.
Asomaniwaa Owusu-Ansah
Asomaniwaa is an award-winning Pharmacist and Founder of Erith Health Services ltd. She founded Erith Health Services to provide solutions promoting occupational safety in Africa. Erith's "Caring for Caregivers" seeks to improve the way hazardous medicines and infectious substances are handled, train, and encourage young health professionals (especially women) to get involved in cancer care and other high-risk specialized fields. Erith also provides locally manufactured protective equipment for high-risk healthcare fields.
Augustine Jerrimy Koroma
Augustine is a security analyst at the Office of National Security, Sierra Leone. With more than twelve years of experience working on security issues in the West Africa sub-region, Augustine has contributed immensely to Sierra Leone's post-conflict rehabilitation and the development of security policies aimed at consolidating peace, security, and development. He is an alumnus of Njala University, Sierra Leone and the Young African Leadership Initiative (YALI), Regional Learning Centre, GIMPA Accra.
Bola Lawal
Bola is the Co-Founder and CEO of ScholarX, a social impact EdTech company helping African Youths access quality formal and informal education. ScholarX's learning app called LearnAm is an audio-visual platform that provides digital, vocational, and personal improvement skills content to its users in their localized languages. This helps to eradicate the learning barriers for Africans. Bola is passionate about solving access to education problems and, his passion for human capital development is expressed through his work at ScholarX.
Elizabeth Akua Nyarko Patterson
Elizabeth is the Founder and Executive Director at the Girls Education Initiative of Ghana, GEIG. GEIG's mission is to provide academic and financial support for girls including applicants with special needs, so they may access secondary, higher education, and professional opportunities. She holds a master's in public administration from NYU Wagner School of Public Service where she specialized in non-profit management.

Festus Goziem Okubor
Goziem is the Senior Investment Associate at All On, where he leads an investment team focused on providing access to finance for entrepreneurs working on clean energy access solutions across Nigeria. He has worked extensively across finance, policy, and impact investment initiatives in Nigeria. Goziem holds bachelor's and master's degrees in Finance from the University of Benin and the University of London respectively. He serves on the Boards of NXT Grid and Accord for Community Development.
Ifeoma Malo
Ifeoma is the Co-Founder and CEO of Clean Technology Hub, a hub dedicated to providing energy access and fighting climate change across Sub-Saharan Africa. Her work focuses on providing energy for off-grid communities. She works with state and local governments on climate mitigation and adaptation strategies and explores nexus sectors in technology and agriculture, as platforms to drive renewable energy in hard-to-reach communities. Ifeoma is leading a large-scale fundraising and investment drive in the clean-energy sector.
Jesseka Davies
Jesseka is an Education Policy & Programs Specialist. She currently serves as the Policy, Governance, Accountability, and System Administration Coordinator at the World Bank-funded Sierra Leone Free Education Project, which aims to improve the management of the education system, teaching practices, and learning conditions. Jesseka is also the Co-Founder of Future LeadHER, a start-up organization that focuses on girls' empowerment by reducing inequalities in education, increasing advocacy, and providing innovative spaces for girls to explore their interests and passion.
Maureen Iyasele
Maureen is the Founder of Upturn.ng, an organization with a mission to support SMEs to structure for sustained growth, graduating these businesses from one growth stage to the next. Before Upturn, Maureen founded the JobMag Centre, an 11-year old Job Centre with more than 300 young individuals walking in monthly to access Recruitment and Career Advancement Services. Maureen is a certified Commonwealth Youth Entrepreneurship Trainer, a Clarity 4D Personality Profiler, and a Vital Voices fellow.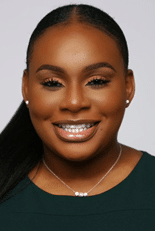 Moyin Johnson
Moyin Johnson is a public policy expert with more than 5 years of experience leading and implementing projects that address socio-economic issues such as inequality, poor quality education, and financial inclusion - within the development and governance space. Moyin recently joined Deloitte as a Senior Consultant and remains focused on driving inclusive growth and improving lives in sub-Saharan Africa. She is a qualified lawyer and holds an MPA in International Development from the London School of Economics and Political Science.
Mustapha Alhassan
Mustapha is a programme Manager at Neem Foundation where he leads global crisis response and peacebuilding. Mustapha is an international development practitioner who has a cross-cutting and interdisciplinary career. He is versed in policy development, strategy conception, and execution. He oversees the design and implementation of programmes that link governance, conflict prevention, and peacebuilding to address development deficits. Mustapha is a member of the Abuja Hub of the Global Shapers Community - an initiative of the World Economic Forum.
Njideka Nwabueze
Njideka is the Group Head of Education at Sterling Bank in Nigeria, a financial service provider committed to enriching lives through convenient financial services. Njideka drives digital solutions that improve access to finance, quality education delivery, and gainful employment for youth. Before this, she managed a digital financial solution for low-income women entrepreneurs that encourages savings and investment. Njideka is a certified product manager with an MBA in Finance from the African-Leadership University School of Business, Rwanda.

Sarah-Jane Danchie
Sarah is a socio-economist and Africa Director with The Social Investment Consultancy (TSIC). TSIC is a global social impact management consultancy that supports businesses and organisations to understand better and demonstrate their impact on people and communities. Leading evaluation, research, advisory, and advocacy projects ensuring that trade, aid, finance, and investment in Africa responsibly address global SDGs, Sarah's work focuses on economic, environmental, social, and governance (EESG) standards facilitating more diverse, equitable, inclusive and sustainable development from African countries' natural resource sectors.
Shehu Shamsudeen
Shehu leads Ambuvets Konsult, a team of young professionals supporting female rural farmers in Northern Nigeria with last-mile delivery of critical life-saving animal vaccines, medications, and extension education. He is a trained veterinarian who has been at the forefront of impacting human livelihood through innovative and sustainable livestock and animal health interventions for more than 10 years. Ambuvets Konsult has successfully executed several partnerships with Governments and NGOs to support more than 40,000 rural livestock farmers in Nigeria using a low-cost model.

Stacey Nwokeyi
Stacey is the Vice President of Special Opportunities at NewGlobe. NewGlobe helps visionary governments invest in the transformation of public education by creating powerful technology-enabled education systems. Before her current role, Stacey was Managing Director of EdoBEST, a bold education program led by the Edo State government in Nigeria. She has a bachelor's degree from Northwestern University and began her work as a Teach for America fellow in a low-income community in Chicago.
Taa Wongbe
Taa is the CEO of The Khana Group (TKG), a leading social impact research, evaluation, data collection, and strategy firm with offices in Liberia, Ghana, Nigeria, and the US. TKG works with organizations and governments to improve policies and programs with data. TKG has worked in over 25 countries with more than 100 clients. Taa previously worked at McKinsey and Deloitte and was co-founder and CTO for Pangean Technologies. He is a

Weyinmi Eribo
Weyinmi is the Co-Founder of Seeds Services Nigeria, a company with a vision to build Africa's most accessible Agric-finance services for small and medium-sized female-owned businesses. She is a development expert that focuses on enterprise development, gender, and financial inclusion. She has more than 10-years of experience across oil and gas, extractives, impact investing, gender lens investing, and entrepreneurship sectors.

Yahya Kargbo
Yahya is the General Manager of the Water and Sanitation Promotion (WaSAP) Company SL Ltd., a company that provide Water Sanitation and Hygiene services that brings happiness, dignity and improve the well-being of people in rural and peri-urban communities in Sierra Leone. Yahya has worked on poverty-related issues with several Non-Governmental Organizations in Sierra Leone. Yahya holds a bachelor's degree in Economics from Fourah Bay College and a master's degree in Economics from Njala University.

Yvonne Jonah
Yvonne is a socio-economic and youth development practitioner with more than ten years of national, regional, and international experience. She serves as the Youth Employment Program Coordinator at PIND Foundation, and contributes towards training and engaging marginalized youth from the Niger Delta while promoting the adoption of a demand-led youth employment model to State governments. Her expertise spans project management, stakeholder engagement, creating collaborative partnerships, research, and communications. Yvonne holds a master's degree in Sustainable Development Practice.